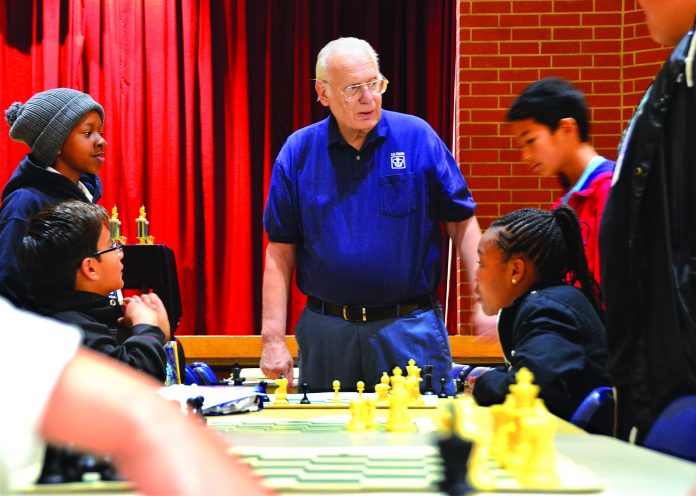 By Gary Kohatsu
Gardenan Donald Dear, who is seeking his sixth term on the West Basin Municipal Water District board, Division 5, is engaged in a bit of political sparring with challenger, Hugo Rojas.
Dear said Rojas initially listed on the Nov. 3 election ballot that he was "vice president board member" — not clarifying a specific board — Rojas is with the Centinela Union High School District.
"(Rojas) didn't say he was on the school board, so it sounded like he was vice president of the water board," Dear, 80, said in a phone conversation. "I had to go to the county to get him to change it to school board."
Rojas in turn has accused Dear of encouraging candidate George Louie Gutierrez to run in the Division 5 water board race, as reported in the Daily Breeze.
Dear denied the allegation, but acknowledged that Gutierrez had been living in a motorhome in his (Dear's) backyard until recently.
Rojas, 51, believes Dear's motive was to take away his votes by adding another Latino to the ballot, as reported in the Breeze.
But asking or encouraging another person to run for office is not illegal, Jay Wierenga, spokesperson for the California Fair Political Practices Commission said.
It is not in any violation of the Political Reform Act, he told the Breeze.
Rojas indicated it is more an ethics and character issue.
Dear countered that in his decades of political servitude, particularly as a Gardena official, it was not unusual to be challenged for office by a friend.
Adding another element to the intrigue, Gutierrez is the brother-in-law of former Gardena Councilman Dan Medina, who was termed out of office this year.
Neither Medina nor Dear, both longtime friends and who have served on the Gardena council in different eras, knew why Gutierrez chose to run for the water board seat, as reported in the article.
Gutierrez, a freelance mechanic by trade, did not make himself available to the media. Division 5, includes Gardena, Hawthorne, El Camino Village and Lawndale.
There is a fourth candidate on the Nov. 3 ballot for WBMWD District 5: Eva Rivera, who lists herself as an educator and a water ratepayer.
Dear's platform lists water conservation as one priority and mentions WBMWD's low-flush toilet program and educational processes for children.
He is also in support of desalination, which others have opposed. His position is that desalination could be an effective way of providing potable water to future generations.
"Conservation is one of my big issues," Dear said. "We have to look to the future. I'm one of those looking seriously at ocean desalination. (Ocean) water is always going to be there. We have to be forward thinking. Our job is to provide water for the communities."
The water district is pursuing a controversial desalination project likely to be challenged by environmental groups.
In 2016, Dear turned back the challenge of Ryan Richard to win his fifth term. Dear garnered 73.32 percent of the votes to Richard's 26.68 percent.
Dear has been involved in politics since his early college days and circa 1960, he campaigned for then presidential candidate, John F. Kennedy.
He is an alumnus of Gardena High and USC.
The lifetime Gardenan is the city's youngest elected councilman at age 30 in 1970.
Dear was elected as one of the representatives for the Los Angeles County Independent Special Districts on the Local Agency Formation Commission during his last four terms of office (2004 to 2016).
Currently he serves as first vice president.
In October 2011, the West Basin Board paid tribute to Dear's distinguished public service by naming their Carson Headquarters the Donald L. Dear Building.
His personal accomplishments include a distinguished teaching career. Dear taught at Stephen White Middle School in Carson for 38 years, where he is well known and widely respected by his former students, colleagues and members of the community.
In 1983, he was named "Teacher of the Year" for Region A of the Los Angeles Unified School District.
According to Dear's WBMWD resume:
His professional affiliations include his service as a member of the National Council for Social Studies, board member of the Political Action Council of Educators, and six terms of service as a member of the House of Representatives of the United Teachers of Los Angeles (UTLA).
His civic affiliations include the Gardena High School Booster Club, Gardena Jaycees, Gardena Valley Friends of the Library, Gardena Valley Music Association, Gardena Valley Cultural Arts Corporation, Gardena Valley Red Cross, Gardena-Carson Family YMCA, Hollypark and Gardena Valley Lions Club, Gardena Elks, El Nido Services, Association for Retarded Citizens – South Bay, Kiwanis Club of Gardena Valley, Hawaiian Community Center Association, Serra High School Advisory Board, the University of Southern California San Pedro Peninsula Trojan Club, and Harbor General Hospital Advisory Board.
Dear, an avid chess player, established the city of Gardena Youth Chess Tournament in 1987.
His mother, Mayme Dear, was a longtime supporter of reading and the city library. The Gardena Library is named in her honor.
Dear's brother, Jim Dear, has served the city of Carson as a councilman and past mayor.
Don Dear has also distinguished himself through his work with youth, not only as an educator, but also for his 30 years of dedication as a coach for more than 70 teams in three sports, sponsored by the Gardena Recreation Department Youth Sports Leagues. Lastly, Dear is Board Secretary and Chair of the Desalination and Ethics Committee.