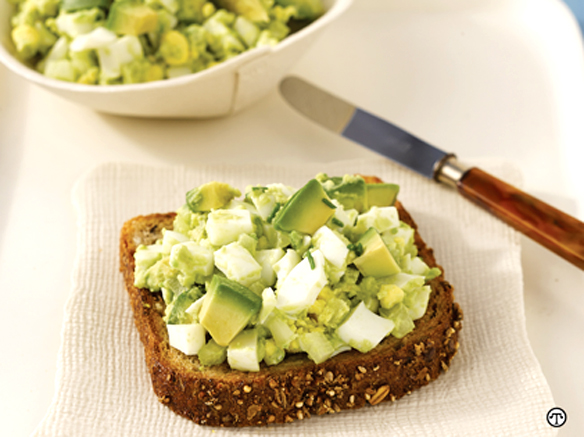 (NAPS)—There's good news for those who are looking for ways to include avocados in their meal plans, as part of a healthy diet.
(NAPS)—There's good news for those who are looking for ways to include avocados in their meal plans, as part of a healthy diet.
According to the Dietary Guidelines for Americans, replacing some saturated fats with good fats like those found in avocados may improve the quality of one's diet. Fresh avocados are delicious, cholesterol-free and a whole-food source of naturally good fats. Their mild flavor and creamy texture also make them versatile enough to include in a variety of dishes to be enjoyed every day. The fruit also contributes nearly 20 nutrients, including vitamins, minerals and phytonutrients.
The Hass Avocado Board has announced its new Love One Today campaign, sharing ways to love fresh avocados with all the benefits they can provide. At LoveOneToday.com, you can find recipes, how to buy and store avocados, expert tips and more.
For inspiration on how to include avocados in your diet, try this twist on an old favorite in which creamy avocado and spicy Dijon mustard replace mayonnaise.
AVOCADO EGG SALAD
Serves: 4
Prep Time: 10 minutes
Total Time: 10 minutes
Ingredients:
1 ripe Hass Avocado, halved, seeded and peeled
6 hard-boiled eggs, peeled and halved
1 tablespoon white wine vinegar
1 teaspoon Dijon mustard
1⁄2 teaspoon salt
1⁄2 cup minced onion
2 tablespoons chopped chives (optional)
Instructions:
1. Remove and discard yolks of two of the eggs; chop remaining whites and yolks; set aside.
2. In a bowl, combine half of the avocado, vinegar, mustard and salt; mash until smooth. Dice remaining avocado and add to mixture along with eggs and onion; mix gently.
Serving Suggestion:
Serve on toast or crackers. Garnish with chives, if desired.
Nutrition Information Per Serving: Calories 176; Total Fat 13 g (Sat 3 g, Trans 0 g, Poly 2 g, Mono 8 g); Cholesterol 187 mg; Sodium 414 mg; Potassium 362 mg; Total Carbohydrates 7 g; Dietary Fiber 4 g; Sugars 2 g; Protein 9 g; Vitamin A 334 IU; Vita- min C 7 mg; Calcium 37 mg; Iron 1 mg; Vitamin D 1 IU; Folate 67 mcg; Omega-3 Fatty Acid 0 g.
% Daily Value*: Vitamin A 7%; Vitamin C 12%; Calcium 4%; Iron 6%.
*Percent Daily Values are based on a 2,000-calorie diet. Your Daily Values may be higher or lower depending on your calorie needs. One serving = 1⁄2 cup
Note: Large avocados are recommended for this recipe. A large avocado averages about 8 ounces. If using smaller- or larger-size avocados, adjust the quantity accordingly. To learn more, visit www.LoveOneToday.com.
Recipe provided by the Hass Avocado Board