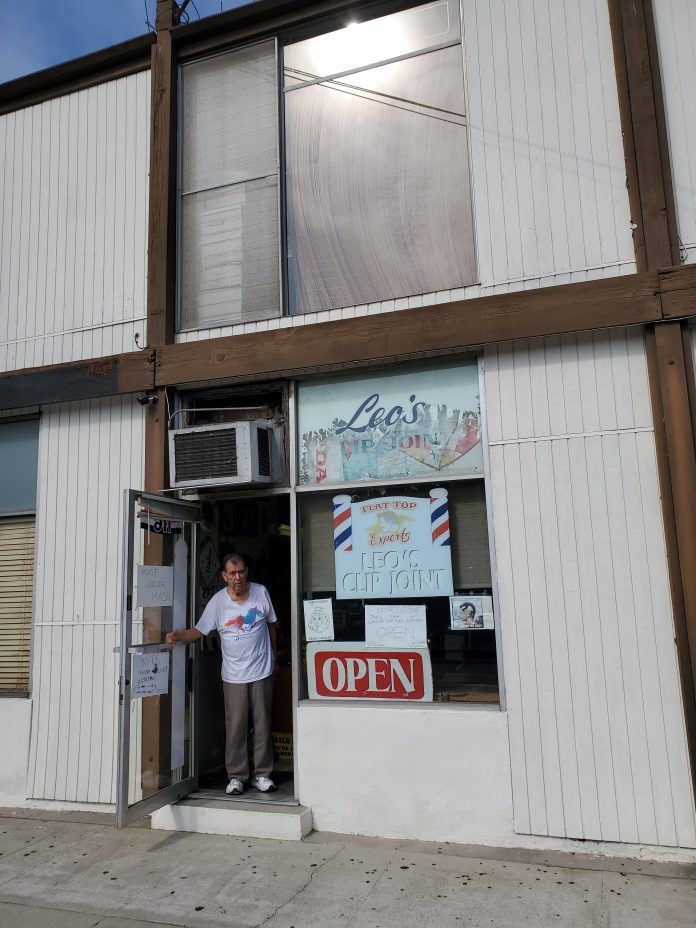 By Christopher J. Lynch
Barber Leo Camarillo does much more than simply cut hair. Stepping into his shop on Redondo Beach Blvd. you instantly realize that he is the guardian and steward for one of the greatest time capsules in Gardena. Fittingly, fifties music plays continuously overhead, while antique radios and other memorabilia line the shelves and fill every square inch of wall space.
Even the barber chairs, some of which go back to the 1930s, seem to sing to you. The welcoming smell of old leather permeates the air, and if you listen closely, the echoes of decades of stories and opinions offered and disputed can still be heard.
In many ways, the eighty-five year old Camarillo is the perfect man to maintain this treasure chest of memories. After all; he's been cutting hair since a man named Dwight D. Eisenhower occupied the White House.
"My dad was a barber," Camarillo recalls of his youth growing up in nearby Watts. "But he was a 'backyard' barber – and a good one at that. He knew how to use hand clippers."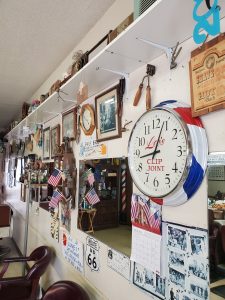 The devices, a forerunner of the electric clippers that would replace them, required a steady hand, and as Leo remembers painfully, a steady head as well.
"My dad would use them on us," he says. "But if you moved your head – OUCH! They would snag your hair."
After his father passed in 1945, Leo, then only ten years old, took a job as a shoeshine and cleanup boy at a local barber shop. By sixteen, he enrolled in barber school in downtown Los Angeles. For the most part, he enjoyed the work and the training, but there were some nasty times as well.
"We used to give free haircuts to people just to practice, and we would get a lot of derelicts. And one time, a guy came in and had vomit all over the back of his head – and I refused to cut his hair!"
He graduated from barber school in 1953 and returned to work cutting hair in Watts. Afterwards, it was shops in Compton, El Sereno (near east LA) until finally settling in Gardena in 1959. The shop was called The Round-up Barber Shop and was located on Crenshaw and what was then called Compton Blvd. near the old Park Theater (now Gardena Theater). In 1962, he moved to his current location, where he has been ever since.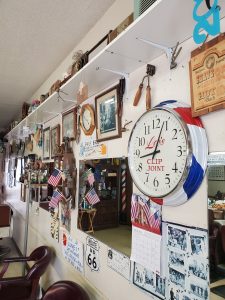 The Gardena location was a fortuitous move as Leo was quickly discovered he was revered for his unique skills by the local populace.
"I had lots of Hawaiian guys coming in and asking me if I was a 'hoppa,' or a mixture of Hawaiian and Filipino. And when I asked them why they thought I was, they said it was because of my use of a comb and scissors to cut hair as opposed to electric clippers. I found out that most of the Asians and the Pacific Islanders want their hair cut that way."
It's safe to say that over the years, Leo Camarillo has cut tens – possibly hundreds, of thousands of heads, in all kinds of styles: Flat-Top, DA, Pompadour, Beatle, and everything in between. But he will not cut women's hair, or give Mohawks, no matter how much he is offered to do it.
He has given many a boy his first haircut, and is now cutting the hair of some of his original customers grandchildren. His oldest customer is ninety-eight years old, and he has customers that will travel from as far as Granada Hills and Temecula to have him cut their hair.
He has cut the hair of elderly people in nursing homes and convalescent hospitals, and once gave a shave to a man who was on his deathbed and wanted to go out looking good.
"He couldn't talk to thank me," Leo says wistfully. "But his eyes and his expression told me how much he appreciated it."
Leo's Clip Joint is located at 1601 Redondo Beach Blvd. #116, and his hours are 6:30 a.m. to 4 p.m. Thursday through Saturday. It is first come, first served. A regular haircut is $13.