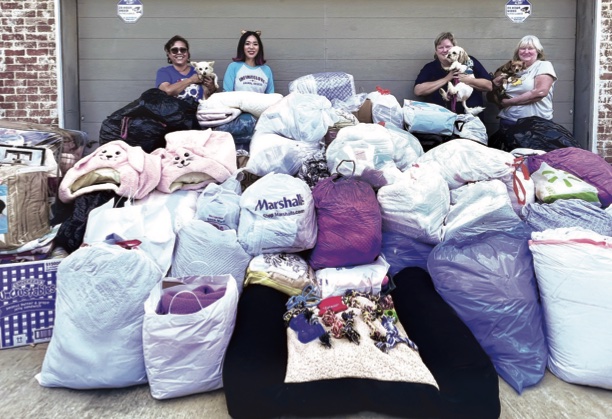 By Gary Luster
Infinite Love Animal Rescue, a Los Angeles-based non-profit dedicated to finding forever homes for abandoned and displaced dogs, recently held its Fourth annual Blanket Drive.
Done once every year in October, the goal is collect new or used blankets, towels, and bed sheets that can be used to keep shelter dogs and cats warm and dry during the winter months.
Kandace Kuwahara, Founder and Executive Director of Infinite Love Animal Rescue, announced the blanket drive on Oct. 1 and set the collection time for the last week in October (Oct. 24-31).
She said bedding material was very much needed as the shelter animals go through such things very fast due to accidents, chewing, and general use.
"We filled five SUVs with blankets, towels, and bed sheets," Kuwahara said. "Approximately 350 blankets, 280 towels, and 320 bed sheets. It benefitted the shelter animals by keeping them extra warm, comfortable, and dry for the winter and spring seasons. Hopefully making them feel at home in the shelter until they find their forever homes."
Kuwahara said this year's donations, which were dropped off at Infinite Love Animal Rescue in Gardena, increased by 25 percent from last year and doubled from their 2020 blanket drive efforts. Kuwahara plans on having the next blanket drive in October and sticking to the one week collection period.
Kuwahara, along with Gardena residents Yvonne Acosta and Julie Nystrom and Hawthorne resident Angie Craig, delivered five car loads of blankets, towels, and bed sheets to three local animal shelters: Harbor Animal Care Center in San Pedro, Carson Animal Shelter in Carson, and spcaLA South Bay Pet Adoption Center in Hawthorne.
"Our goal is to help them in every way we can emotionally, socially, and physically so that the transition into their forever homes will be as smooth as possible," Kuwahara said.
Infinite Love Rescue is a 501(c)(3) nonprofit animal rescue based in Los Angeles dedicated to finding forever homes for abandoned and displaced dogs while educating the public to be more responsible pet owners. Infinite Love Animal Rescue saves small dogs and cats and have helped hundreds of animals including senior and bonded dogs, and handicap dogs since they started in 2017.
Dogs aren't the only animals that benefit from Infinite Love Animal Rescue. In 2021, they started rescuing cats. Specializing in pregnant feline mothers they provide them with food and medical care in a safe and loving home environment.
Infinite Love Animal Rescue was created by Kuwahara in memory of her beloved dog, Boo, a Jack Russell/Chihuahua mix who was rescued from spcaLA in Hawthorne and is featured on the organization's logo.
Kuwahara who has a deep love for animals, has been committed to helping homeless animals for over 20 years volunteering her time with over a dozen animal rescues locally and nationally. Her animal-related experience includes obedience training, fostering, humane education, and animal massage therapy.
"All of our animals are safe in foster homes while they await their forever homes," Kuwahara said. "They are fostered by our Love Ambassadors, where they are unconditionally loved and treated with respect. They sleep in warm beds and receive lots of affection, ensuring that each animal is 100 percent happy during their stay with a highly qualified volunteer. They are spayed/neutered, vaccinated, microchipped, de-wormed, and de-flead before being adopted out."
Those interested in donating to animal shelters or volunteering time to help needy shelter animals can subscribe to Kuwahara's e-newsletter at InfiniteLoveRescue.org or follow them on Instagram or Facebook at InfiniteLoveRescue.org to learn more about volunteering and their other programs.