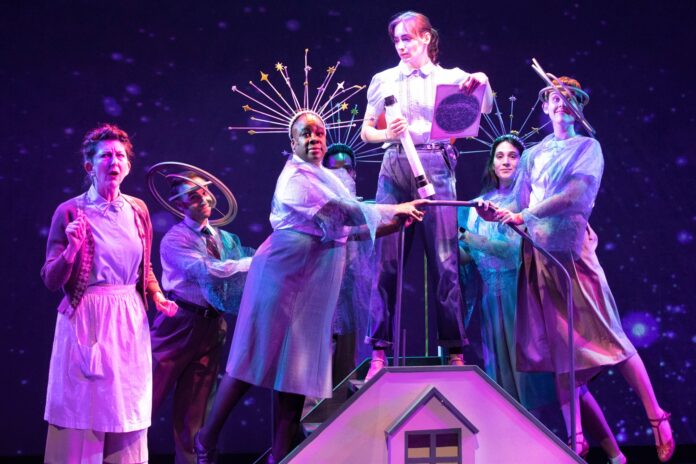 By Shari Barrett
Rogue Machine Theatre is presenting the World Premiere of Come Get Maggie, an intergalactic, joyously quirky and incredibly funny musical that pays homage to all the Science Fiction movies from the mid-20th Century and to all those with the courage to live life as their true selves. Written by Diane Frolov with lyrics by Diane Frolov and Susan Justin, and music by Susan Justin, with onstage accompaniment by Music Director Michelle Do, the production is ingeniously directed by Michael Pressman who believed in it so strongly that he finally convinced Rogue Machine Producing Artistic Director John Perrin Flynn to produce it as the group's first ever musical. And what a great choice it turned out to be!
At the center of the musical is Maggie, a brilliant young woman stuck in 1950's suburbia who is out of sync with her time. Even as a child, she wonders if her real home might be somewhere else out in the universe and, after falling in love with physics in college, pursues a career in nuclear science. After her disillusionment with how her discoveries are used to make bombs and not for space travel, Maggie puts out a call to the stars for help. And when an alien answers, she begins an intergalactic romance that will change her, the world she lives in, and the whole universe. 
Melanie Neilan is enchanting as Maggie, energetically moving seamlessly from scene to scene, pulling you into her wish to follow her scientific wonder into a new world where love rules. And her parents, played by Melissa Jobe and Bruce Nozick, will take you back into the old-fashioned world of stay-at-home Moms and Dads who ruled the roost right out of the Donna Reed Show and Father Knows Best. Maggie's out-of-this-world love is Dennis Renard as Varex, who also takes on many other roles including Elvis Presley in a group therapy session for abductees that had the audience roaring with laughter.
Other standouts in the ensemble cast include Chase Ramsey as Maggie's husband Hugh whose only wish is for her to be the perfect housewife and give up all other interests after marrying her without a hint he had been married before and has two kids – both of whom agree to torment their new stepmother from the moment they meet her. Poor Maggie! And Jacquelin Lorraine Schofield brings Hugh's Auntie Ruthie into the mix, both as a devoted family member and a spy for the military to check on Maggie's hidden scientific experiments going on in the basement. And just wait until you see exactly how Maggie constructs her communication device to reach Varex. I guarantee laughs galore as each new piece is added to the mix!
Both Chase and Schofield take on many other roles, as do all the talented members of the cast including Philip Casnoff as Detective Ziskin/ Dr. Floyd, Beth Egan as Little Ruthie, Nicole Ledoux as Kwee, Eddie Vona as Rodney and the President (as well as Donna, one of the gun-toting neighborhood ladies), with swings Sarah Hinrichsen and Alan Trinca stepping into various roles at some performances. Together these accomplished actors bring more characters than I could count to the stage, including aliens, abductees, beauticians, neighbors, shoppers, military personnel, police officers, planets and stars! 
Kudos to the entire production team for their contributions to this entertaining and brilliantly presented production, including Costume Designer Dana Rebecca Woods for making cast quick changes work so well for so many different scenes, creatively clever choreography by Brooke Wendle, Stephanie Kerley Schwartz (Set Design), Ric Zimmerman (Lighting Design), Chris Moscatiello (Sound Design), Albin Konopka (Music Supervisor and incidental music), Nicholas Santiago (Video Design), and Glenn Michael Baker (Assistant Set Design & Props Head). 
Come Get Maggie runs at 8 p.m. Fridays, Saturdays and Mondays; and 3 p.m. Sundays through March 26. Rogue Machine (in the Matrix Theatre) is located at 7657 Melrose Ave, Los Angeles 90046. Run time is two hours with one intermission. Tickets are $60 for general seating. Reserved seating Saturday and Sundays only: $75 (Seniors: $50; Students with ID: $30; Children under 18: $30). Reservations at www.roguemachinetheatre.org or available tickets on sale at the box office prior to each performance. More information 855-585-5185. Face masks are required to be worn inside the theater at all times.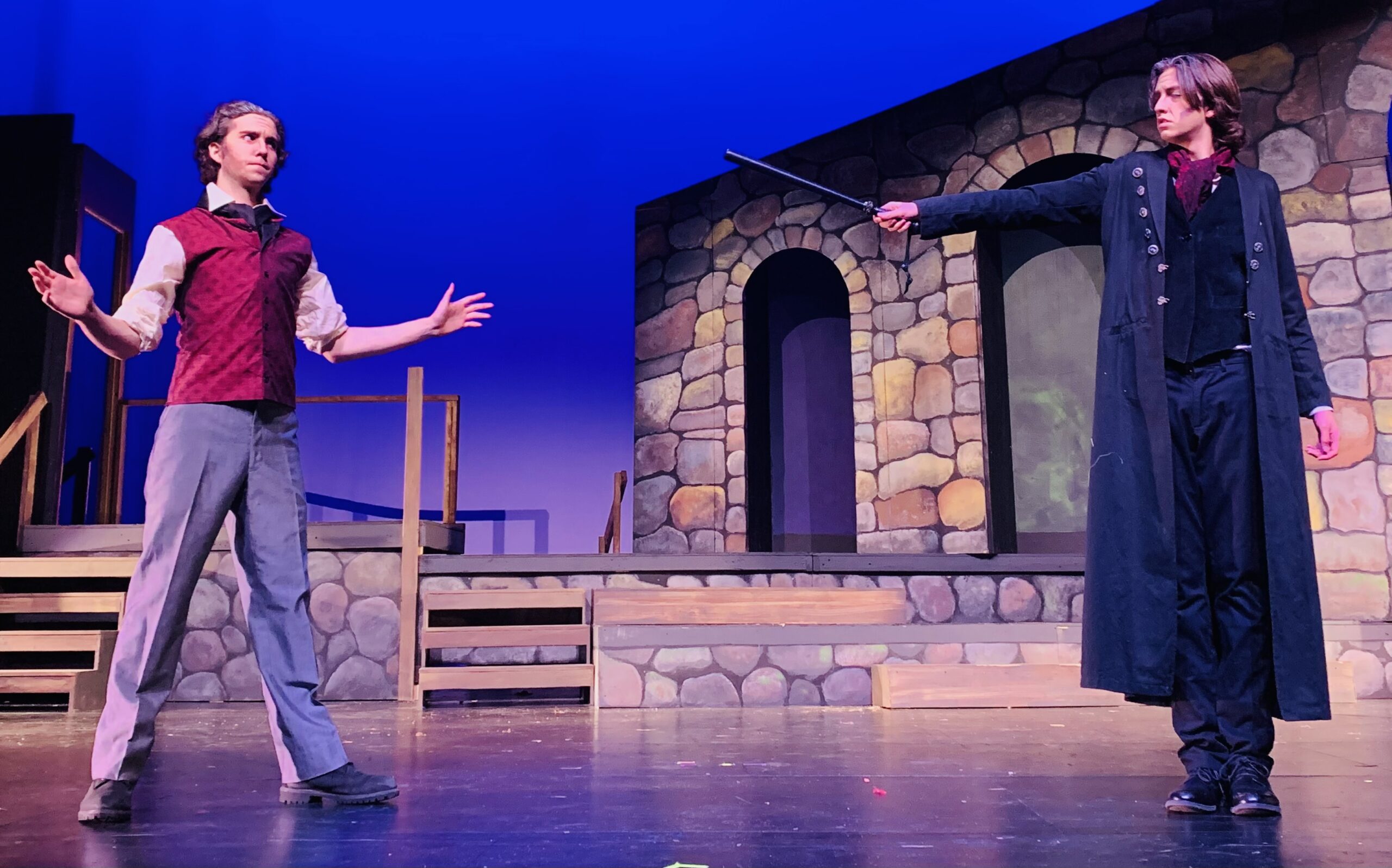 Les Misérables is the world's longest running musical, a true modern classic based on Victor Hugo's novel featuring a memorable score with music by Claude-Michel Schönberg and lyrics by Herbert Kretzmer. As groundbreaking today as it was when it first premiered in London in 1985, the epic, grand and uplifting musical is opening tonight by the Culver City High School Academy of Visual and Performing Arts (AVPA), and promises to pack the same emotional wallop that has thrilled audiences all over the world. 
The musical about following your heart to independence and love is set in 19th century France, centering on Jean Valjean (Timmy Francuz) who is released from years of unjust imprisonment, but finds nothing in store for him but mistrust and mistreatment. He breaks his parole in hopes of starting a new life, initiating a lifelong struggle for redemption as he is relentlessly pursued by police inspector Javert (Ryan Vermette) who refuses to believe Valjean can change his ways. Finally, during the Paris student uprising of 1832, Javert must confront his ideals after Valjean spares his life and saves that of the student revolutionary who has captured the heart of Cosette, Valjean's adopted and much-beloved daughter. 
This author-approved Les Misérables school edition being presented has been abridged to a run time of just over two hours while beautifully maintaining the integrity of this musical masterpiece. Performances take place on Thursday-Saturday, March 2-4 and 9-11 at 7 p.m., and Sundays, March 5 and 12 at 2 p.m. in the Robert Frost Auditorium, located on the Culver City High School campus at 4401 Elenda Street, Culver City 90230. General Admission tickets are $15; Faculty & Staff, Seniors, CCHS student without ASB at $10; CCHS student with ASB, Elementary & Middle School students are $5; and free for children 5 and under. Many roles are double cast on alternating weekends. Tickets and info at https://avpa.org/lesmis