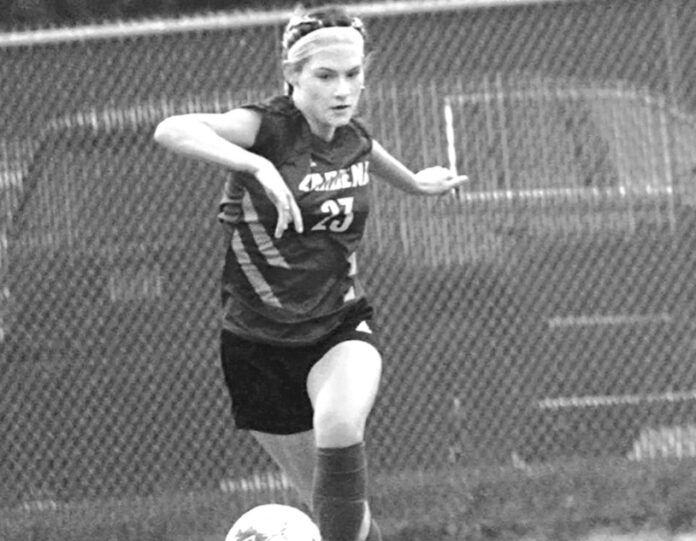 By Joe Snyder
For the fourth time in the past five seasons, Gardena High's girls' soccer team advanced to the CIF-Los Angeles City Section finals after blank- ing Santee High from Downtown L.A. 3-0 in the semifinals on Feb. 21 at Gardena sending the Lady Panthers into the Division III final against top seeded Girls Academic Leadership Academy (GALA) last Saturday at L.A. Valley College in Van Nuys.
Head coach Jared Lehenbauer and the squad dreaded of knowing that a major arctic storm with heavy rains and very cold conditions coming from Northern Canada were forecasted and certainly it happened. CIF-L.A. City Section officials had all the championship matches go on. Gardena took to the field against GALA and the weather, along with GALA's squad, proved overwhelming as the Panthers were shut out 3-0 in the Division III.
GALA wasted no time on Gardena scoring three first half goals. The second half was scoreless but the Panthers lost the championship and were unable to make it to the Southern California Regional playoffs and GALA entered the playoffs as the last seed having to visit top seed El Rancho High at Pioneer High in Whittier in the Division IV quarterfinal last Tuesday. El Rancho, located in Pico Rivera, won the CIF-Southern Section Division IV championship.
"They were a pretty good team," Lehenbauer said of GALA. "The conditions were not good. It rained hard. It was very cold and there was lightning and thunder. We were down 3-0 at halftime and we couldn't recover from the deficit."
According to Lehenbauer, Gardena had strong play by seniors, center-back Lesley Jau, center-back Katelyn Bubenicek and midfielder Melanie Ramos.
"GALA should have not been in our division," Lehenbauer said. "They should have been in, at least, Division II."
GALA enters the Southern California Tournament with an unbeaten record of 18-0-1, while the Panthers finished at 11-6-1. Gardena finished second, behind champion San Pedro, in the Marine League at 7-3.
In the semis, Gardena took a 1-0 lead at halftime before putting away Santee with two second half goals.
Ramos sparked the Panthers with two goals and Daphnie Silva added one.
"Our girls stepped up and did well," Lehenbauer said. "We had a couple of players that played with injuries and one player was red-carded (Red card leads to ejection.)."
North, Serra baseball teams get off to slow start
Serra High's baseball team is off to a slow start with a 2-4 record after El Segundo Tournament losses to San Pedro and Redondo last week.
At San Pedro on Feb. 22, the Cavaliers fell to the Pirates 6-4. A day later at Serra, the Cavaliers lost in another El Segundo Tournament game to Redondo 4-2.
Against San Pedro, which is one of the favorites in the CIF-Los Angeles City Section Marine League, Nigel Buckley sparked Serra by going 2-for-3 with one run batted in and a run scored. He drove in the run with a triple.
Sparking the Cavaliers against Redondo was Kelvin Martinez who went 2-for-4 with two runs scored. Jason Sanderson drove in a run with a double.
Both games were shortened due to rain. In fact, Serra's home game against the Sea Hawks was originally scheduled for Saturday but was moved back due to rain forecast. The Cavaliers' game against Redondo went five innings and six against the Pirates.
Last Tuesday, the Cavaliers resumed the El Segundo Tournament at South Torrance High. Serra begins Del Rey League play on Friday against La Salle High from Pasadena. Serra, then, visits Del Rey power Bishop Amat High in La Puente next Tuesday at 3 p.m. The Cavaliers, then, travel to Mira Costa High in Manhattan Beach for a non-league game next Wednesday at the same time.
Last season, Serra won the Del Rey title but lost in the first round of the CIF-Southern Sec- tion Division IV playoffs at home to Whittier California High 2-1. With most of their top players back, the Cavaliers are expected to be contenders for the league and CIF-Southern Section Division III championships.
North is also struggling early with losses to Redlands Citrus Valley and Rolling Hills Estates Peninsula last week. At North on Feb. 21, the Saxons (1-5) were shut out by Citrus Valley 8-0. A day later, North fell to the host Panthers 7-2. The Saxons mustered just one hit against Citrus.
North hosted Pioneer League rival El Segundo in the El Segundo Tournament last Tuesday, then will visit the Eagles at Stevenson Field on the grounds of El Segundo Recreation Park next Wednesday at 3:30 p.m. in their league opener.
After outlasting host Santee High 11-10 on Feb. 18 in Downtown L.A., Gardena had its non- league home game against Harbor Teacher Prep last Thursday at L.A. Harbor College in Wilmington postponed due to rain. The Panthers were to host Sotomayor last Tuesday, weather permitting. Gardena remains at home against Fremont High from South L.A. to- day at 3 p.m. and Hamilton from the L.A. Palms District next Tuesday at 4 p.m. The Panthers start Marine League play at Rancho Dominguez Prep in Long Beach on March 21.
North to host Imperial in reg. playoffs
With North Torrance High's boys' basketball team advancing to the CIF-Southern Section Division VAA semifinals, its re- ward was a spot in the Southern California Regional playoffs, announced last Sunday by the CIF-State.
The Saxons are seeded No. 8 in the playoffs as they began play at home against No. 9 Imperial High from the CIF-San Diego Section Division V last Tuesday. If North wins, it could visit top seed Lynwood, which was the top seed in the Southern Section Division VAA playoffs but lost in the final to Rosemead Bosco Tech last Saturday at Edison High in Huntington Beach, today at 7 p.m. The regional semifinals are on Saturday and finals next Tuesday, both starting at 7 p.m. Bosco Tech moved up to Division IV and was the 10th seed and visited No. 7 San Pedro, which finished second behind champion Harbor City Narbonne in the Marine League and made the CIF-L.A. City Section Open Division playoffs, last Tuesday.
North enjoyed its best season in more than 50 years with a 24-6 record after winning the Pioneer League title at 8-2.
Bishop Montgomery High's boys' basketball team, which ended up 1-2 in the CIF-Southern Section Open Division playoff pool, moved down to Division I but is seeded No. 2, behind top ranked Sherman Oaks Notre Dame. The Knights opened at home against No. 15 Torrey Pines from the San Diego-Del Mar District, last Tuesday. The Falcons were semifinalists in the CIF-San Diego Section Open Division.
In Division II, Narbonne is seeded 12th and visited No. 5 Oxnard in the first round last Tuesday.
In girls' basketball, Bishop Montgomery, which was 1-2 in its pool of the CIF-Southern Section Open Division, is in Division I as the sixth seed. The Lady Knights began play at home against No. 11 Granada Hills, the CIF-L.A. City Section Open Division runner-up which lost in the final to Westchester 51-44 last Saturday at Pasadena City College. The Lady Comets began last Tuesday as the No. 8 seed hosting No. 9 Orange Lutheran.
Champions of each regional division moves on to the CIF- State Championships on March 10 or 11 at Golden One Arena in Sacramento.