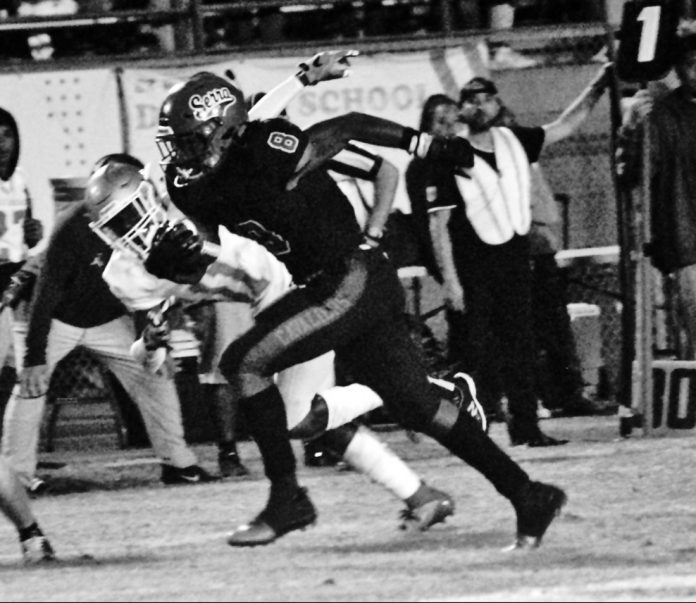 By Joe Snyder
Serra High's football team is off to a 3-0 start after pulling off a 27-24 victory over non-league rival Long Beach Poly last Friday at Serra.
The Cavaliers scored their winning touchdown with 9:18 left in the game when senior quarterback Doug Brumfield threw a 15-yard pass to wide receiver Devin Ford.
From there, Serra was able to hold off the Jackrabbits.
It was the second consecutive time that the Cavaliers came from behind to top Poly. Last season, Serra overcame a 19-0 second quarter deficit to top the Jackrabbits 29-25 at Long Beach Veterans Stadium. Serra, in fact, is 4-0 against Poly, also defeating the Jackrabbits in 2012 and 2017.
The game was mostly see-saw throughout. Poly, which fell to 2-2, held a 13-7 halftime lead, then extended it to 16-7 with 10 minutes remaining in the third quarter on a field goal.
Serra answered back with 14 unanswered points. The Cavaliers cut the Jackrabbits' lead to 16-14 on when Brumfield tossed a 37-yard scoring pass to Lavon Bunkley with 8:17 to go in the third period. With 1:54 remaining in the quarter, Serra took a 21-16 advantage on a short one-yard run from Elijah Davis.
Poly stormed back to start the fourth quarter. It took back the lead at 24-21 on a 20-yard TD pass from quarterback Shea Kuykendall to wide receiver Anthony Curtis. David Backalar added a two-point conversion on a run.
"Long Beach Poly has a very good football program," Serra head coach Scott Altenberg said. "We were very excited. We have to get cleaner. Our penalties were crazy. It gets tougher from here. For Doug Brumfield, he's been there before. He makes big plays when he needs to."
The Jackrabbits began the scoring in the first quarter on a short one-yard run by Justyn Brown shortly after a fumble recovery deep in Serra territory by Malachi Rice.
Later in the period, Serra tied the game on a 5-yard scoring pass from Brumfield to wide receiver Ronald Gilliam.
The Cavaliers have their next big non-league rivalry at Narbonne Friday at 7 p.m. The Gauchos tuned up for what is becoming one of the most popular prep football non-league rivalries in California by rolling over host Orange Lutheran 38-0 Friday at Orange Coast College.
__________________
Gardena Football
Panthers move up to 4-0 after blowing out Beverly Hills
By Joe Snyder
Gardena High's football team continued to progress as it upped its non-league record to 4-0 with a 46-8 home rout of Beverly Hills Friday.
Leading 20-8 at halftime, the Panthers blew the game open by outscoring the hapless Normans (1-2) 26-0.
Keying Gardena was quarterback Daquan Paul who finished with 246 total offensive yards. He completed 11 of 13 passes for 166 yards and four touchdowns. Paul also rushed for 88 yards and one TD on just four carries.
Running back Da John Little rushed for 128 yards and two touchdowns on eight carries. He also had a 36-yard kickoff return to finish with 164 all-purpose yards.
On the receiving end, Andre Lawson had three catches for 49 yards and one touchdown. Tyler Gilcrist, Kwanta Pugh and Antoine Bryant had TD receptions of 44, 12 and 30 yards, in order.
Gardena will visit Bishop Montgomery High in Torrance Friday at 7 p.m. The Knights are 0-3 after a 50-7 home loss to St. Bernard last Friday.
_________________________
Prep Football Roundup
Narbonne blanks Orange Lutheran
By Joe Snyder
Narbonne High's football team had an impressive outing as it rolled over host Orange Lutheran 38-0 in a non-league game Friday at Orange Coast College.
Quarterback Jacob Garcia had one of his best games of the season. He completed 19 of 26 passes for 358 yards and five touchdowns.
Garcia's top target was Elijah Queen who caught three passes for 86 yards and two touchdowns of 78 and three yards. University of Southern California-bound Joshua Jackson had four receptions for 95 yards and Traeshon Holden, a transfer from a boarding school in Maryland who is bound for University of Alabama, caught six passes for 84 yards and one TD.
The win set stage for a premiere non-league showdown at home against Serra Friday. The Cavaliers, for the fourth straight time, topped always powerful Long Beach Poly 27-24 Friday at Serra.
North rolls over Gahr: North Torrance High's football team won its third consecutive game by routing host Gahr High 41-7 Friday in Cerritos.
The Saxons, who improved to 3-1, will host Peninsula from Rolling Hills Estates Friday at 7 p.m. The Panthers are off to a slow start at 1-3.
Torrance falls to 0-3: Torrance High's football team continues to struggle after a 49-7 home loss to Santa Paula High last Friday.
The Tartars will host El Segundo Friday at 7 p.m. The Eagles fell to 0-3 after getting routed by host Mira Costa 52-7 on Friday.
South loses first: South Torrance High's football team was nipped by St. Pius X/St. Matthias Academy 36-35 from Downey for its first loss of the season last Friday at South.
The Spartans (2-1) will visit Mary Star of the Sea High at Daniels Field in San Pedro Friday at 7 p.m. The Stars are enjoying a very good season at 4-0 after rolling over Santa Ana Century High 54-7 last Friday.
West falls to 0-3: West Torrance High's football team continued its rigid non-league schedule with a 53-17 loss to Tesoro High Friday in Rancho Santa Margarita.
The Warriors visit Mira Costa in Manhattan Beach Friday at 7 p.m. The Mustangs improved to 2-1 with a 52-7 home rout of El Segundo.
Carson is still winless: Carson High's football team is off to a slow start against a very tough non-league schedule after falling at home to Paramount 27-13 last Friday.
Things won't get any easier as Carson faces Los Alamitos at Cerritos College Friday at 7 p.m.
Bishop Montgomery is routed: Bishop Montgomery High's football team suffered its third straight blowout loss at home to Playa del Rey St. Bernard 50-7 last Friday.
The Knights (0-3) host a 4-0 Gardena team Friday at 7 p.m. The Panthers are coming off a 46-8 home win over Beverly Hills last Friday.
___________________________________
ECC Football
Walk off field goal lifts El Camino over Bakersfield
By Joe Snyder
Freshman kicker Campbell Geddes successfully booted a 39-yard field goal as time expired to key El Camino College's football team to a 26-23 win over Bakersfield College last Saturday at Murdock Stadium.
Geddes field goal came after a quick 48-yard drive that started at the ECC 30-yard line. Behind some key runs by quarterback Jake Novello, including a nine-yarder that gave the Warriors a first down at the Bakersfield 24-yard line, then a couple of short runs that brought the ball to the 22 that brought in Geddes. He kicked his second field goal of the game and third of the season.
Novello completed 14 of 23 passes for 83 yards and one touchdown, a 32-yard play to wide receiver Tariq Johnson who caught eight passes for 106 yards and two TDs.
Robert Ferrell returned seven punts for 130 yards including a 54-yard return for a score that gave El Camino a 20-13 lead early in the third quarter. Ferrell also had 99 yards in kickoff returns. Ferrell had seven receptions for 37 yards.
The Warriors will visit South Bay rival Los Angeles Harbor College in Wilmington starting at 1 p.m. on Saturday.