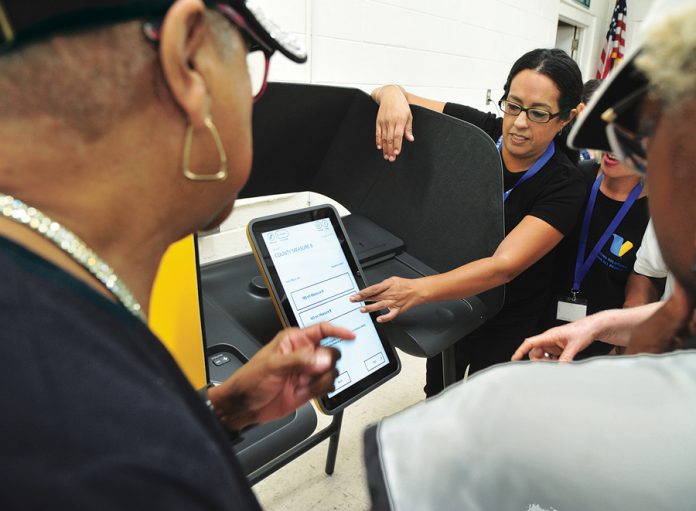 Los Angeles County implementing new voting system in 2020
By Ronald Penh and Gary Kohatsu
Beginning in 2020, Los Angeles County's voting system will transition from voters only being able to vote at specific polling places to allowing voters to cast their ballot at any voting center location within LA.
This change aims to increase the accessibility and convenience of voting in a county that comprises more than 5.3 million registered voters.
In addition, traditional voting machines will be replaced with an updated setup. The new voting process will include digital touch-screen devices, headphone options, and a ballot printer that will print a paper ballot that the voter can verify before submitting.
The updated voting machine was also intended to simplify the process for individuals with disabilities or limited English proficiency. The voting machines will provide options to read or listen to ballots in 13 different languages and include more accessible features, such as the ability to adjust font size, tilt screen angle, color, contrast, and the height of the screen for individuals in wheelchairs.
The vote-by-mail option will feature a new and redesigned layout, larger fonts, and clearer instructions. Vote-by-mail drop boxes will be available 29 days prior to election with no postage necessary for mail ballots.
The list of potential voting centers will replace the traditional polling place locations of LA County and are posted on the Voting Solutions for All People website at vsap.lavote.net. Voting Solutions for All People (VSAP) was developed by the Los Angeles County Registrar-Recorder/County Clerk to address the issue of an outdated voting system and increase voter participation and turnout.
According to the VSAP website, the organization is still accepting recommended polling locations, as the voting centers have not yet been confirmed. Along with voters being able to vote at any location, voters can now register to vote and vote on the same day.
Gardena's Rowley Park has been designated as a voting center, according to the City Clerk's office.
This initiative by VSAP has been in the works for more than 10 years with its debut of a revolutionized voting system taking the stage for the upcoming California Presidential Primary election in March 2020, with many pilot tests scheduled to take place beforehand.
Mock elections will take place on Saturday and Sunday, Sept. 28-29 from 11 a.m. to 4 p.m. This introduction sessions will give individuals the opportunity to experience and interact with the newly updated voting machines at 50 locations throughout L.A. County. The voting center in Culver City will be at the Culver City City Hall located on 9770 Culver Blvd. Culver City. The other 49 locations are posted on the lavote.net website.
The Los Angeles County Registrar-Recorder/County Clerk is responsible for recording and providing fair and accessible voting systems. Dean Logan, the overseer of the LA County Registrar-Recorder/County Clerk, was a main driver behind the VSAP movement.
The first vote centers open on Feb. 22, 2020 with election day for the presidential primaries taking place on March 3, 2020.