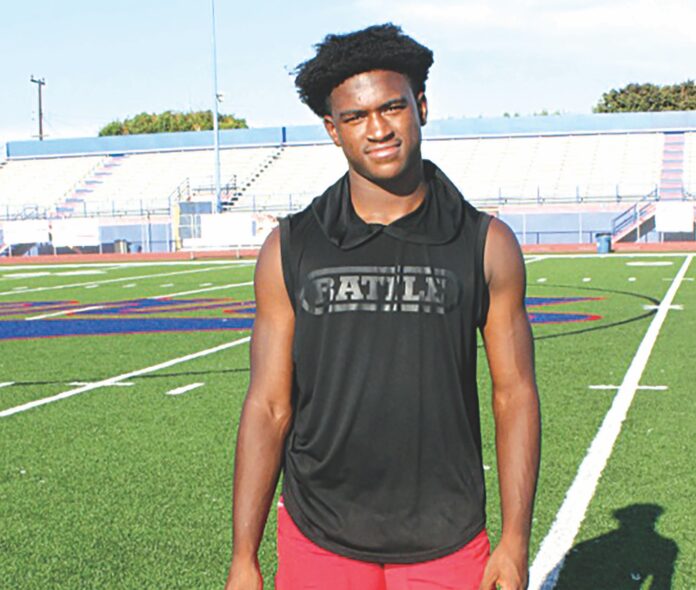 By Joe Snyder
As a junior in the 2021-22 school year, Serra High's Roder- ick "Hot Rod" Pleasant already enjoyed a premiere year.
After leading the Cavalier football team to the CIF-Southern Section Division III, Southern California Division IA and CIF-State Division IA championships last fall, he moved on to the track and field season with national record junior times of 10.14 and 20.4 seconds in the 100 and 200-meter dashes.
Now that the 2022 track and field season has passed by, it's on to his senior year beginning with football. He'll be on the field as a cornerback on defense and wide receiver on offense as the Cavaliers visit Orange Lutheran High at Orange Coast College in Costa Mesa Friday at 7 p.m. Opposing players will need to find very good strategies to hold down one of the fastest high school football players in the United States. Last season with the extremely talented Serra team as a junior, Pleasant was second team all-Mission League and second- team Daily Breeze all-South Bay. He had one punt return for a touchdown that proved to be the difference in Serra's 34-27 overtime win over host Etiwanda in the CIF-Southern Section Division III semifinals on Nov. 19 in Rancho Cucamonga. He scored three other TD's.
Pleasant will have a tough decision when it comes to getting a college scholarship in the very near future; whether it will be football, track and field or both sports. "I want to do both," Pleasant said.
Pleasant's top college considerations, as of now, is UCLA, University of Southern California, Oregon, California, Georgia and Arizona State.
Another of Serra High's standout in football and track and field, now National Football League player and former L.A. Rams wide receiver Robert Woods, competed in both sports while at USC from 2010-13.
"The goal is to do the best we can," Pleasant, who lives in Gardena, said. "We are looking at another state championship. I am still uncertain on college." After football, Pleasant will seek to break the national record in the 100 and 200 and become the first prep sprinter to break 20 seconds in the 200 and second to break 10 in the 100. In 2019, Matthew Boling from Strait Jesuit Prep in Houston ran a 9.98 in the 100 at the Texas State Championships in Austin. The national 200 record is 20.09 set by Noah Williams of T.C. Williams High in Alexandria, Virginia in 2013. Pleasant has an outstanding shot at competing in the 2024 Olympics in Paris, France in both events and, possibly, in the 4×100 relay.
Pleasant played on youth foot- ball leagues for Windsor Hills and the Wilshire Huskies in the Valley Conference before starting at Serra High as a freshman three years ago.
He also enjoys watching movies and playing video games.