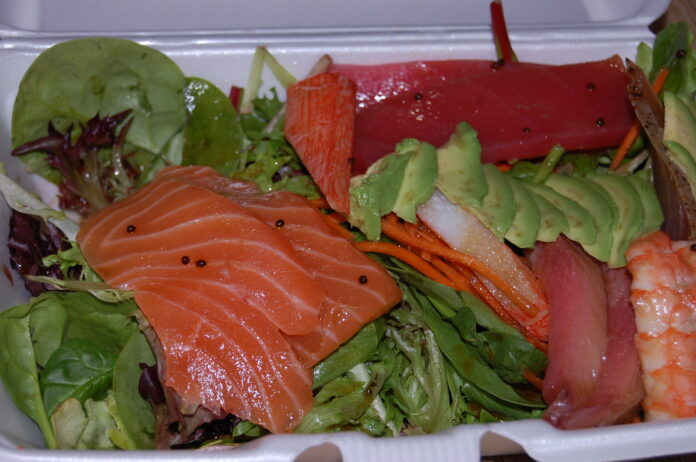 By Brett Callwood
Sure, Gardena and indeed the greater Los Angeles area, isn't short of awesome sushi restaurants. But you can never have too many and, in this city, Crazy Rock'n Sushi is right near the top of the pile.
Everything just feels a little bit cooler than in the average joint, from the standout font on the signage at the front to the warm welcome from the staff on entry. Customers waiting for carryout orders are invited to sit at the sushi bar and have a drink, rather than hang around awkwardly at the entrance (as is so often the case).
That's a small touch but a really noticeable one that makes a huge difference to the experience. But, obviously, the place really shines when tucking into the food. 
Literally everything looks amazing when gazing at the menu. You could throw a dart at it with your eyes closed, and what you inadvertently chose would be spectacular. So there are no wrong answers. Still, we had to choose something so we went with the sashimi salad (to cut down on those rice carbs), and from the "Fresh & Baked Special Roll" section, the Zen Sashimi Roll.
Both were as good if not better than we suspected they would be. The salad sees a bed of fresh and delicious mixed greens coated with a light dressing that appears to be soy sauce based, with the slices of sashimi sat on top. There's shrimp, salmon, tuna, crabmeat, and yellowtail, and more. Every piece is a delight – a fresh and fishy treat for the tastebuds. The dressing works perfectly with the sashimi too.
The Zen Sashimi Roll is even better. The thing is a masterpiece as the various flavors blend into one knockout sensation. There's tuna, salmon and yellowtail inside, with cucumber for the crunch. That's a lot of different fish for one roll, but the chef makes it work majestically. On the outside, avocado and green onion sit alongside a scattering of bright orange smelt eggs. And damn, every single one of those tiny eggs pops to reveal taste ecstasy. Unusually, the whole thing is tied together with soy paper, which is visually interesting as well as yummy.
The meal was fantastic overall. It was a bit crazy and certainly rock'n, so they didn't let us down.
Crazy Rock'n Sushi is located at 1546 W. Redondo Beach Blvd., Gardena 90247. Call 310-323-7655.