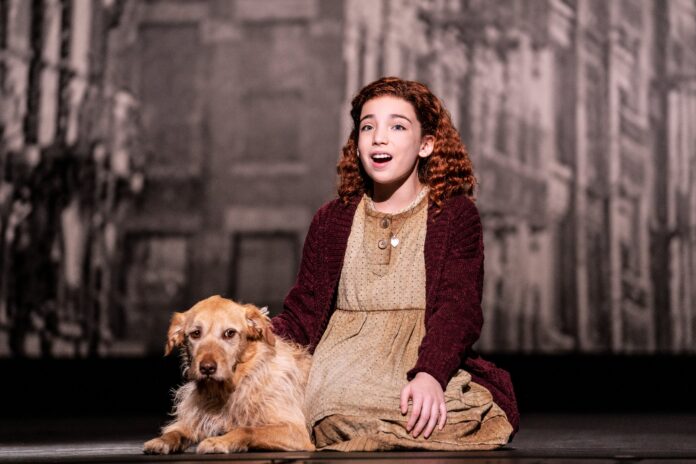 By Shari Barrett
The Los Angeles premiere of the Tony Award winning Broadway musical ANNIE is now onstage through December 18 at the Dolby Theatre in Hollywood. This celebration of family, optimism and the American spirit of determination remains the ultimate cure for all the hard knocks life throws your way, making it a perfect holiday musical for your entire family right now. And an awful lot of determination comes in a surprisingly small package, namely 12-year-old actress Ellie Pulsifer from South Florida who takes on the iconic title role with the stamina and energy of a rock star. And yes, there is a wonderful pooch named Addison, a stray mutt rescued through the Humane Society in 2017 by adopter and trainer (and Tony Award Honoree) William Berloni, who steals every scene in which she appears, especially when trotting across the stage on her own in search of Annie.
Christopher Swan takes on the role of Oliver Warbucks with not only his staunch conservatism but also the heart of a big teddy bear looking for someone to cuddle. Stefanie Londino portrays the self-centered Miss Hannigan who, along with Nick Bernardi as Rooster and Krista Curry as Lily St. Regis, attempts to find her way to "Easy Street." Julia Nicole Hunter is perfectly cast as the romantic and hard-working Grace, with Mark Woodard as wheelchair bound FDR who takes Annie's message about a better "Tomorrow" to heart. Riglee Ruth Bryson, Bronte Harrison, Vivianne Neely, Izzy Pike, Kenzie Ree, Sophie Stromberg, and Valeria Velasco portray the troublesome orphans with enough sass and cuteness to fill stages around the world!
"This show, with its iconic title character, continues to delight generations of theatre-lovers old and new by joyfully singing directly into the face of great adversity with perseverance, guts and guile," says director Jenn Thompson, who at the age of 10 stepped into the role of "Pepper" in the Original Broadway production. "For decades, ANNIE has continued to shine brightly, not only as an appeal to our better angels, but also as an example of the thrill of hard-won hope, promising a better 'Tomorrow' not only for Annie herself, but for all who need her message now more than ever." 
ANNIE features a book by Thomas Meehan, music by Charles Strouse and lyrics by Martin Charnin, all three of whom received 1977 Tony Awards for their work. The show remains one of the biggest Broadway musical hits ever, and has been performed in 28 languages and been running somewhere around the world for 45 years. The outstanding Los Angeles production is choreographed by Patricia Wilcox, with orchestrations by Dan DeLange. Talitha Fehr is the Music Coordinator and Elaine Davidson is the Music Director, with the tour produced by TROIKA Entertainment, LLC. Tickets for the Dolby Theatre are available at www.BroadwayInHollywood.com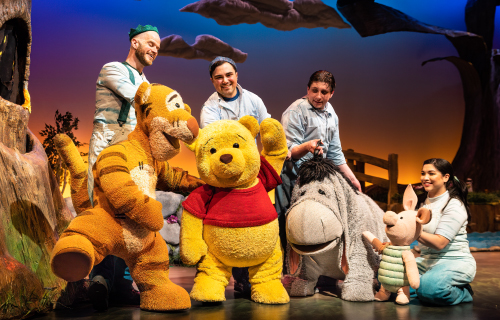 Disney's iconic Hundred Acre Wood has arrived in L.A. for the holidays! See Winnie the Pooh, Christopher Robin and their best friends Piglet, Eeyore, Kanga, Roo, Rabbit, Owl, and Tigger too in a beautifully crafted musical stage adaptation of Disney's WINNIE THE POOH at the Kirk Douglas Theatre. The heartwarming musical features all your favorite characters and songs in a brand-new adventure, making its much-anticipated West Coast debut before continuing its full national tour. Featuring the Sherman Brother's classic Grammy-award winning music with further songs by A.A. Milne, this beautifully crafted stage adaptation is told with stunning puppetry through the eyes of the characters we all know and love in a new story centered around Pooh looking for a bit of honey on a day when Christopher Robin must go to school and cannot deliver any to him. 
The hard-working and energetic actors include Coldin Grundmeyer (Winnie The Pooh), Josh Bernaski (Tigger), Luke Dombroski (Eeyore), Hannah Lauren Wilson (Piglet), Melissa Xiaolan Warren (Kanga), Blake Rushing (Ensemble) and Eshan Lyall (Christopher Robinson) who act, sing and dance with many operating life-size puppets of the well-loved Disney characters. The production's hour-long run time makes it perfect for children of all ages this holiday season.
Developed by renowned family entertainment creator Jonathan Rockefeller and made by Rockefeller Productions alongside Disney Theatrical Productions, Disney's WINNIE THE POOH Musical continues through Dec. 30 at the Kirk Douglas Theatre, located at 9820 Washington Blvd., Culver City 90232. A character meet & greet with photo ops after performances is included with premium-priced tickets. All children over 12 months require their own ticket, but if your child is under 12 months, you can purchase a seat in the Gallery where they will be allowed to sit on your lap. Information and tickets at https://www.centertheatregroup.org/tickets/kirk-douglas-theatre/guest-productions/disneys-winnie-the-pooh  U.S. tour dates at https://winniethepoohshow.com/ustour/ 
History's most famous fairytale, told with a modern twist, is now making its Musical Theatre West (MWT) debut in Rodgers + Hammerstein's Cinderella through December 18 at the Carpenter Performing Arts Center on the campus of Cal State Long Beach. With the help of magical, glittering Godmother Marie (Daebreon Poiema) and an amazing cast, audiences of all ages will be enchanted by Emily Grace Tucker as Cinderella, whose journey to achieve her dream of marrying handsome Prince Topher (Gabriel Navarro) proves "impossible things happen every day!" – despite her meddling Stepmother (Tracy Lore) and stepsisters Gabrielle (Aviva Pressman) and Charlotte (Joanna Johnson) who leads the Ladies of the Court in "Stepsister's Lament," a rousing ode to overlooked girls everywhere 
Originally created for television and starring Julie Andrews in 1957, this version of Cinderella has been remade twice, first in 1965 starring Lesley Ann Warren and again in 1997, featuring Brandy and Whitney Houston. The original Broadway production opened in 2013, created by composer Richard Rodgers and lyricist-dramatist Oscar Hammerstein II who have been hailed as the greatest musical theatre writing partners of the 20th century. The updated take on the classic fairytale adds in social and political commentary, and features some of the duo's most beloved songs, including "In My Own Little Corner," "Impossible" and "Ten Minutes Ago," with an updated libretto by Tony Award-nominee Douglas Carter Beane.
"For our final production of the year, we wanted something that would delight the whole family, and what better way to do that than with Cinderella," said Paul Garman, Executive Director and Producer of Musical Theatre West. This magical production is directed by award-winning director and choreographer Peggy Hickey with musical direction by Dennis Castellano. Athletic choreography, especially by the two actors portraying the Fox and Raccoon who transform into Cinderella's footmen, created by Broadway and MTW performer Bill Burns is performed by a talented cast of 21 enthusiastic performers who light up the stage from start to finish on movable set pieces designed by John Patrick, with each character dressed to dreamy perfection in costumes by Travis Grant and wigs by Michon Gruber. It's a perfect way to celebrate the magic of the holidays with your entire family!
Musical Theatre West's production of Rodgers + Hammerstein's Cinderella at the Carpenter Performing Arts Center at 6200 E Atherton St, Long Beach 90815 performs through Dec.18, 2022, with a special ASL Interpreted Performance on Friday, Dec. 9. Tickets $20 – $120 are available by phone at (562) 856-1999 or online at https://musical.org where the full schedule and additional details can be found.