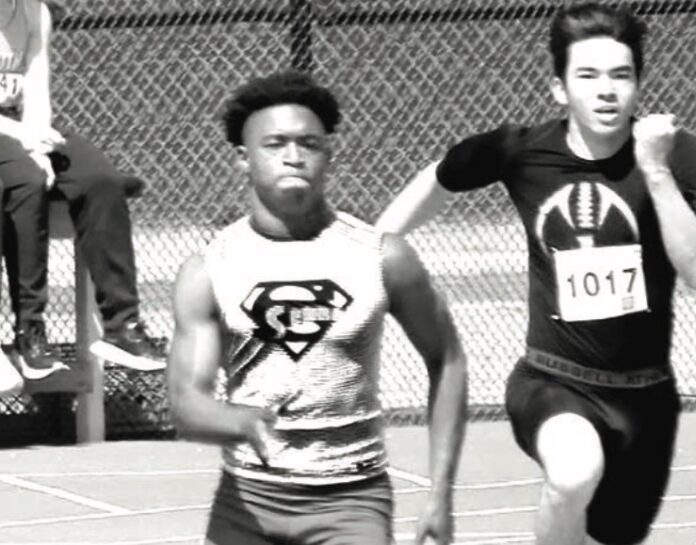 By Joe Snyder
Serra High sprinter Roderick Pleasant did not quite reach his incredible goal of breaking 10 seconds in the 100-meter dash and 20 in the 200 but he was able to win both events that included breaking the CIF-State Meet in the 100 at 10.20 seconds in the championship finals last Saturday at Buchanan High in Clovis.
Pleasant broke his own state meet record of 10.30 he set as a junior last season, that he shared with Christian Clifton of San Diego Madison in 2018. Pleasant even passed up an unofficial state championship meet time of 10.25 set by Santa Ana Mater Dei's Deshani Jackson, where Pleasant, as a sophomore, broke the national sophomore class record of 10.32 in the 100 while finishing second behind Jackson.
The official 2021 state meet, slated for Buchanan High, was canceled due to the COVID-19 Pandemic but a non-CIF sanctioned championship meet was at Arcadia High, the high school that hosts the annual prestigious Arcadia Invitational, coordinated by the Arcadia High coaching staff. That class record was broken a year later by Long Beach Jordan's Jordan Washington, who broke it by .01 of a second clocking 10.31 in the Masters Meet. Washington finished second behind Pleasant in that race as he did, again, in Saturday's state finals in 10.30. South Torrance's Anthony Flowers finished third timing 10.37.
Pleasant's top time of 10.14 he set at the Southern Section Masters Championships on May 20 at Moorpark High, the second straight year he did that time in the 100, is second in the United States behind Issin Asinga of Monteverde Academy in Florida where he ran a personal best of 10.10 last Saturday the Florida State Championships. Asinga, however, ran a blazing wind-aided time of 9.83 last month at the PURE Athletic Spring Invitational, the best time ever in the nation under all conditions breaking the national record of 9.98 (wind legal) set in 2019 by Matthew Boling of Jesuit High from Houston, Texas. Boling is currently at University of Georgia. Pleasant ran a wind-aided time of 10.09 at the CIF-Southern Section Division IV Championships on May 13, also on Moorpark High's fast track.
Pleasant came back and won the 200 in 20.67. He has a personal best of 20.4 he did in last year's Southern Section Division IV Championships and 20.53 for this year he did at the Division IV finals on May 13.
Meanwhile, the national 200 record was also broken by Asinga, also at the Florida State finals, clocking 20.11, eclipsing the 38-year-old record of 20.13 set in 1985 by Dallas Roosevelt High's Roy Martin.
Flowers placed third at 20.93.
Pleasant's two wins helped Serra finish in a tie for seventh place as a team with Clovis North totaling 20 points. Winning the meet was Granada Hills, which has one of the top 4×100-meter relay teams the nation and recorded a win at 40.39 in the state finals, with 41 points to 36 for second place Junipero Serra of San Juan Capistrano and 30 for host Buchanan.
Serra's girls, which won the California state championship last year, settled for a tie for third place with 25 points. The Lady Cavaliers tied with Castaic. Long Beach Wilson captured the state title with 44 points to 31 for runner-up Culver City.
Brazil Neal failed to win the 100, as she did in 2022, and the 200 but she managed a second place in the 200 clocking 23.75 and third in the 100 in 11.55. Winning the overall state 100 title was Westlake Village Oaks Christian's Niya Clayton (11.45), followed by second place Ellie McCuskey from San Francisco St. Ignatius (11.52) in the close race. Neal was second behind Joelle Trepognier of Culver City, who recorded the United States best sophomore time of 23.62.
Mia Flowers took sixth in the 100 timing 11.77.
Serra's 4×100-meter relay team, that included Neal, Flowers, Sadia Green and Sienna Claiborne, placed second in 46.15. Carson, with Christian Gray, Ta Ahjah Fann, Kaitlyn Williams and Reign Redmond, won the race clocking 45.61. Redmond, one of the top ranked prep female sprinters in the na- tion, though, pulled a hamstring in the 100 and could not finish. She had to scratch the 200.
The Lady Colts, who were one of the top contenders for the state title after winning their seventh straight CIF-Los Angeles City championship on May 18 at El Camino College, settled for a 13th place finish with 15 points. "We had a successful season," said Serra first year head coach Christopher Mack. "I'm really proud of the team's accomplishments. We made it to the finals."
Serra's premiere sprinters Pleasant and Neal are both bound for University of Oregon. Pleasant signed at Oregon for football but plans to run on the Ducks' track and field team, as will Neal.
North Torrance senior pole vaulter Spencer Ciccarelli made the state finals in the pole vault. He tied for ninth place with Riverside Martin Luther King, Jr. High's Jaden McKee at 14 feet, eight inches. Redondo's Dylan Curtis tied for second with Marusle Farlane from Turlock at 16-2.
Carson High comes up empty in City Finals
Carson High's baseball team was riding high after a big 3-2 CIF-Los Angeles City Section Open Division semifinal win over top seed Granada Hills on May 24 at University of Southern California's Dedeaux Field.
That put the Colts into their eighth final appearance against Lake Balboa Birmingham last Saturday afternoon at Dodger Stadium. Carson's outstanding small ball magic that helped the Colts pick up big wins over two prestigious West Valley League powers Woodland Hills El Camino Real on May 19 and Granada Hills, ran out of gas in its 3-1 loss to the Patriots.
Carson got things started well in taking a 1-0 lead in the top of the second inning as Ryan Camacho doubled down the right field line and advanced to third on a sacrifice bunt. Camacho went on to score on a balk.
Birmingham, which won its third City crown in the past four seasons, tied the game at one on a two-out single by Edgar Loon that drove home Ernesto Martinez.
The Patriots took the lead for good in the bottom of the fifth when J.B. Dalampenes singled home Chris Wood.
The Colts had a chance to tie the game in the top of the sixth as sophomore Joziah Agradondo and Noah Lopez led off the inning with back-to-back singles. That rally was quickly stopped when Aiden Brasher hit into a 6-4-3 double play and Dulan Mares flied out to right field.
In the bottom of the sixth, Birmingham took the two-run lead on a run-scoring double that brought home Martinez. Carson had a glimmer of hope in the top of the seventh as Jaime Quezada and Jonathan Olloque singled with one out but Jonathan Montes and Camacho flied out and the Patriots celebrated their championship. The Colts won the Marine League and entered the playoffs as the No. 4 seed.
The other years that Carson reached the finals were in 1965, 1968, 1995, 2003, 2005 and 2018. Five years ago, the Colts lost in the L.A. City Division I championship to Verdugo Hills.
Despite the loss, the Colts moved on to the Southern California Regional Division II playoffs where they opened against Crespi High at Hartnian Park in Encino in the quarterfinals last Tuesday. The Celtics, the CIF-Southern Section Division II champion, are the top seed while Carson is seeded eighth. The Patriots entered the playoffs as the third seed as they hosted Calabasas, the Division II runner-up. The semifinals are today and the finals are Saturday. All games start at 4 p.m.
It's not over for Serra track and field stars
It has been a great run for Serra High's standout sprinters, led by the renowned Roderick "Hot Rod" Pleasant and Brazil Neal.
Both were running for the Cavaliers' track and field program under three different head coaches including the current Christopher Mack.
Last season, Neal, along with Jordan Washington (who was injured all this season and was unable to compete), led Serra's girls' track team, head coached by Alexis Faulkner who was a former Serra High standout sprinter herself 10 years earlier, won their second CIF-State championship.
This season, the Lady Cavaliers were plagued with some injuries and other mishaps but they managed to finish in a tie for third place with Castaic in Saturday's California State Championships after placing second, behind Westlake Village Oaks Christian, in the CIF-Southern Section Division IV Championships two weeks earlier at Moorpark High.
Neal had challenges, especially with junior Niya Clayton from Oaks Christian. Clayton defeated Neal in the Division IV, CIF-Southern Section Mas- ters Championships on May 20 at Moorpark High, and the state meet Saturday at Buchanan High in Clovis. Clayton won the state meet 100-meter dash at 11.45 seconds while Neal settled for a third place in the close race clocking 11.55, just .1 second behind Clayton. Neal lost second place by .03 of a second to Ellie McCusky from St. Ignatius High from San Francisco.
Neal took second in the 200 in 23.75 as Culver City sophomore Joelle Trepognies won the race timing 23.62, the top ranked time in the United States by a prep sophomore this year.
Neal helped Serra's 4×100 meter relay team finish second behind Carson, led by another premiere sprinter in Reign Redmond, in 46.66, not the Cavaliers' best time this year. Serra ran as fast as 45.58 at the Arcadia Invitational on April 8.
Pleasant may have dominated the state in both of his sprint- ing race. Last year, he became Serra's first sprinter to sweep the 100-and 200-meter dashes with times of 10.3 and 20.56, in order. Last Saturday, he did it, again, winning the 100 in a CIF-State meet record time of 10.2, breaking his own state meet record he also shared with San Diego Madison's Cristian Clifton in 2018, and the 200 clocking 20.67.
Pleasant has top official times of 10.14 in the 100, he did in back- to-back CIF-Southern Section Masters Championships, and 20.4 in the 200, he did as a junior in the Southern Section Division IV Championships in 2022, both on Moorpark's fast track. Pleasant ran a wind-aided 10.09 100 in the Division IV finals on May 13. It is more of an asterisk mark but it was the best time ever in California under all conditions.
However, neither are national bests. Those were performed by Issin Asinga from Monteverde Academy in Florida. In the Florida State Championships last Saturday, Asinga broke the national record in the 200 at 20.11, breaking a record of 20.13 set by Roy Martin in 1985. Martin's 38-year reign in the 200 has finally ended.
Asinga also has the fastest official time of 10.10 in the 100 but he did an unbelievable wind-aided time of 9.83 in the 100 at the PURE Athletic Spring Invitational in Orlando last month. It is an all-condition national record as he smashed the previous record set four years ago by Matthew Boling of Houston (Texas) Jesuit High at 9.98 (wind legal). Boling is the only prep runner to go, officially, under 10 seconds in the 100.
If you think it's all over for Pleasant, he has another meet; in fact, three in one. Pleasant and Neal will enter the National Scholastic Athletic Federation Championships at University of Oregon in Eugene from June 15-18. If that's not all, there will also be the Nike Athletic Meet and the New Balance Nationals going on at the same spot during the same period. Both are already University of Oregon-bound, so they will taste the facilities there. Pleasant will quickly return to Oregon, not long after the meet, as he prepares for the Duck football team as a college freshman.
Sources are that Pleasant is expected to get the challenge of running against Asinga. That could give him the opportunity for his personal records and, possibly, break the 10-second barrier in the 100 and 20 in the 200. It will still go on as high school records.
With the 2024 Olympics in Paris, France coming next year, both Pleasant and Neal will be working hard to get into the U.S. Olympic trials, also slated for Eugene, for that spot in the world's famous romantic city. Of course, there is another try as Los Angeles hosts the next Olympics four years later.
Carson High's softball and baseball teams are headed for the Southern California Regional Division II Championship Tour- nament that started on Tuesday and runs through Saturday. The Lady Colts' softball team won the CIF-Los Angeles City Open Division championship and began as the No. 4 seed as it hosts Frontier High from the CIF-Central Section. Frontier is located near Bakersfield.
The Colts' baseball team was runner-up to Lake Balboa Birmingham after a 3-1 loss to the Patriots Saturday at Dodger Stadium and they travel to Hartnian Park in Encino to take on top seed Crespi. Birmingham, meanwhile, is the top seed as it opens at home against a Southern Section high school not that far away in Calabasas. Crespi defeated Calabasas for the Southern Section Division II crown.
A big surprise was that the Torrance High softball team was selected and it had an interest- ing Southern California Division I quarterfinal against La Mirada. The Tartars were eliminated by Huntington Beach in the first round of the CIF-Southern Section Division I playoffs and the Matadors also lost in the first round of Division I. Torrance, fifth seed, played La Mirada at John Glenn High in Norwalk.
The South Bay All-Star soft- ball and baseball games have been slated. The softball game will be at the Torrance High Softball Complex on Friday and the baseball game will be at Redondo on Monday. Both games begin at 6 p.m.
Gardena resident Chaim Schalk, a former Canadian Olympic volleyball player, is partner with 2021 United States Olympic beach volleyball player Tri Borne and they entered Huntington Beach Association of Volleyball Professionals Tournament as the top seed in a classic that was held from May 19-21. They made it to the championship finals against fifth seed Andyn Benesh and Miles Partain and started well by topping them in the first set of the best-of-three series 22-20. Benesh and Partain, however, regrouped with a dominating 21- 11 second set win and finished off Schalk and Borne with a 15-12 decisive third set win.
Schalk and Borne will try, again, at the Virginia Beach Open from June 9-11. The next AVP tournament in Southern California will be the Hermosa Beach Open from July 7-9. Other Southern California tournaments will be the famous Manhattan Beach Open from Aug. 18-20 and in Laguna Beach from Oct. 13-15.