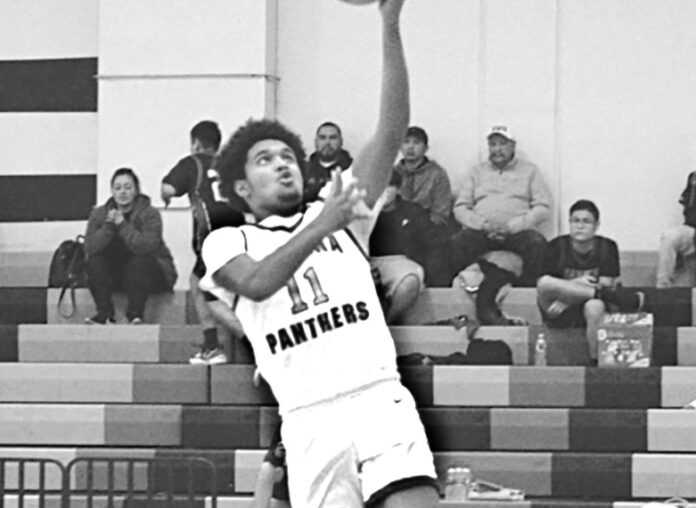 By Joe Snyder
Gardena High's boys' basketball team began the Marine League by rolling over Banning High from Wilmington 75-40 last Friday at Gardena.
The Panthers, who improved to 5-4 overall, began the game rather sluggish against the smaller Pilots. Gardena led 18-15 after the first quarter and 34-26 at halftime. The second half, though, saw Gardena straighten things out as it wore down Banning. The Panthers outscored the Pilots 41-14 in the second half, including 27-7 in the fourth period to turn the contest into a blowout.
"We led 18-15 after the first quarter," Gardena head coach Ernie Carr said. "The second quarter was back-and-forth. We had a sloppy first half. In the second half, we wore them down."
The Denham brothers played a big role in the Panthers' win. Mason sparked Gardena with 13 points, including three three-point baskets. Willie added 10 points. The Panthers had two other players score in double figures as Chase Williams chipped in 12 points and Donovan Turner contributed 10.
Samuel Espinoza led Banning (6-5) with a game-high 14 points, followed by Armando Avilo with 12, all on four three-pointers.
"We played soft in the first quarter," Mason Denham said. "In the second half, we picked up our energy."
Included in Gardena's fourth quarter was scoring the game's last 12 points.
The Panthers hosted Dorsey in a non-league game last Tuesday. Gardena resumes league at Rancho Dominguez Prep in Long Beach Friday at 4:30 p.m. Gardena begins the Monrovia Tournament following Christmas against Fullerton High on Dec. 26 at 3 p.m.
North tunes up for league by routing Westminster
North Torrance High's boys' basketball team displays a 6-4 non-league record after downing host Westminster High 75-48 in non-league play on Dec. 7.
The Saxons' win is a good tune-up for the Pioneer League as they opened at home against El Segundo on Tuesday. North will visit Torrance tonight at 7 p.m. Following the two league games and entering the winter break from classes, the Saxons will travel to Honolulu, Hawaii for three showcase non-league games. They begin next Monday against University Laboratory School. Next Wednesday, North faces Kamehameka Kapaolama and finish out next Thursday against Maryknoll. Following Christmas, the Saxons play in the San Pedro Pirate Shootout before resuming Pioneer action against at rival South Torrance on Jan. 4.
A young Serra team lost all three of its games in the Beverly Hills Tournament last week. The Cavaliers, who fell to 5-6, began by getting routed by Centennial High from Bakersfield 75-48 on Dec. 6. A day later, Serra fell to San Diego High 69-63 and lost its third game in a row to Lynwood 77-66.
The Cavaliers take this week off before opening their own Dwan Hurt Memorial Classic next Monday against Wiseburn-DaVinci from El Segundo at 7 p.m. A day later at the same time, Serra faces CIF-Los Angeles City Section power Westchester. The classic resumes through Dec. 23, in which the finals will be.
Following Christmas, Serra plays in the Torrey Pines Classic in San Diego-Del Mar where it begins against San Leandro from Northern California on Dec. 27.