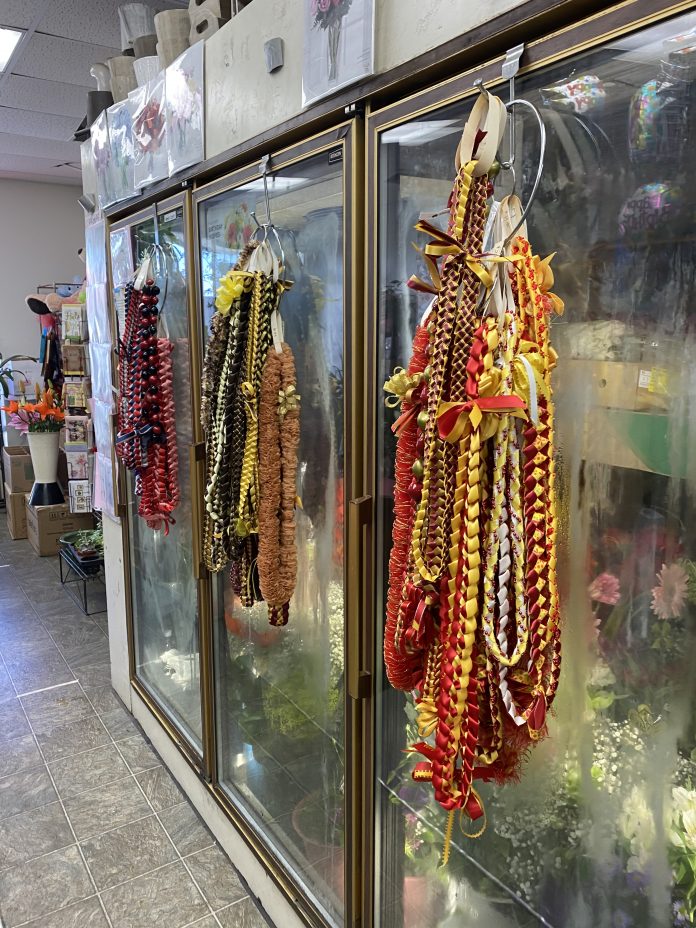 By Ronald Penh
Floral shops have been a prominent part of our communities, as floral gifts have traditionally been used to celebrate or honor events. It does not fall short, however, from the impact that COVID-19 has had on businesses throughout the nation.
For Sharon Nakagawa, owner of Kiku Florist and Gifts, the necessity of floral shops is highlighted by her shop remaining quite popular during the quarantine and closure of non-essential businesses.
"I think usually people get flowers when there is something to celebrate, or something they want to like a funeral, something they want to have a special event for," Nakagawa said.
The event that grabbed the most customers though was graduation, in which the business had received the most requests for items such as leis. 
From El Camino College to Junipero Serra High School, the shop had just about every school color in the area available in the form of a lei.
Due to COVID-19 restrictions, however, the shop had to operate as a two-person staff with just Nakagawa and her son. They made adaptations to the shop to cater to COVID-19 regulations and made delivery and pickup available to customers. 
"We still have to pay our mortgage and stuff," Nakagawa said. "So we need to try to still earn money, so we have to keep open. The bills don't go away."
The significance of floral shops also has deeper layers to it, as the workers in the food and agriculture industry that farm the flowers that end up in floral shops function as an important part of the economy, according to a press release from the California Association of Flower Growers and Shippers. The floral industry consists of a web of people that include growers of cut flowers, wholesalers, and retail shops.
The Cybersecurity and Infrastructure Security Agency lists the food and agriculture industry, which the floral industry is a part of, as one of the 16 critical infrastructures in which disabling any of those infrastructures would result in "a debilitating effect on security, national economic security, national public health or safety, or any combination thereof." 
The business that floral shops create links back to the wholesalers and workers at farms that contribute to the nation's economy overall.
Kiku Florist and Gifts is located at 16511 South Western Ave. For those that have inquiries with the shop, you can contact them at  310-327-3034. You can also visit their website at https://www.loc8nearme.com/california/gardena/kiku-florist-and-gifts/5095157/.