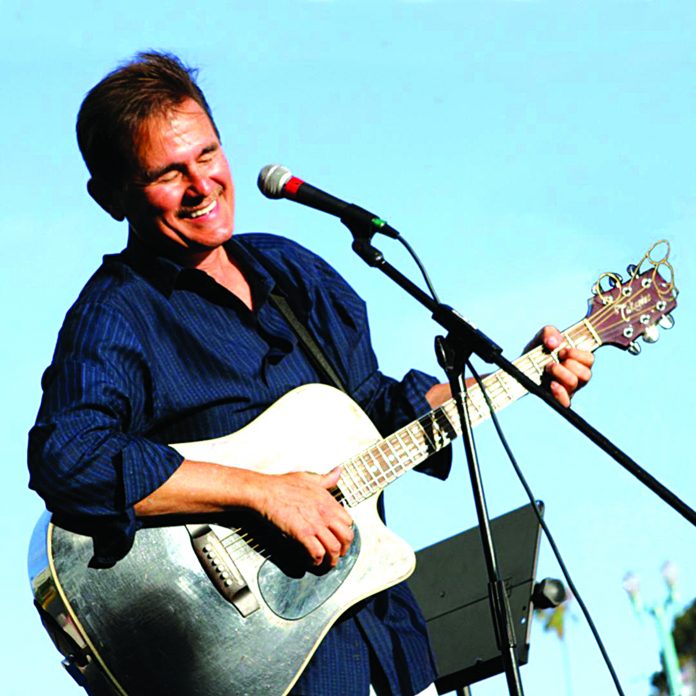 Gardena High alum shares his positive music via Facebook live every week _
By Gary Kohatsu
If a sketch artist were to create the perfect musician for the coronavirus era, the finished product might look something like Harold Payne.
After all, Payne possesses the ideal qualities to survive and thrive in a pandemic shutdown: tall and fit, an upbeat personality, a positive messenger, loves different languages, has a passion for various cultures, and of course, has a track history of laying down some beautiful sounds.
"I have fun singing in other languages and I eventually realized the music is the most universal of them all," he said this week in an online interview with the GVN.
Nowadays, Payne, a Gardena High alumnus from the summer class of '63, does some of his best work online. Calling it Facebook live "Thursdays at Three" and "Two Song Tuesdays," his music is reaching his fan base without missing a beat.
"(The Facebook shows) have helped not only to sustain an audience and keep my musical chops together, it has turned into a fun gathering place for friends and other listeners — both locally and around the world, including Ethiopia, Tokyo, Serbia and London," he says.
The South Bay guitarist describes his brand of music as a blend of acoustic folk and rhythm and blues, merged together with influences from musicians such as Bill Withers, José Feliciano and James Taylor. Payne says he was really drawn to "eclectic singer songwriters with a soulful flavoring."
Add a dash of Motown, Beatles and the Eagles, and you get the picture.
"I like a lot of current acts as well, like Bruno Mars, John Mayer, Ed Sheeran and Jason Mraz, and pop country artists like Thomas Rhett and Brett Young," Payne explains. "I was a fan of Bobby Womack and his mentor Sam Cooke before we started writing together and that turned into a wonderful collaboration for many decades."
The COVID-19 pandemic has created a new normal in socializing and Payne has adapted quite well to online performances. He says he has gravitated seamlessly into the Virtual World of entertainment.
"One of my music biz mentors said, 'you'll never have a better time to capture an audience than now and you can carry them with you going forward.' That's how I started my regular Facebook live shows," Payne says. "The first one was a tribute to Bill Withers, who I had the pleasure to meet several times. I have been doing a Thursdays at "Three Facebook" live show every week since the beginning of April and for the last month a "Two song Tuesdays" Facebook live show at 6 p.m."
Adding to his schedule are several private custom-song performances and corporate events, where he will do a "kick-off" song in the beginning, some fun improv for a break in the middle and then a recap song of everything that came before.
Not to shortchange any music lover, Payne has also given virtual performances for many churches and some "live" outdoor venues.
Going virtual also provided an opportunity to pull from his vault of songs, he says.
"It has also given me the chance to sort of rediscover songs that I had kind of forgotten about and dust them off to re-learn them," Payne says. "I usually do a mix of original, cover songs and improvs — all on my personal Facebook page: facebook.com/haroldpaynemusic909."
Early Years
Born in Los Angeles to a music-loving family, Payne was one of 4 children: he has two brothers and a sister. He grew up playing sports "on the local playground" and later at Gardena High, where he was co-captain of his Mohican football team. Incidentally, he mentions that he and brother Chris were both voted "most inspirational" players on their respective teams.
Payne played some freshman ball at California State University, Long Beach, but concussion issues put an end to his sports career. He would go on to earn a degree in Spanish at UCLA, then studied linguistics and TESL (teaching English as a second language) in grad school.
Music has always been his heart and soul and growing up, the Payne household was never without melody.
"My dad (Harry Payne) loved music and actually had a sound system in the house that was on a timer to play at meal times," Payne recalls. "My brother Chris was a prominent live DJ for many years (later) and all my family are music lovers and always encouraged me, and opened a lot of doors with contacts and promotional skills that were not my forté. My parents supported us in doing what we each felt was our calling."
As a side note, his mother Lorraine "Dolly" Payne is 95 and still loves Harold's music.
Payne caught the performance music bug as a kid when he picked up his brother Larry's ukulele. Noticing Harold's curiosity, his parents bought him his first musical instrument.
"(They) saw my interest, especially noticing that I was transfixed at campfire singers while on vacation in Canada, and got me a guitar."
Payne says toward the end of high school, he joined a surf band, a folk group and an R&B band.
"My first public singing performance was at the Miss Gardena Beauty Pageant," he says.
He performed "Til There Was You" with fellow members of the Southwind Trio, Bruce Dalrymple and Danny Cohn.
Musical career
Payne's post high school days saw him perform with many young, local musicians.
"After high school, we had a band with GHS grads George Dolby, Roland Biscailuz (a musical mentor to me), Judd Whitcher and a Torrance High grad named Pete Rucker," he recalls. "Pete, our lead singer was tragically killed in an accident and shortly after we were asked to play at Baby Huey's in Gardena (the Chandler's Shoes & later Gung Hay Restaurant location on Crenshaw), a football player- singer from Long Beach State, Rich Riley, joined our group. When Dennis Grace (Serra High) opened Baby Huey's in the late '60s, our band, "Rich Riley & the Tailfeathers," played mainly Motown/R&B music there for a several years."
Payne says there have been many reunions at that location and that a lot of his Facebook followers were part of the Baby Huey's audience.
"Later, Ed Pease — whom I first met while playing football against him — was an All-American high school quarterback at Leuzinger," he says. "(Pease) took over for Biscailuz in the group and he and I would end up playing and writing together for many years."
Payne played with Pease, Mike Scarpiello and Joe Rodriguez in the South Bay for years, and as a group they made mid-west tours.
"Then I started playing mainly solo, and eventually also with 'Gravity' (now called "Gravity 180") with Clydene Jackson — a first call session singer and keyboardist — and Oliver C. Brown, an original member of KC & the Sunshine Band. We signed with a Japanese label (Pony Canyon) and did several tours of Japan."
Payne's wife Susan was also a part of the early 'Gravity.'
One of the most critical musical intersections was when brother Larry met and then introduced musician Bobby Womack to Harold in 1974.
"I ended up writing with Bobby off and on until his passing in 2014," Payne says.
Among his most meaningful songs, Payne starts with "Music Speaks Louder Than Words," (co-written with Ed Pease and Mike Scarpiello), which he says has been recorded by many artists around the world.
"I still often close shows with it," Payne says. "It has that gospel-like, folk-soul quality that makes it singable in several genres."
Another favorite is 'Daylight,' co-written with Bobby Womack "because it was my first big charted song and also performed by many other artists (such, as Vicki Sue Robinson, Leon Russell and Kelly Rowland)."
Finally, he names "Break the Chain/Bravest Man in the Universe," another tune co-written with Womack. "This song led me to London with Bobby and doing an entire album with Damon Albarn (Gorillaz & Blur) and Richard Russell (owner of XL recordings — Adele/Jack White)  on Bobby," Payne says. "The Album "Bravest Man in the Universe won the Q award in the UK for album of the year in 2012."
Evolving with Improv
A rather successful addition to Payne's performance has been the inclusion of Improv.
He says it started with forgetting other people's lyrics and coming up with his on words — on the spot. This progressed to rhyming phrases and the musical adlibs evolved from there, as well as "as playing at Beach Bum Burt's club with Ed Pease, where there were a lot of birthday celebrations," he says. "I started making up little ditties instead of singing the Happy Birthday song 20 times a night."
Payne perfected his style by asking audience members for song titles and he would make up a song on the fly — "risking my reputation for your entertainment," he told them.
The improve segment stuck as a regular part of his show.
As the Facebook performances have grown in popularity, so has Payne's following.
"I may move it to my Harold Payne Music "band page" eventually because I'm at the 5,000 friends limit on my personal page," he says.  "The beauty of doing the FB live shows is that they are recorded and downloaded, so I have video archives now of a large number of my songs that I can repurpose on other sites in various forms or have them as a reference," Payne says.
"Also, it's great that a lot of people have fun connecting with one another on these FB live shows, sometimes with friends they haven't seen in years. That's a large part of the joy of doing them."
Those interested can connect with Harold Payne at https://www.facebook.com/HaroldPayneMusic/