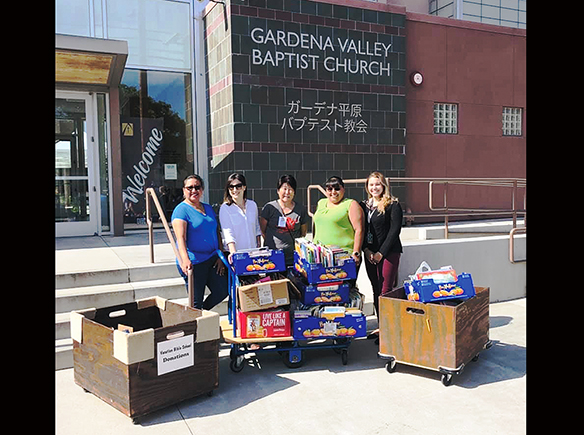 The Gardena Valley Baptist Church held its annual Vacation Bible School July 15-19, in which the children members involved created a mission goal to help and give back to the community.
This year, the mission's goal was to help out the city of Gardena human services department's children's daycare, senior daycare, socialization, the senior bureau programs, emergency services, and other various programs by gathering and collecting as many books as they could to donate.
For five days, children ranging from preschoolers to 5th graders collaborated to achieve this goal.
Susan Wakuta, the children's director at the Gardena Valley Baptist Church, helped oversee the mission objective. Kids in the program collected used children's books, magazines, puzzle books, and coloring books for both kids and adults.
During the five-day program, the children gathered a total of 1,503 books and magazines. The books collected will be allocated toward the various departments of Gardena that the program aimed to help.
Jaclyn Coppa, the community services counselor for the city of Gardena, shared her experiences working with kids that are exposed to philanthropy and the environments that encourage that.
"I work with many different kids from the churches, schools, boy scouts, (and) girl scouts and so I am surrounded by kids that give back so it all kind of depends on the family or if they are affiliated with any organizations," Coppa said.
On Aug. 2, the city of Gardena will be hosting a back-to-school drive in which the books that were donated in new condition would then be distributed to the school drive. The books will also be allocated toward the city's Recreation Department, then donated to its after-school program, as well as lobbies in the city's various departments. There, families can pick up a free book or two at their leisure.
The family child-care program will also be receiving some books which will go toward the homes where the child-care is provided.
Another stack of books will be issued to the "Helping Hands" Christmas program at the end of the year.
This program has enabled children during the early stages of their youth to be exposed to concepts such as philanthropy and giving back to the community.
The Gardena Valley Baptist Church holds worship services every Sunday at 8:45 a.m. and 10:45 a.m. The service at 8:45 a.m. is held for English-speakers while the service at 10:45 a.m. is available for Japanese-speakers.