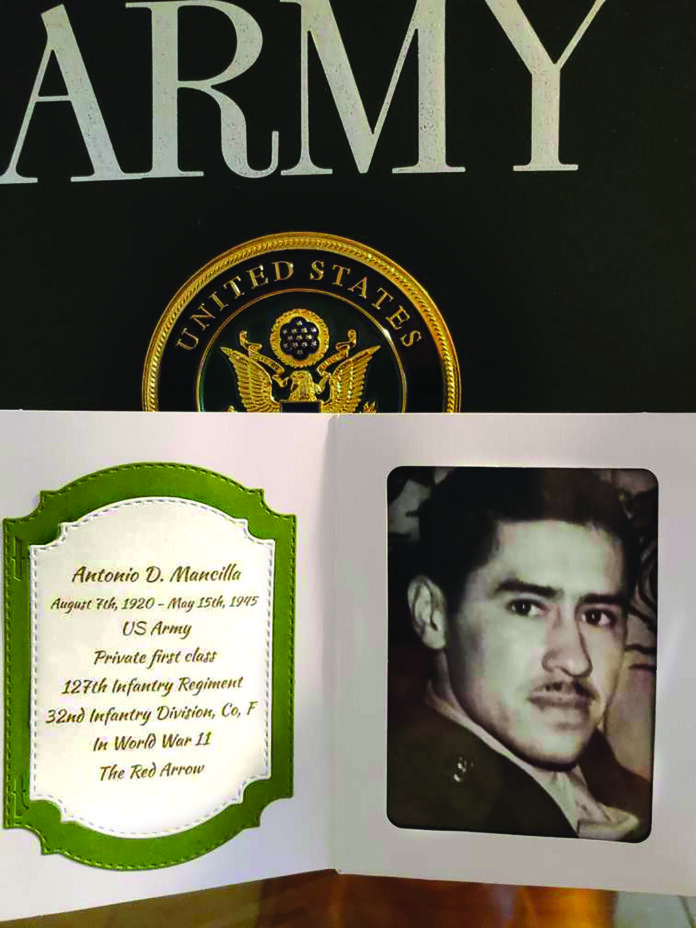 By Gary Luster
According to verywellfamily.com, a daughter's relationship with her father plays a key role in their psychological development. This relationship helps them develop into confident self-assured women who have a clear sense of what they want in life.
But what happens when that relationship never develops due to circumstances beyond any- one's control?
Instead of happy memories full of shared experiences, all the daughter is left with are questions. Such is the case of Yolanda Wu.
Wu, a former Gardena Elks member, lost her dad Antonio D. Mancilla during World War II in 1945, the year after she was born.
Because Wu never knew her father, she had to rely on her mom to fill in the blanks but unfortunately, her mom was of little help. Wu and her brother were upset because they didn't know anything about their dad other than that before the war, he worked at a restaurant as a chef's assistant and that in his spare time he liked to read and draw.
"My mom never talked about my dad except to say that he died in action," Wu said.
That answer was not uncommon for lots of kids at the time who lost their fathers in that war. At the time, veterans and relatives of veterans just didn't talk about their time during the war as it could often be a sore subject for those who would rather not be reminded of friends and family who never came back home.
Not even Wu's uncles, who came back from the war after serving in the Marines and the Navy, wanted to talk about it.
But the deafening silence on the subject only created more questions in Wu's mind. How did her dad die? Where did he serve? What was her dad like before he left his family for the war?
It took two years of diligent internet research by Wu's computer whiz niece Molly Salas to uncover the answers to the questions that plagued Wu for so many years.
Thanks to Molly, Wu learned that her dad served as a private first class in the U.S. Army's 32nd Infantry Division, known as the Red Arrow Division which was named for the red arrow shown on the unit's shoulder patch as it pierces a line.
The image is meant to signify the unit's tenacity in piercing the enemy's line of defense. The Red Arrow Division was the first allied division to break through the German Hindenburg's line of defense during the war.
In addition to learning of her father's unit, Wu also learned that her he was 24 years old at the time, died on assignment in the Philippines as a result of a sniper's bullet to the chest, killing him instantly.
To honor her father, Wu and her children and grandchildren would go to a special World War II veterans celebration every year in Santa Ana. It was at these events where Wu's niece would talk to the veterans and relatives of veterans to gather information which ultimately led to her internet research.
"When we went to the celebration in Santa Ana every year, my niece would talk to people who were in the service and she came across two men who were in the same Red Arrow division as my dad," Wu said. "When my niece's mom died, the service was held at a small cemetery in Redlands [Riverside National Cemetery]. There was one area with tons of flags that was closed off and she asked about it and found out that it was set aside for veterans. She asked how they could get a slot for my dad. She was told to contact the person in charge of that, which she did and within a few months, they sent me a letter saying that they were going to do a service for my dad. The service was done in spirit because we could not bring his remains back from the Philippines."
Since Wu was unable to bring her father home from the Philippines, she and her family will be traveling there in November to visit his grave site. Wu's dad is buried and memorialized at the Manila American Cemetery in Manila, Philippines.