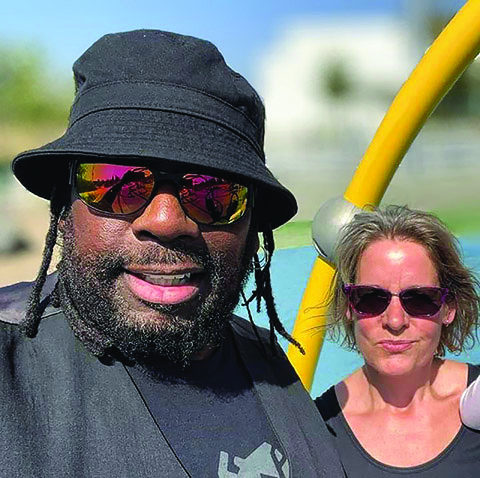 By Brett Callwood
Tate Simms and Vera Herten are two locally-based musicians who perform regularly at the Desert Room here in Gardena. Herten spoke to the News about their background and what they have coming up…
When did each of you start playing, and what have you done prior to these performances?
Tate grew up in New York City. His mom had a choir in a church from an early age he was exposed to music and started playing guitar when he was 8. Tate toured with numerous artists in the US and abroad, among them Joe Cocker, Christina Aguilera and Latoya Jackson. Currently he works on his own mu- sic, plays with the West Coast Slave band and the Lakeside, among others.
I started playing drums when I was 13. Originally from Germany I saw a TV show called Superdrumming which inspired me to play drums. I toured with bands in Germany (Isartaler Hexen, Haggard, Electric Ladyland). Currently I play a lot of Tamborazo (traditional Mexican music from Zacatecas) and also work on my music and play frequent blues and rock gigs with Trulio Disgracias (led by Norwood Fisher) and Margaret Love (blues).
How did you meet and start performing together?
We met in 2016 at a jam session at Harvells in Santa Monica and started playing shortly after.
Describe your style/sound…
You name it… except blues and hip-hop. As small bars are limited in space and the money they can spend on live music, we come as a two-piece band but we'll rock out! Think Jack White and his sister on drums.
How did you start playing at the Desert Room? What's the vibe? What sort of crowd do you pull in?
I think six years ago I walked into the Desert Room. A friend of mine had told me that they have live music so I figured I'd ask for a date. Betty, the owner, gave us a try out date and we have been there ever since. The Desert Room is your good old neighborhood bar with a twist. Good people, cheap drinks, awesome bartenders, free parking and popcorn. Can't go wrong with that.
There's not a lot of live music in Gardena — do you feel like it's a bit of a wasteland within LA, musically?
Just dig and you will find things. The Desert Room has lots of other bands on Sundays and Tuesdays. In the summer there is a jazz festival in a park in Gardena and also there are quite a bit of underground shows, indie and punk, going on. You just have to know.
Do you have any recorded output?
Tates Simms' Utmost is out and available on all digital plat- forms. My stuff is on Soundcloud.
Tate Simms and Vera Herten play at the Desert Room on the third Tuesday of every month.