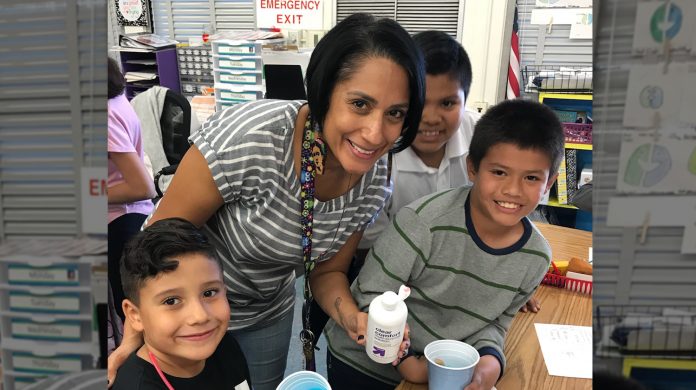 By Ronald Penh
From singing and rapping to dancing, 4th grade teacher Rhiannon Chavez does not allow distance learning to limit her creative approaches to keeping her students engaged. She teaches at 186th Street Elementary School and received the 2020 LA County Teacher of the Year award, a feat she credits to her core principles of teaching where she puts "relationships before rigor."
"You have to have a relationship first with these kids. You have to know about their families, ask about their interests, their hobbies, and when you do that in the beginning of the year, you're gonna see that your classroom management is on point."
Distance learning, as a result of the pandemic, has pushed Chavez and other teachers to find ways to keep their students engaged through the computer. That was a huge transition for Chavez whose teaching style is largely founded on the significance of relationships. 
"Teachers, all we know is having a one-on-one connection, (or a) hands-on activity, so imagine all of those strategies, all of those lessons had to be changed overnight to do it on the computer," Chavez said. "Teachers have really been working nonstop, three times as hard as they do normally, because we've had to change everything."
Her enthusiastic and energetic style of teaching is a testament to the dedication that many teachers have towards ensuring a quality learning experience for their students, whether it has to be in the classroom or not. Chavez's teaching style which involves singing and dancing has persisted through the pandemic in which she still performs songs during Zoom meetings. 
 "I do a lot of singing and dancing especially because I have English language learners, so I feel like my students, they really get a lot out of movement and singing," Chavez said. "So when I teach math, I'll teach a standard and I'll add a song to it."
The education sector has its unique challenges in trying to satisfy the vacuum of goals and tasks that come with an elementary education, all through a computer.  
"You're learning rules, you're learning how to negotiate with your friends, you're learning how to communicate, you're learning how to be a peacemaker, you're learning how to love your community, love your family, you're learning how to read, you're learning about the world around you, you're learning about your place in your community," Chavez said. 
In addition to the challenges an elementary student faces, pre-existing educational disparities such as low-income students or students that do not speak english as their first language are compounded by the pandemic.
It is a gap that is alleviated by the efforts and dedication from teachers that step up to the plate.
For Chavez, her recipe for success in the classroom is quite simple.
"I'm a successful teacher because I love my students," Chavez said.
Her recipe has been quite effective, as she finds some of her students enthusiastically looking forward to class, even in the academic world of distance learning.
Chavez also expressed plenty of praise for the teachers who have expended lots of energy towards redesigning their learning curriculum around distance learning. Her story highlights the momentous shift that the pandemic has created which has overlapped into virtually all aspects of society. 
"I cannot give enough props to all the teachers out there…I know so many teachers at 186th Street that have sleepless nights, they're working until midnight, can't sleep, are waking up early, just to make sure that the kids are engaged."
Chavez largely credits the community at 186th Street Elementary School and the support she received from fellow teachers for her personal success. She approaches teaching with an open mind and actively seeks advice from other teachers to improve her own methods of teaching. 
Chavez began her career in education as a substitute at Dana Middle School in San Pedro, where for nine years she was called in to work nearly every day. After she got married and had a child, she made the decision to apply for CSUDH's credential program and teach younger kids in which she completed the program in 2014. 
"I am so thrilled that Rhiannon will get the attention and celebration she deserves! She was an absolute joy to have in my classes during her credential program and I have followed her career closely," CSUDH Professor of Teacher Education Jeff Sapp said in a press release. "It's just a joy to see your students be acknowledged like this, and this feels even more critical now with the pandemic. Teachers really need to be lifted up as we face the realities of COVID-19 and classrooms."