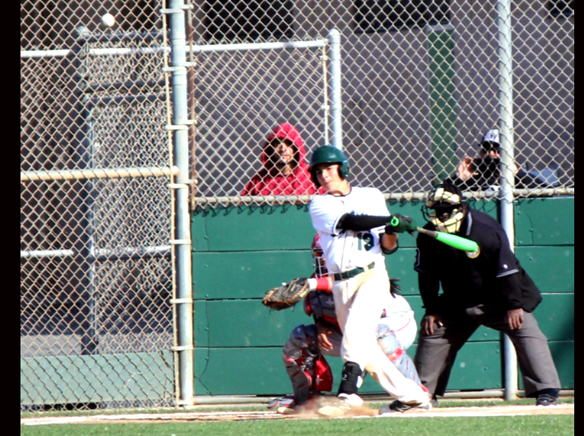 Coming off the spring break and with Marine League baseball action starting this week, Gardena High's baseball team hosted Hawthorne in a battle of two teams with undefeated records on March 30.
The game was close throughout as the Cougars finally prevailed 3-2 in eight innings.
Coming off the spring break and with Marine League baseball action starting this week, Gardena High's baseball team hosted Hawthorne in a battle of two teams with undefeated records on March 30.
The game was close throughout as the Cougars finally prevailed 3-2 in eight innings.
With the game tied at one after the regular seven innings, Hawthorne, which improved to 8-0, scored two runs off eventual losing pitcher Chris Lopez, who pitched the full eight innings. With two on and one out, junior right fielder Charles Phelps slashed a single scoring Kealohi Noguchi and Andy Monarrez to give the Cougars a 3-1 lead.
The Panthers rallied and got within one run in the bottom of the eighth. It started when Daniel Herrera singled. Roberto Chavez, then, walked but was forced out when Daniel Vasquez hit into a fielder's choice. Jorge Avila grounded out to shortstop scoring Herrera. Andy Ibarra followed with a walk but Monarrez, a complete game winning pitcher, struck out Pedro Trejo ending the threat.
Gardena, however, could have been plagued on what could have been a controversial play. It happened when Vasquez hit a short fly ball to Phelps, who appeared to make a shoestring catch on the play but some felt he dropped the ball. Chavez was on first base but Vasquez was also at first as there was no call by any of the umpires. Fox felt that Phelps dropped the ball as Chavez should have gone to second. "This game was given to them (Hawthorne)\," Gardena first year head coach Tom Fox said. "There was no call and we had two guys on first."
The Cougars scored first in the top of the fourth when Monarrez singled home Peter Girgis. The Panthers tied the game in the bottom of the fifth on Chavez's hit. Chavez had two hits and one run batted in. There was no further scoring as the contest went into extra innings.
"It was a good game," Fox said. "Those guys were scrappy."
Fox comes to Gardena after a long stint of coaching various sports at Narbonne for 27 years from 1983-2009. He coached baseball, softball, football and golf. In 1991, Fox assisted Nick Van Lue as the Gauchos captured the CIF-Los Angeles City Section 3A championship. One of the players on that team was current Narbonne head mentor Bill Dillon.
The Panthers fell to 3-1 with the loss as they begin the highly competitive Marine League this week. Gardena opened at San Pedro last Tuesday and will host the Pirates today at 3 p.m. The Panthers remain at home against Banning next Tuesday at the same time.
___________________________________________________
South Bay All-Star Basketball
Reds, Blues split wild South Bay All-Star Hoop Games
By Joe Snyder
Sports Editor
With the prep basketball season finally completed with the California State Championships on March 25 and 26 at the Sleep Train Arena in Sacramento, local senior boys' and girls' basketball players gave their encores at last Friday's South Bay All-Star Basketball Classic at South Torrance High.
In the girls' game, it was Serra High head coach McKenzie Hadley that co-coached with Lawndale's Anthony Gipson for the Red squad, which defeated the Blue team 78-65. The boys from both teams put on a show in the 40-minute contest as the Blues outlasted the Reds 141-129.
The Lady Blues, behind Serra standout Briana Johnson who will be continuing her stint at University of Denver next fall, started out well in taking a 19-11 first quarter lead before the Reds came back and took a 35-32 halftime lead.
The Blues tied the game at 37 on a basket by Haven Ward of Lawndale Leuzinger but the Reds went on an 8-0 run and led the rest of the way. Leading 59-51 after three periods, the Red squad continued to pull away in the fourth quarter.
The Reds had very good scoring depth as no player made double figures. Instead it was Serra's Brijaye Brackett, Karissa Dedman (South Torrance), Melanie Ortiz (San Pedro) and Hunter Noa (Redondo) that led the team with eight points apiece. Leading the Blues was Redondo's Kyra Hamlin who led all scorers with 16 points. Johnson added 14 points and North Torrance's Megan Tanaka chipped in 10.
"It was fun," Hadley, who guided the Lady Cavaliers to the Southern Section Open Division playoffs and the Southern California Regional Division I quarterfinals before a heartbreaking 69-66 loss to host Vista Murrieta this past season, said. "It was a good game for both teams. We did have more Serra and Redondo players than the Blue team."
Along with Brackett, other Cavaliers on the Red squad were Brooke Bayman and Daeja Banner. With the Reds for the Sea Hawks, who won their second straight Bay League championship and reached the CIF-Southern Section Division IAA semifinals before falling to host West Torrance 47-42 on March 2, were Noa and Micaela Enriquez, daughter of head Sea Hawk coach Marcelo Enriquez. Enriquez co-coached with Carson's Nicole Perkins on the Blue team. Makenna Enomoto represented North on the Reds and West, which made the IAA finals before falling to Ventura and lost in the Southern California regional quarterfinals, was represented by Hayley Tanabe.
Hadley guided the Lady Cavaliers to the California State Division IV title in 2013 and the Division I finals where it lost in overtime to Sacramento McClatchy last year.
The boys' game would remind one of the 1980's Los Angeles Lakers showtime or some even imitating the players from CIF-State Open Division champion Chino Hills (The Huskies won numerous high scoring games that included scoring 100-plus points in 18 of their games.) in their all-star classic. Of course, all-star games are usually high, including that wild 196-173 game in this year's National Basketball Association All-Star Classic. It included 28 players scoring, 15 of those in double figures.
The start of the game set the tone as the Blues took a 45-33 first quarter lead. The Reds, though, outscored the Blues 39-28 in the second period as they were within one point at 73-72 at halftime. The Blues led by three (105-102) after three quarters before pulling away by outscoring the Reds 36-27 in the final period.
"We won," Narbonne head coach Andre Hilliard, who guided Gardena to the CIF-L.A. City Section Division II title three years ago and this year, the Gauchos to the L.A. City Open Division final where they fell to power Westchester 51-42 on March 6 at Cal State Dominguez Hills and in the Southern California Regional Division I semifinals to host Redondo 63-62 on March 15, said. "There was no defense. The kids had a lot of fun. It was great experience for the kids."
Hilliard coached with former Narbonne mentor Ryan Quinlan, who is now head mentor with Rolling Hills Estates Peninsula and guided the Panthers to the Southern Section Division IA quarterfinals.
Serra had a mostly young team but still won the CIF-Southern Section Division IVAA championship with a 53-50 win over Sherman Oaks Notre Dame High on March 5 at Azusa-Pacific University and the Southern California Regional semifinals where the Cavaliers fell to eventual CIF-State Division IV champion Studio City Harvard-Westlake 47-43 on March 15 at Serra. The Cavaliers, though, had two seniors and one represented each team in the classic. Micah Dykes was one of the Blues' nine players to hit double figures with 11 points. Mason Chipley had two points for the Reds.
North also had one representative each. On the Blues was Tyler Johnson who contributed eight points. Isaiah Homes finished with nine points for the Reds. For Narbonne, the Blues were represented by Jamal Hicks who had 14 points. Torrance standout Giovanni Jackson put in eight points for the Blues. Jackson keyed the Tartars to the Pioneer League title.
Leading the Blues was Inglewood's Jordan Bell with a game-high 22 points. The Reds were led by Julian Ross from Southern California Division V champion, Southern Section Division VA and State Division V runner-up Playa del Rey St. Bernard's Julian Ross with 20 points. The Reds had six players score in double figures.
_______________________________________________
Serra Baseball
Serra closes St. Paul Tournament with win over Banning
By Joe Snyder
Sports Editor
Serra High's baseball team had a disappointing showing in the St. Paul Tournament but finished out with a 3-2 win over Banning High from Wilmington on March 30 at La Mirada High.
Junior Cardinal Fernandezees continued his outstanding showing. He pitched a complete game four-hitter with 10 strikeouts and two walks. With the bat, he had one hit in three at-bats and scored once.
Gary McCoy sparked the Cavaliers' offense going 2-for-4 with one run batted min and one run scored. Adrian Morales was 2-for-4.
After opening the St. Paul Tournament with a 6-1 home win over La Canada St. Francis on March 23, Serra lost three straight tournament games to Carson (4-2 on March 26), host Downey (7-6 on March 28) and Alhambra (10-7 on March 29).
The Cavaliers resumed Del Rey League play at home against La Puente Bishop Amat last Tuesday. Serra visits Cathedral High at Bishop's Park in Los Angeles Friday at 3:15 p.m. The Cavaliers come home to face Pasadena La Salle next Tuesday at the same time.
_________________________________________________
Sports Scoop
Dodgers begin shorthanded; Angels could be in close race
By Joe Snyder
Sports Editor
The Spring Training for the 2016 Major League season has come to a close with the Los Angeles-Anaheim Angels sweeping the shorthanded Dodgers that concluded with an 8-1 victory Saturday at Angel Stadium.
After winning three consecutive National League Western Division championships only to come up empty in the playoffs, the Dodgers appear that they to be going down some as they will, most likely, not reach the playoffs this year. Injuries also plagued the Dodgers, already losing eight players over the spring training and, at least, most of those long term.
The Angels closed out spring training with some high hope, sweeping their freeway rival Dodgers, then topping the Chicago Cubs 6-4 in their exhibition final, before opening with two regular season Interleague games last Monday and Tuesday.
Here is the Sports Scoop prediction of Division finishes:
National League: Western Division: 1. San Francisco Giants—During the 2010's, the Giants won three straight even number World Series titles and there is a good chance they could do it, again, for 2016. The Giants have good pitching, hitting and defensive depth.
2. Arizona Diamondbacks—With the addition of Zach Grienke, look for the Diamondbacks to go up from third place in the National League West to becoming a serious contender. Arizona also has good hitting.
3. Los Angeles Dodgers—The Dodgers lost a huge pitcher in Grienke to the Diamondbacks in the free agency and did not do well in that nor were able to get good trades. Clayton Kershaw should continue to do well and they have some hope with Kenta Maeda and Scott Kazmir, if they stay healthy. With eight players beginning the season on the disabled list, they could get off to a slow start.
4. San Diego Padres—Last season, the Padres had some hope obtaining the likes of pitcher James Shields and right fielder Matt Kemp from the Dodgers. Instead, they finished fourth in the division at 74-88. They might contend but it's a big question mark.
5. Colorado Rockies—The Rockies have some good talent in pitcher Jorge De La Rosa and a few good hitters but lack of depth will hamper the team.
National League Central: 1. St. Louis Cardinals—The Cardinals always have good depth and should be the favorite but the race in this division should be close between them, their rival Chicago Cubs and the Pittsburgh Pirates.
2. Chicago Cubs—The Cubs have not won a World Series since 1908 and are continuing to keep trying. Will this be the year?
3. Pittsburgh Pirates—The Pirates should continue to be strong contenders and will be looking at their first World Series title since 1979.
4. Milwaukee Brewers—The Brewers appear to be rather young but have some capability.
5. Cincinnati Reds—The Reds appear to be going through a dark age but did quite well in spring training. Can they continue through the regular season?
National League East: 1. New York Mets—The Mets made it to the World Series before losing to the Kansas City Royals. With good all-round depth, the Mets should continue to get better and hope to win it all. They lost to the Royals 4-3 in their opening game last Sunday in Kansas City.
2. Washington Nationals—The Nationals continue to have one of the best young players ever in Bryce Harper and other good offensive depth with Ryan Zimmerman and Daniel Murphy. Their pitching is also good.
3. Miami Marlins—The Marlins were 71-91 last season. They have a young team but look out for them in the next few years.
4. Philadelphia Phillies—It appears to be continued rebuilding for the Phillies, who enjoyed good seasons during the 2000's decade.
5. Atlanta Braves—The Braves are in their final season at Turner Field as they move to Cobb County Stadium in 2017. They are young and will be looking at good hope in their future facility.
American League West: 1. Houston Astros—The Astros struggled but nearly won the American League West and made the playoffs last season. They have good pitching and look to get over the hump this season.
2. Texas Rangers—The Rangers had good trades that enabled them to pull off the American League Western Division title last year. They continue to be in the thick of the race.
3. Los Angeles-Anaheim Angels—The Angels have great talent with Mike Trout, Albert Pujols and key reliever Houston Street but have some holes to fill. They had a good showing in spring training.
4. Seattle Mariners—The Mariners could be ready to make a move and compete with the Astros, Rangers and Angels for the division crown.
5. Oakland Athletics—After successful years, the Oakland A's finished last in the American League West last year. They did sweep the Dodgers at home and did well against the Angels in 2015, so they still have stuff left.
American League Central: 1. Kansas City Royals—The Royals won the World Series and continue to have a lot of talent. Look at a very good shot of them repeating.
2. Cleveland Indians—The Indians hope that good pitching can carry the team. They still need to improve their offense.
3. Minnesota Twins—The Twins are improving and should continue to do so.
4. Detroit Tigers—The Tigers have some pitching in Justin Verlander and Jordan Zimmerman but their offense appears to be mostly young with little experience.
5. Chicago White Sox—Lack of depth could hurt the White Sox. They had some good wins.
American League East: 1. Boston Red Sox—After some off years and with some good moves with free agency and trades, look for the Red Sox to return to success.
2. Toronto Bluejays—The Bluejays won the American League East last year. Their picked for second but they can still win it.
3. New York Yankees—The Yankees have some talent but they appear to be headed to transition time.
4. Baltimore Orioles—The Orioles had some spurts in leading the American League East but slumps set them down. In the usually highly competitive AL East, if Baltimore gets consistent enough, anything can happen.
5. Tampa Bay Devilrays—Last year, tough luck hit the Devilrays, going 2-13 in extra inning games. Tampa Bay needs to get more consistent.
Playoffs: Wildcard in National League: Cubs defeat Diamondbacks. American League: Bluejays def. Rangers.
Divisional Series: National League: Giants def. Cubs in four; Mets def. Cardinals in five. American League: Astros def. Red Sox in five; Royals def. Bluejays in four.
Championship Series: National: Giants def. Mets in six. American: Royals def. Astros in six.
World Series: Royals def. Giants in seven.