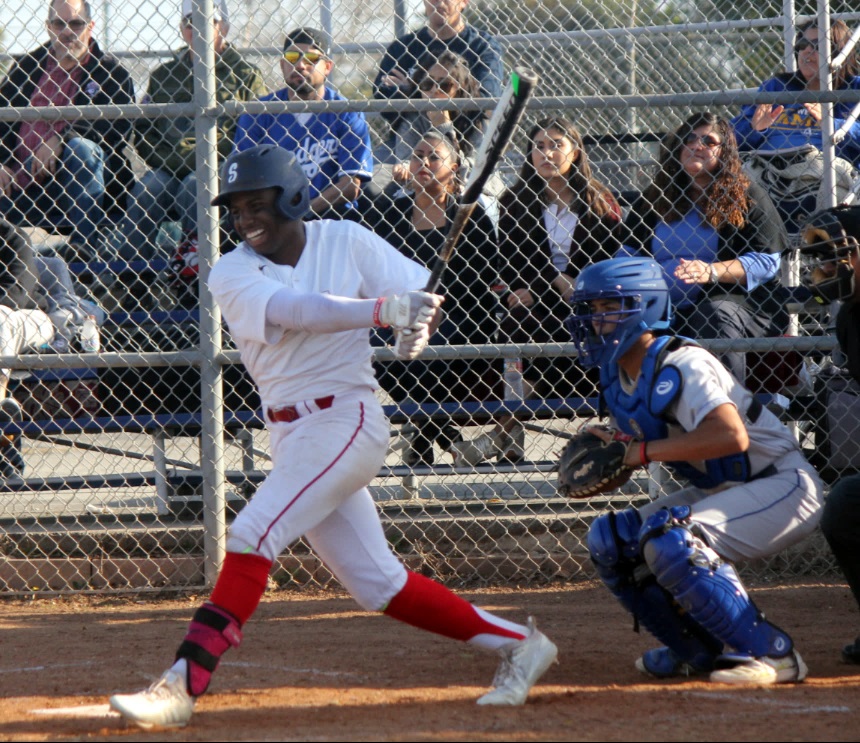 Sports by Joe Snyder
Gardena High's Boys' Basketball
Gardena High's boys' basketball team won the CIF-Los Angeles City Section Open Division Consolation championship and was placed in Division III in the CIF-State playoffs as the No. 2 seed but things still did not work out for the Panthers.
Two critical fouls and four successful free throws from Fountain Valley enabled the No. 15 seed Barons to eliminate the Panthers 66-63 in the first round of the Southern California Regional Division III playoffs on March 3 at Gardena.
In a thrilling see-saw contest, Gardena took a 63-62 lead when Michael Frankling drove down the lane and scored the go-ahead basket with 22 seconds left in the game.
The Panthers, however, committed two crucial fouls and Fountain Valley, the CIF-Southern Section Division IIIA semifinalist, took advantage of it as Jeremiah Davis and Preston Amarillo each hit both free throws and Gardena was unable to do any further scoring.
It was Davis who converted on two free throws that gave the Barons a 64-63 lead with 18.2 seconds remaining.
Gardena had a chance to regain the lead as sharpshooter Gabino Ramirez attempted a three-point basket but it fell just short.
From there, Amarillo rebounded the missed shot and was fouled. He gave Fountain Valley a three-point lead with a pair of charity shots with 6.7 seconds to go.
The Panthers, again, were forced to attempt a three-pointer and it was Frankling who made that attempt but it failed.
Frankling led Gardena, which ended its season at 27-5, with 23 points. Ramiah Adedigba added 14 points, while Chris Page chipped in 12. Kolby Kimbrough contributed nine points, including a late three-pointer that also gave the Panthers a brief lead. Kimbrough, however, was plagued with three first half fouls and had to sit out part of the contest.
Davis gave Gardena fits with a game-high 31 points for the Barons. Amarillo finished with 14 points and Roddie Anderson had 10.
Gardena Girls Soccer
Gardena High's girls' soccer team played tough against a very good Santa Clara team but fell on the short end of a 2-1 score in the Southern California Regional Division V Regional first round playoff game on Nov. 3 in Oxnard.
Despite being way outshot by the Broncos, the Panthers tied the match at one when Andreas Reyes scored. The score remained tied at one at halftime.
Santa Clara, however, dominated the second half and scored early, and it proved to be the winning goal.
"They (Santa Clara) outplayed us," Gardena head coach Olivia Sablan said. "They took shot after shot. We played real good. I'm real proud of us. We won our first ever City title."
Gardena loses seven seniors but return nine players. Due to the CIF-Los Angeles City Division V  crown it had when it topped Sun Valley Prep 3-1 on Feb. 29 at Birmingham High in Lake Balboa, the Panthers are expected to move up to Division IV, according to Sablan.
Torrance High's girls' soccer team captured the Southern California Regional Division IV crown by outlasting host Bloomington High 5-4 on penalty kicks after a scoreless tie through regulation and the two 10-minute overtime periods last Saturday.
The Tartars were able to convert on all five penalty shots and the winner was made by Keri Tanaka who made it through the left corner of the net.
Torrance's win avenged its 2-0 loss to Bloomington in the Southern Section Division IV championship game a week earlier.
North Torrance High's boys, which won the CIF-Southern Section Division III championship with a 3-2 overtime win over Redlands East Valley on Feb. 29 at North,  was moved up to Division II in the regionals and ended up falling to host and top seed and eventual champion Channel Islands 2-0 on Nov. 3 in Oxnard.
Serra Baseball
Serra High's baseball team began the Del Rey League with a home game against league power Bishop Amat from La Puente and the Lancers showed the Cavaliers why by pulling away for a 13-3 win last Friday.
Bishop Amat started things out with three runs in the top of the first inning, but the Cavaliers got as close as 3-2 in the bottom of the inning, that included a run-scoring double by Malikai Wickley.
From there, the Lancers added two runs in the top of the second and one in the fourth for a 6-2 lead before the Cavaliers scored once in the bottom of the fourth when Wickley came home on an error.
Bishop Amat, though, turned the game into a rout with four runs in the top of the sixth inning and three more in the seventh.
"It's early in the season," Serra head coach Martel London said. "We have to make some adjustments. We'll bounce back from this."
Wickley, a returning All-Del Rey Leaguer, had three hits including two doubles.
The Lancers were led by returning All-CIF Southern Section Division III and pro prospect Jacob Vargas, who was the winning pitcher and had three hits (including a two-run home run in the sixth).
Serra also returns all-leaguer Miles Jenkins and has three key transfers in Irving Norwood (Harvard-Westlake), Omari Barksdale (St. Monica) and Adrian Montenegro (Culver City).
On Wednesday, the Cavaliers were going to play Cathedral High at East Los Angeles College but rain was forecasted and it could be postponed. In fact, there is expected to be a chance of rain through this week and into next week. It could also put off Serra's 3:15 p.m. league contest against Pasadena La Salle at Arcadia Regional Park on Friday and an El Segundo Tournament game at Torrance High on Saturday at 11 a.m. Serra visits Cantwell-Sacred Heart in Montebello in Del Rey action next Wednesday at 3:15 p.m.
Gardena Baseball
Coming into this season, Gardena High head baseball coach Tom Anderson knew his team would be young with little experienced but he also lost a few players due to injuries and other reasons.
The Panthers began the season with a 4-2 home win over Jefferson a few weeks ago, and then tied Hollywood 6-6 in a game that was stopped after seven innings due to darkness on Feb. 26 at Gardena.
With the Marine League expected to be highly competitive, led by San Pedro, which many observers feel could be the favorite to win the CIF-Los Angeles City Section Open Division title and was ranked No. 1 in the South Bay by the Daily Breeze, Banning, defending L.A. City Division I champion Narbonne and always tough Carson, Anderson decided to place Gardena in the highly competitive El Segundo Tournament, led by the likes of San Pedro, Mira Costa, Redondo, Torrance and South Torrance.
The Panthers lost all of those games including 11-1 to Long Beach Cabrillo at Gardena on Feb. 29, 22-0 to host Venice, 5-0 to Bellflower, 6-1 to Mendez and 16-2 to Garfield. Last Saturday, host Gardena was also routed by Fremont 14-2.
"We have a few guys out due to injuries and personal reasons," Anderson said.
In Gardena's 6-1 loss to Mendez on March 4, Jeremiah Murillo had two hits and one run when he scored on a double by Andrew Hernandez.
The Panthers left five players in scoring position.
Anthony Brown had a two-run triple that tied the game in the bottom of the seventh in Gardena's tied game against Hollywood.
The Panthers have no games this week but will host West Torrance next Monday at 3 p.m. in an El Segundo Tournament game. Gardena hosts Harbor Teachers Prep in a non-league game next Wednesday at the same time.