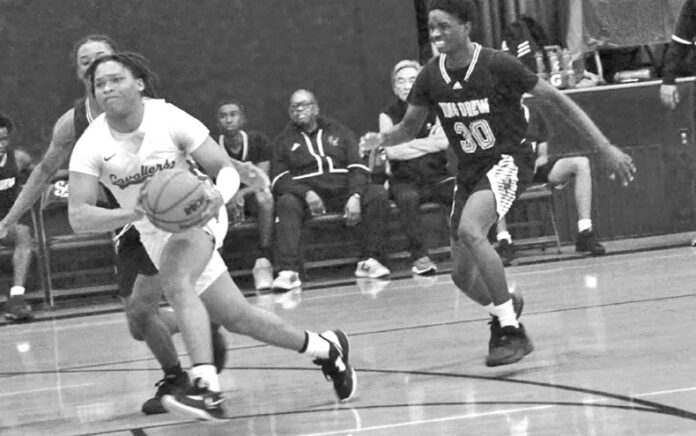 By Joe Snyder
Throughout most of the pre-season, Serra High's young boys' basketball team struggled, but hosting its own Dwan Hurt Memorial Classic was somewhat of a relief for the Cavaliers.
Serra split its four games of the classic but was able to pull off a third-place finish by winning a defensive battle over King-Drew Medical Magnet from Willow-brook 45-33 last Friday.
The Cavaliers led from start to finish in winning their seventh game against seven losses and finishing the classic at 2-2. Serra led 11-7 after the first quarter before expanding it to 24-12 by halftime. Serra continued to keep a steady lead throughout the second half that saw each team score 21 points.
Serra had three players score in double figures led by Kye Usher with a game-high 12 points. Kalen-Brady Asher added 11 points and Andre Brown chipped in 10.
"We have a talented group that is learning to win," Serra head coach Bernard McCrumby said. "We had a couple of tough losses that were both by two points."
Serra's nail-biting defeats including its tournament opening game to El Segundo Wiseburn- Da Vinci 54-52 on Dec. 19 and 62-60 to Washington last Thursday. The Cavaliers, though, had an enjoyable game on Dec. 21 when they stifled CIF-Los Angeles City Section power Westchester 55-35. The Cavaliers' strength was defense in giving up a combined total of 68 points in their wins over the Comets and Golden Eagles.
Usher led Serra's scoring with 21 points against Westchester. Khaleden Grady-asher contributed 14 points.
Kayleb Kearse led the Cavaliers with 20 points in their narrow loss to the Generals on Thursday.
Kearse led Serra with 13 points, followed by Andre Nickerson with 11 against Wiseburn-Da Vinci.
Usher and Kearse were on the all-tournament team.
Serra is currently playing in the Desert Classic at Rancho Mirage High in Palm Springs where it opened on Tuesday against San Leandro. Serra faced unbeaten Manhattan Beach Mira Costa (13-0) on Wednesday. The Cavaliers will open the Del Rey League with a brutal rivalry at powerful Bishop Montgomery in Torrance next Wednesday at a time to be determined. The Knights are 13-0 and ranked fifth in the CIF-Southern Section by Maxpreps.
Narbonne, meanwhile, cap- tured the Hurt Tournament by rolling over Washington 80-55 last Friday. Marcus Adams, Jr., who had a dominating performance throughout the classic, led the Gauchos with 30 points and was named the Most Valuable Player. Troy Jones had 16 points and Maumo Adams finished with 15.
North Torrance is enjoying a 10-2 start after two wins at the Maryknoll Showcase last week in Honolulu, Hawaii. The Saxons began on Dec. 19 by downing University Laboratory School in a low scoring game of 33-16. Two days later, the Saxons topped Kamehameha Kapalema 52-49.
North is playing in the Valencia Tournament where it opened against Sylmar on Tuesday. The classic runs through today.
Gardena had last week off and are now playing in the Monrovia Classic where it started against Fullerton last Monday. The Panthers also had games against Upland on Tuesday and Cerritos Gahr on Wednesday. The semifinals are today and the finals are Friday.
Gardena plays in the San Fernando Valley Classic that starts next Monday and runs through Jan. 7 in Granada Hills. The Panthers, who are 1-1 in the Marine League and 6-5 overall, resume league with a very tough game against Narbonne on Jan. 11 at 4:30 p.m.
Serra, North land players on All-South Bay teams
Serra and North Torrance High's football teams were well-represented in the All-South Bay teams, announced last week by the Daily Breeze.
The Cavaliers, who entered the CIF-Southern Section Division II playoffs as the top seed but were eliminated in the quarterfinals by Mission League foe Sierra Canyon from Chatsworth on Nov. 11, had a total of eight players on the two teams.
Six of those made first team. Included on offense were junior running back Cincere Rhaney, along with senior linemen Jaggar Tavai and Andrew Nieves. Mak- ing first team defense were junior linebacker Tanui Sosa, junior linebacker Noa Keohuloa and senior back Rodrick Pleasant. Serra had senior all-purpose player Kai Honda make second team offense and freshman linebacker Daylawn Reed landed on second team defense.
For the Saxons, who finished a close second place behind champion Lawndale in the Pioneer League but was eliminated by host and second seed Oak Park of Agoura Hills in the CIF-Southern Section Division VI playoffs, had two players on first team offense two more on second team. Making first team offense was fourth year starting senior quarterback Trevor Lagarde, who finished his prep career with 102 passing touchdowns. All-purpose player Dylan Williams also made first team offense. Williams exceled both as a running back and wide receiver.
On second team offense for North was senior lineman Christian Andrade. Junior linebacker Trysten Henry made second team defense.
For Bishop Montgomery, which advanced to the CIF-Southern Section Division XIII finals before falling to host San Gabriel, had quarterback Diego Rodriguez get Offensive Player of the Year. Rodriguez helped the Knights end their season at 10-4 after going only 2-8 a year ear- lier. His big wide receiver, senior Dominic Merchondo, made first team offense, along with another local player in junior kicker-punter Kyle Brown of South Torrance.
Local players on first team defense included senior lineman Dominic Sellan (Bishop Mont- gomery), junior linebacker Jerry Misaalefua (Carson) and sophomore back Ben Drewry (Bishop Montgomery). Misaalefua was the Marine League Player of the Year.
Making second team offense were senior running back Nick Lenard (Narbonne), junior tight end Ryan McBride (West Torrance) and sophomore all-purpose player Jake Silverman (Torrance).
Second team defensive players included sophomore back Ryan Stowe (South Torrance), junior back Tristan Thomas (Narbonne), and sophomore back Nazarus Williams (Carson).
Ocean League champion and CIF-Southern Section Division II runner-up Inglewood swept Player and Coach of the Year. Getting top player was senior Husan Longstreet and Mil'Von James was Coach of Year. The Sentinels fell to Sierra Canyon in the Division II finals.
The Trailblazers won the Mission League over Serra but, due to Maxpreps rankings, the Cavaliers were the top seed, while Sierra Canyon was eighth. The Trailblazers went on to rout the Cavaliers 42-16 in the semifinals, then defeated La Puente Bishop Amat in the semifinals before topping Inglewood for the title. Sierra Canyon, though, lost in the Southern California Division IAA Regional Bowl championship to San Diego Lincoln, which went on to capture the CIF-State Division IAA crown over Northern California power Concord De La Salle.