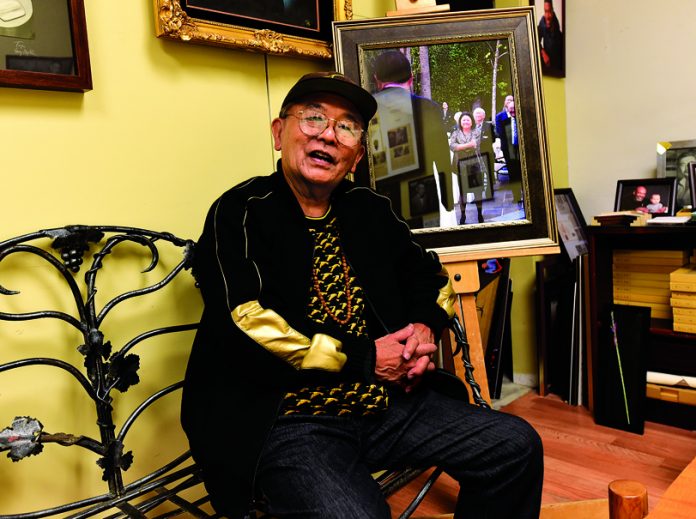 By Gary Kohatsu
It could be called a magic moment or a stroke of genius, but for Gary Miyatake, it will forever fall in the "keeper" accounts of his 50-year photo history.
The Gardena-based studio photographer retrieved from his files a 10-year-old photo he snapped of Irene Hirano Inouye. She is the first executive director of the Japanese American National Museum, who died April 7, 2020 of a rare form of cancer.
His hope is to donate the photo to the JANM to aid its 2020 fundraising efforts.
"I felt (Irene) was the heaviest hitter in the Japanese American community," Miyatake said. "Hopefully the people at the museum will see this story and accept the photo for their online silent auction."
Miyatake's memorable shot was taken of Hirano Inouye circa 2010, at a benefit for her husband, Sen. Daniel Inouye.
The event took place at the home of Paul Terasaki, a noted American scientest in the field of human organ transplant technology, and professor emeritus of surgery at UCLA School of Medicine.
On this occasion, Miyatake found a unique photo angle of the Hawaii senator, who was addressing a small gathering. At the same time, Miyatake kept his eye on Hirano Inouye, who was facing her husband as she listened in the front row.
"There were lot of photographers there and being a little bit of an oddball, I stepped (behind the senator, as he was speaking)," Miyatake, 68, said. "I watched Irene in front of him and took a couple of shots. I think I got pretty good timing."
Hirano Inouye joyful expression was captured in the image.
"She had that look of 'I'm so proud of you, you're my husband,'" Miyatake said. "It's a professional snapshot. When I saw this angle, I could see what I was going to get. And I think I got it. Caught the moment.
"Nobody but Hirano has seen this photo. It'll draw a lot of attention in the (media)."
(Sen. Daniel Inouye died in December 2012.)
The photographer would like to donate as many as five 16×20-inch, framed copies of the image to the JANM and hopes the auction bidding brings the museum as much as $1,000 per photo.
Following the recent notice of Hirano Inouye's death, Miyatake said he was talking with a friend. This brought back memories of his one opportunity to photograph the JA leader, who was also the CEO and president of the museum.
"Thank goodness for digital photography," Miyatake said. "Files are easier than hunting up a negative. I happened to find it. It was right there."
The image to be shared does has some alterations, which he said he created in post-processing.
Miyatake combined some Photoshop techniques to give the photo a painting-like quality.
"Everything else in the picture except for Irene's face is made into a piece of art; looking like water color," he said. "That picture was made for her. To make her stand out. And for art purposes.
"Pictures today have so much more potential thanks to Photoshop. If done in good taste," he added.
His grandfather, the famed Los Angeles-based photographer Toyo Miyatake, has his old cameras in replica outside of the JA National Museum in downtown Los Angeles. So the Miyatake name is a part of the museum's archived history.
However, for reasons unknown to Gary, he has had a chilly relationship with the museum over the years.
He said that he did not know Hirano Inouye personally and had never had a conversation with her. Miyatake reached out to her shortly after the photo was taken.
"I asked if she would sign a copy for me," he said.
She obliged.
Besides helping to raise money for the JANM, Miyatake hopes his photo donation helps him connect with the current JANM officials.
He was disappointed that the museum never recognized a ceremony for his Cesar Chavez (famed labor leader) photo being accepted by the Smithsonian Institute.
"It would somehow mend the feelings that I have that no one from the JANM attended the ceremonies that (Congresswoman) Maxine Waters put on in 2015 to bring the Smithsonian Museum out to the west coast to accept the picture in their collection," Miyatake said. "It would have given the museum a chance to make a good connection with the Smithsonian."
Of his Hirano Inouye photo, Miyatake believes it has archival significance.
"I knew it would come down to (this) some day," he said. "Maybe not even in my lifetime. But, from the moment I took the photo, I knew it would be important."
Miyatake, who has been a Gardena photographer for two decades, originally bought the photo studio of Tak Isobe, another noted studio and wedding photographer.
In 2023, he said his family will celebrate 100 years in the photography business.
"I learned from the best," Miyatake said. "I was taught by my grandfather. Then went on to Art Center (College of Design in Pasadena). I was taught how to go into the future. That's a lot of knowledge."