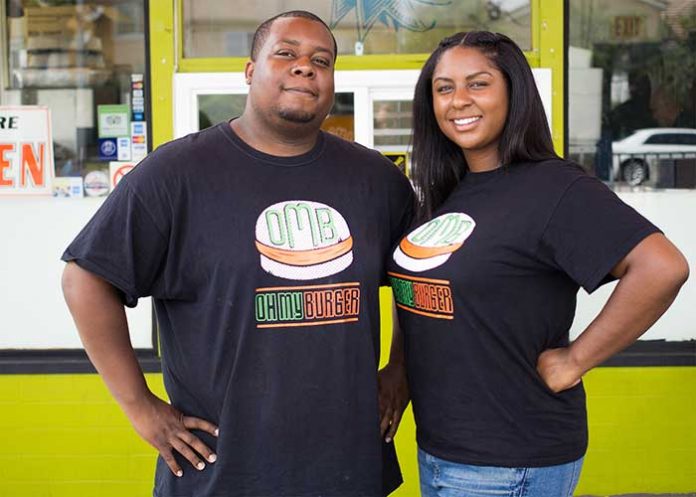 By Ronald Penh
COVID-19 regulations have substantially tanked economies all around the US, particularly affecting small businesses. Gardena's economy is largely known for their vibrant restaurant and food sector, which consists of many small businesses that have reframed entire operations in order to survive.
Danielle Powell, owner of the Oh My Burger restaurant in Gardena, shared how her operations with the restaurant have significantly changed in order to adapt to a reduced amount of customers in the current social distancing environment. Shifting a business operation from including a dine-in option to only offering takeout and delivery may seem like a simple change from the perspective of a consumer, but there are significant adjustments that need to be made in order for a business to operate within those options.
"When you're used to doing something and you have policies and procedures, you're changing your entire apparition to adapt to what's going on around you," Powell said.
For Powell, this includes cutting staff hours, expanding delivery and takeout operations, negotiating rent and utility payments, taking salary cuts, and increasing health and safety procedures. Maintaining health and safety procedures is particularly important for Powell, as the sense of security that a sanitary restaurant provides is amplified as people are becoming more concerned about the spread of COVID-19.
"What changes is the way that other people look at you," Powell said. "Are we wearing gloves all the time, or masks all the time? It's hard to just make sure that they know everything we're doing is going on to make sure that they're comfortable with coming through our doors and still eating."
Since Oh My Burger Restaurant is a small business, credibility is highly important for Powell to consider as she links higher levels of a clean and sanitary restaurant with higher levels of consumer confidence during this time of a public health crisis.
This is especially the case as there is no vaccine available, according to the CDC, and the main tools that we can use to fight the COVID-19 virus comes from individual behaviors such as practicing proper hygiene and keeping things clean.
As the scope of the virus' spread and a timeline for a vaccine remains unknown, small businesses have to put into perspective how long they might have to remain in operations without a dining option even after a quarantine is lifted.
"As far as being able to open the doors, or having people dine in, I don't think that will happen anytime soon," Powell said. "If we're reading something like a two-year vaccine mark, then I think to be safe and secure and to make sure we can reduce infection, is to keep it as a take-out company."
The beginning stages of the COVID-19 regulations never really concerned Powell as did the longevity of the impact that she believes will have on the economy. The observation that many Americans have not yet considered how they might be economically impacted by the COVID-19 situation in the long run troubles her, as disposable income drops among consumers, so does the tendency to spend at restaurants.
"If we know Americans like we know ourselves, we spend the money we have until we see it's time to hunker down or save some money and maybe not go out so much," Powell said. "That's the scary part with so many people missing an income, how much spending will continue in the next 30 to 90 days."
Powell and the rest of her team will continue to find ways to endure the COVID-19 situation, as the case is with many small business owners, the revenue from her business is her only stream of income.
"Anything worth having takes hard work," Powell said. "This is another speed bump, slowing business down to be used as a chance to evaluate plans and adjust to the times. Businesses who do this best will survive and continue to grow."
As COVID-19 continues to expose our economy's vulnerabilities, it is the display of resilience and innovation from small business owners such as Powell that highlight its strengths.