By Ronald Penh
When Julio Arias, high school junior, and his family were struggling to pay for his tutoring services at Gardena's Sylvan Learning Center, he was selected to receive a $1,400 scholarship to pay for additional tutoring, SAT/ACT tutoring, and college prep essay writing assistance.
The tutoring service was described as an extremely helpful tool in guiding Julio towards academic success.
"I went from having an F to B's and A's in class," Arias said.
Getting academic help started when his mom was concerned about his frustration regarding school work. Eventually, Ariasrequested additional help.
"I was going to sleep late, trying to get to know how it's done, and (my mom) saw the frustration that I had and I just couldn't get it," Arias said. "I couldn't get the essay, I couldn't get the math, I tried youtube, I tried teachers, I tried counselors, and it just didn't click. And nothing was working for me."
Through a combination of luck and initiative, his mom requested help from the Honda's Random Acts of Helpfulness program and won a year of free tutoring for Sylvan Learning, Arias shared.
"From there forward, it was just amazing," Arias said. 
Upon doing Sylvan Learning, Arias found himself capable of doing his math and writing problems. 
"Now, I think big, now I go, oh, I can look into engineering, I can look into doing this," Arias said. "Now I see education as a big role in life."
When his mom had to start paying for Sylvan, Arias found that he had to be more selective with his tutoring sessions as the tutoring can be expensive.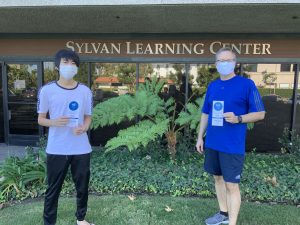 Receiving the scholarship was a blessing, especially since  the eleventh grade is supposed to be one of the most challenging grades, Arias shared. But tutoring helped significantly and made school easier for him.
"Tutoring played a really huge and amazing role in my life," Arias said. "Honestly, without tutoring, my eleventh grade wouldn't be as amazing as it is right now." 
Issei Tajima also received a scholarship from Sylvan Learning. He did not accept an interview at this time.
Sylvan Learning partnered with Wescom Credit Union to ultimately award 38 Sylvan Learning students across the Los Angeles area a total of $53,230 in scholarships.