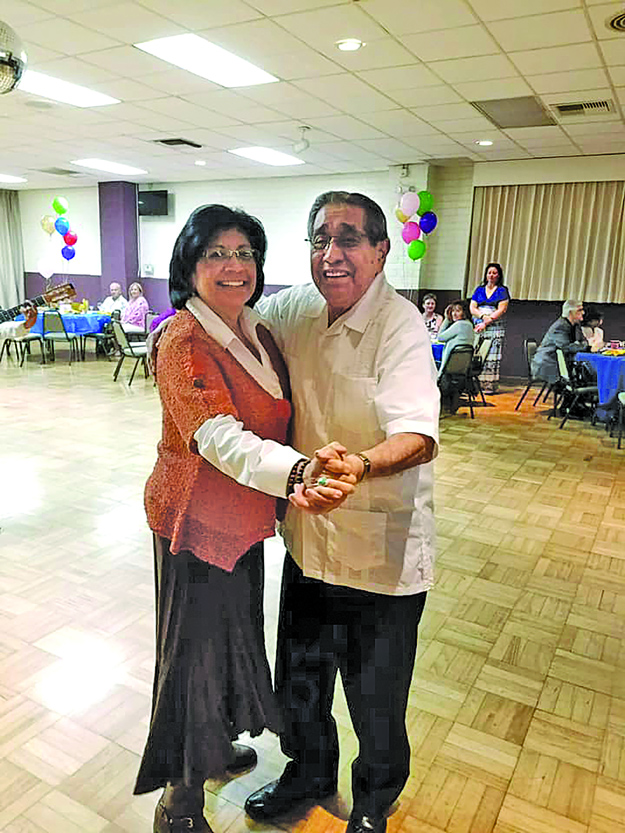 Gardena's Arnold Ramirez continues a great life despite the pandemic
By Gary Kohatsu
Longtime Gardenan Arnold Ramirez will reach his 95th birthday in 2021. During almost a century on earth, he has done a lot of living and has gathered a lot of memories along the way.
Memories he doesn't mind sharing.
With today's pandemic raging throughout the world, Ramirez smartly stays safe at home. His daughter Judy (Ramirez) Sutton helped bring Arnold's story to life.
"He is concerned about COVID-19 because of how deadly it is and not everyone follows the recommendations," Sutton told the GVN by email. "He understands the need for a lockdown, but misses seeing people."
As a kid, Arnold shined shoes and helped clean up in a barber shop on Gardena Boulevard. 
"Some of his fondest memories (growing up) are playing baseball with friends, building derby cars to race each other, shining shoes in the local barber shop, gathering with family and friends to eat and visit, and playing on the Gardena Merchants baseball team," Sutton said. 
Gardena in the '40s was a different world. 
"He recalls how the older people he was around then, would help him without being asked," Judy said. "Specifically, the ice cream man who saw that he needed new shoes and got him some, and the mechanic who taught him how to fix a car."
Later, while serving in the military, Arnold had an interesting encounter with a celebrity.
"There was the time where this person who had befriended him and some of his fellow service men, was later said to be actor Errol Flynn," Judy said.
Arnold met his future wife Ann, when they were youngsters.
"Arnold's grandmother and Ann's mom were friends so they met as kids when they would go with their respective grandmother or mother to visit between Watts and Gardena," Sutton said. "Since they were kids it was not love at first sight."
Love came a little later, when Arnold and Ann felt sparks fly during the family's New Year's Eve Party. Arnold was 16 and Ann, 13.
"My dad remembers that my mom (telling) him years later that she had said that night, 'one day she was going to marry him,'" Judy said.
The couple did indeed marry on Feb. 26, 1947 at the original St. Anthony of Padua Church in Gardena. Arnold was 21 at the time and his bride a mere 18.
They initially lived in Gardena, then moved to Redondo for a couple of years. From there it was back to Gardena, which became their permanent home.
There was a lot to like about old Gardena, Arnold told Judy.
If he had to name three things he misses about Gardena, Arnold mentions a the places to play and the people who enriched his life.
"The large area of land that was nicknamed the 'Gardena Slough,' where he played endlessly with friends, and the dairies that use to be here," Sutton said of Arnold's favorite haunts. "(He misses) the barber who had the barber shop, which use to be on Gardena Boulevard, almost to Menlo," Sutton said. "That barber took him to his first UCLA game and would periodically take him to these games, which are a special memory. He misses people looking out for each other in that familiar way."
Arnold went on to work at Ply Line and as a cabinet maker and stair man at Taylor Mill and Stair Co in Gardena, from which he eventually retired, Sutton said.
He and Ann loved music, which helped define moments of their relationship.
"Solamente Una Vez was their song," Judy said. "The translation means "Just One Time" and basically meant that the one time love (is having) each other. They would sing it to each other at bedtime. 
"They loved dance music, swing music and would jitterbug to Glenn Miller's hit tune, 'In the Mood.' Sinatra was a favorite, as well as Nat King Cole, who they saw in person in a little nightclub on 38th and Western." 
In the '50s and '60s, the Ramirez family enjoyed family outings. This pastime carried over when they became involved with the Gardena Sister City Association.
"We would always go to Yosemite and camp during the summer, Judy said. "One of (my Dad's) favorite places is Guadalajara, Mexico. Because of the beautiful churches they have there. (My parents) fell in love with Gardena's sister city of Huatabampo in Sonora, Mexico."
They loved Sonora, the beautiful city near the ocean, as Arnold said. But they especially appreciated the "warm and welcoming people." 
"They have made some lifelong friendships in Huatabampo," Sutton said. The last time Arnold traveled to the town was in November 2018, during a visit to Huatabampo."
So much of Arnold's memories are recorded in photos. Judy said that if her dad was maroon on a tropical island, he must have his family pictures, his pictures of friends — and maybe water. 
Ann Ramirez passed away several years ago. Arnold has carried on his life with family support.
It should be noted that Arnold Ramirez continues to live the life that Frank Sinatra sang about in, "My Way," Judy said.
"Because of the words in 'My Way,' he sings of how he has lived a life that's full; he loved, laughed, and cried, a few regrets, but he lived it his way."
And that makes Arnold smile.