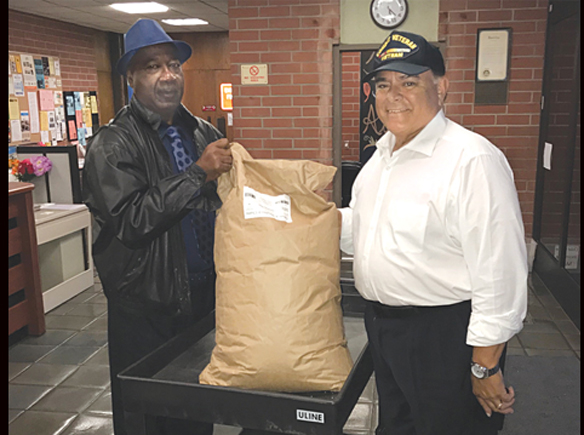 Company donates $1,500; local Buddhist Church gives $630 in big week for Helping Hands program
Gasket Manufacturing Company led the way with a hefty $1,500 donation to the 2018 Helping Hands holiday food and toy program this past week, which helped push the year's total to $13,825.
In one of the most fruitful weeks of "giving," Gardena Buddhist Church added a $630 check to the Hands program.
The big two were followed by generous contributions by several familiar groups and individuals. The Veterans of Foreign Wars, Gen. Rosecrans Post 3261 gave $300; Richard Castilla added $250; while the Gardena Valley Lions and the Gardena Valley Friends of the Library each donated $200.
A $100 gifts was donated by Ron Panter, and there were three $50 gifts: Hisashi Nakada, Rent Mediation Board Food 4-Less, and Frank and Lidia Onderka. Louis Y. Sakamoto added $25.
For the week, the Hands drive took in $4,205.
Hands coordinator Anahi Corte said the donation total for the year is $13,825, unofficial.
A number of toy donations will help to give needy children a bountiful Christmas. The list of toy givers is listed below.
For a great cause
Now in its 37th year, Gardena's holiday food drive will benefit more than 400 needy families in the community, and will serve more than 1,700 people with grocery vouchers and gifts for the kids.
Sponsored by the city of Gardena in cooperation with the Gardena Valley News, the holiday food drive began in 1981 as a food basket giveaway to Gardena's less fortunate.
In recent years, food vouchers to area grocery stores have replaced food baskets, which provides families with a greater selection of food items, including dietary and ethnic items.
Last year, Helping Hands received palettes of canned foods from various groups for the holiday.
The city of Gardena provides all staffing in the Hands drive and all monetary contributions go toward the holiday fund-raiser and the year-round food pantry. No money is used for administrative costs.
As in the past, the Gardena Valley News will publish a list of contributors, with a weekly update of new donors. For more information about Helping Hands, call 310-217-9574.
To Give
Human Services Division
1651 West 162nd St.,
Gardena, CA 90247
Phone: 310-217-9574
E-mail: helpinghands@cityofgardena.org
Donations as of Dec. 14: $13,825 overall
Gasket Manufacturing Company   $1,500
Gardena Buddhist Church    $630
Veterans of Foreign Wars, Post 3261    $300
Richard Castilla $250
G.V Lions Club   $200
G.V. Friends of the Library   $200
Ronald Panter    $100
Hisashi Nakada   $50
Rent Mediation Board Food 4 Less        $50
Frank and Lidia Onderka      $50
Louise Y. Sakamoto     $25
Total: $4,205
Toys Donations for Week 5
Garrett Nishihira
Silverline Construction Inc.
Anthony Gonzalez
Denny Ward
Chelly Wilkes
Gardena Buddhist Church
Gardena Evening Optimist
Rent Mediation Board
Nader's LA Popular Furniture
Rey Venavides
North High School Softball
Jessica Randle
El Camino Lions
Harbor Distributing LLC
Gardena Police Department
Empire Cleaning Supply
GTRANS
Arktura LLC
Gardena Memorial Hospital
Amy & Claire Kushigemachi
Donations as of Dec. 7: $9,620 overall
First Southern Baptist Church $500
In memory of Virginia Castilla $250
John and Elaine Nichelson    $200
Second Time Around Seniors Club $100
Laverne Knight $100
Wallin, Kress, Reisman & Kranitz, LLP: $100
OTA & O. OTA $50.
Total: $1,300
Toy donations for the week were made by Garrett Nishihira and Bonnie Conner.
_______________
Donations as of Nov. 28: $8,520 overall
Naders LA Popular Furniture $250
Gary and Flo Motoyama $250
Mas Fujita $100
Robert and Catharine Hudspeth $100
Glenn T. Shono $100
Kenneth and Edith Shimokochi $100
Doreen Watanabe $100
In honor of parents, Dick and Cynthia Woods $100
Week Total: $1,100
Naders LA Popular also donated 2 boxes of toys
New Challenge Ministries, Inc. donated a bag of oats.
___________
Donations as of Nov 21: $7,420 overall
The Italian Catholic Federation St. Anthony of Padua Branch No. 237 $600
Boy Scout Troop 683 $435
Anonymous  $200
J.A & J.H Randle $100
Efren and Dolores Sales $100
Allan and Patricia Lange $30
Lynette Watanabe $25
Week total, $1,490
___
Donations as of Nov. 14: $5,930 overall
Gardena Elks Lodge No. 1919: $4,000
Community of Christ Gardena: $1,000
Brian and Joyce Gohata (In Memory of Tom and Jan Gohata): $200
Canned goods donations as of Nov. 21 
"We would like to thank the following groups for their canned food donations: Agape General Assembly First Born of Jesus Christ Church, 156th St. Elementary School, Gardena Valley Baptist Church, Boy Scout Troop 683, Neighborhood Watch District 2, Jesus Love Church, Day Spring Christian Church, Nissin Foods, Impresa Aerospace, Harbor Distributing LLC.