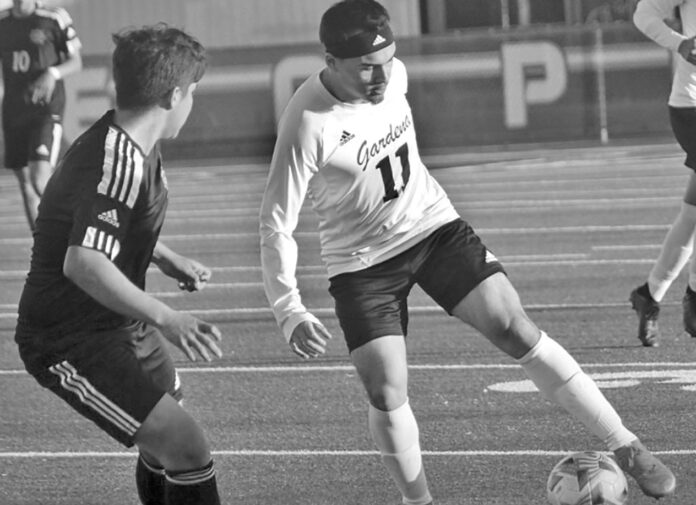 After going three consecutive games without scoring a goal, Gardena High's boys' soccer team ended that drought by scoring two goals in its 2-0 home win over Rancho Dominguez Prep from Long Beach last Friday.
The Panthers had one goal each by Daniel Tapia and Anthony Vital as junior goalkeeper Salvador Tojil recorded the shutout with 10 saves. Anthony Vital recorded an assist.
With the win, Gardena improved its Marine League record to 3-3-2 and overall mark to 7-6-4. The Panthers sit in fourth place behind leader Harbor City Narbonne, second place San Pedro and third place Banning.
On Jan. 25 at Banning High in Wilmington, the Panthers were shut out for the third straight time by the always powerful Pilots 1-0.
Banning scored the game's only goal in just the fifth minute by Jason Carcemtes. From there, it was all defense.
"We played hard," Gardena head coach Elmer Membrano said. "We haven't scored a goal in three games."
Tojil had a very good performance with nine saves and shut out the Pilots in the match's final 75 minutes.
The Panthers close league with home games against San Pedro on Wednesday and Carson Friday at 4:30 p.m. If Gardena advances to the CIF-Los Angeles City Section playoffs, it is expected to play in Division II after being Division III runner-up behind Willowbrook King- Drew Medical Magnet High last season.
Lagarde and Saxons spark North stars to win
North Torrance High's football players helped the North all-stars to a fast start as they went on to defeat the South stars 14-7 in the 57th Annual West Torrance Lions All-Star Classic last Saturday at El Camino College.
Lagarde passed for two touchdowns, both to his Saxon receivers during the North's first two possessions of the game. It started when he completed a 52-yard pass play to all-purpose player Dylan Williams, both who recently were named to the CIF-Southern Section Division VI team.
On the North's next drive, Lagarde, again, went to work as he climaxed it with a 3-yard scoring pass to wide receiver Phillip Curtis.
"I wanted to make this (Lions All-Star Football) game memorable," Lagarde said. "It was only an all-star game but I still wanted to play professionally."
All helped North finish second, behind champion Lawndale, in the Pioneer League. The Saxons lost in the first round of the Southern Section Division VI playoffs to No. 2 seed Oak Park on Nov. 5 in Agoura Hills.
Lagarde already committed to playing football at West Liberty University, an NCAA Division II college in Virginia. He plans to sign there on Feb. 28.
Lagarde also threw several successful passes to Serra High all-purpose player Kai Honda for some very good gains. Honda also had several good runs.
"It was a lot of fun," Honda, who transferred to Serra from Manhattan Beach Mira Costa after his freshman year, said. "It was quite a journey and I loved every second of it. I hope to see the players I played with (at Serra and in the all-stars) in college in the future."
Honda has one of the top grade point averages on the Cavalier team at 4.4 (weighted) as he is seeking to go to Ivy League school Harvard or PAC 12 university Stanford.
Also seeing a lot of action was Serra defensive lineman Jaggar Tuvai, who recorded one interception. He is considering of moving on to San Diego State University, University of Nevada at Reno or Utah State University. Two of those colleges, San Diego State and Nevada-Reno, are among the considerations of replacing UCLA and University of Southern Cali- fornia, who are going to move to the Big 10, to go into the PAC 12 starting the fall of 2024. Boise State of Idaho and Nevada-Las Vegas are the other two being considered for the PAC 12.
Both helped the Cavaliers finish second, behind champion and eventual CIF-Southern Section Division II champion Chatsworth Sierra Canyon, in the Mission League. Serra was eliminated in the Division II quarterfinals by Sierra Canyon 42-16 on Nov. 12 at Serra.
Josiah Washington was the only Gardena High representative as he participated on the South team.
The Panthers, who were 6-5 overall but finished last in the five-team Marine League, were mostly underclassmen who are seeking to improve from that mark next season. Gardena made the CIF-Los Angeles City Section Division I playoffs but lost in the first round to host Mervyn Dymally High 30- 14 on Nov. 5 in South L.A.
The South cut the North's lead to seven points when Lawndale Leuzinger quarterback Will Doherty scored from one yard out, one play after completed a 64-yard screen pass play to San Pedro's Nick Fernandez. The TD occurred with 1:07 left before halftime.
The Lions All-Star game returned after a two-year absence due to the COVID-19 pandemic. The first game was played in 1965.
Lady Cavaliers finish off on top of Champions
Serra High's girls' flag football team finally closed its first season by winning the League of Champions crown by edging Long Beach Poly 20-18 in the final lastSunday at Redondo High.
Behind quarterback Rhandi Flores and all-purpose player Anyssa Sah, the Cavaliers swept four games to come out on top. Sah was the tournament's Most Valuable Player as she scored five touchdowns and had four interceptions through the four games.
Flores threw for six touchdowns. Sille Howard had three interceptions and three TD's, one of them a pick-six (interception for touchdown).
"I'm super proud of everyone," Serra coach Monique Adams said. "I'm super impressed with the athletes on our team. Flores had great accuracy. Sille and Sah showed outstanding ability."
The Cavaliers finished their first season with an unbeaten 12-0 record.
Serra started the playoffs with a 25-7 win over Crenshaw, then shut out Playa del Rey St. Bernard 13-0. The Cavaliers advanced to the final with a 20-6 victory over the Cougars.
Poly made the final by aveng- ing an earlier loss to host and 2021-22 champion Redondo with a 20-8 win. The Sea Hawks slipped past the Jackrabbits 8-6 in the first round. Redondo took third in the tournament by defeating Crenshaw 14-6.
The playoffs finally happened several weeks after their original schedule on Dec. 4 and 11. That was postponed due to a series of rain storms that occurred from that time to Martin Luther King, Jr. Day due to a large atmospheric river. Rain was forecasted for Sunday but was held off to help the playoffs being held on time before the storm arrived that night.
North inches closer to first league crown in 11 years
North Torrance High's boys' basketball team is moving closer to the Pioneer League championship after avenging an earlier loss to Lawndale with a 52-45 victory on Jan. 25 at North.
Down by two points, the Saxons finished the game with a 15-6 run and went on for their ninth league win against one loss. North is 21-4 overall, its best it has been in decades.
Junior guard Elliot Langston led North with 15 points, 11 of those in the second half.
The Saxons were seeking to clinch its first league title since 2012 as they hosted Wiseburn-Da Vinci from El Segundo on Tuesday. North closes league at rival West Torrance, currently in second in Pioneer action, today at 7 p.m.
Gardena High's boys' basket- ball team won two Marine League games that included avenging an earlier league loss to Long Beach Rancho Dominguez Prep with a 60-55 overtime home victory on Jan. 25.
In that game, the Panthers, who improved to 11-12 overall and 5-3 in league, surged out to leads of 20-9 after the first quar- ter and 34-22 at halftime. The Lobos, however, used a stingy defense in the second half holding Gardena to just 15 points while scoring 27 to tie the game at 49 through regulation. The Panthers, however, woke up to outscore Rancho Dominguez 11-6 in the four-minute overtime period to pull out the win.
Chase Williams led Gardena with 21 points. Willie Denham added 13 points and Mason Denham chipped in nine.
At Carson last Friday, the Panthers rolled over the Colts 83-48.
Gardena has two critical games this week against teams it lost in the first round of Marine action. After visiting league leading Narbonne in Harbor City on Wednesday, the Panthers close Marine at home against San Pedro, which defeated Gardena 62-46 at San Pedro, Friday at 4:30 p.m. The Panthers lost their first contest at home to the Gauchos 53-45.
Serra remained winless in the Del Rey League at 0-7 after losing at St. Anthony 78-71 on Jan.
25 in Long Beach, and at home to Playa del Rey St. Bernard 73-61 last Friday.
The Cavaliers, who are 9-17 overall, ended their season at St. Paul High in Santa Fe Springs last Monday, seeking to close it out on a good note. Serra lost its first game at home to the Swordsmen 82-73.
North Torrance's girls are looking to pull off the Pioneer League title as it visits rival West Torrance today at 5:30 p.m. The Saxons suffered a two-point loss to the Warriors earlier in league.
Last week, the host Lady Saxons downed rival South Torrance 51-41, then crushed Lawndale 68- 14 last Friday also at home.
Serra High's girls fell to 0-6 in the Del Rey League after losses of 58-44 to visiting St. Anthony on Jan. 24, then fell to host St. Paul 70-18 last Thursday. The Lady Cavaliers are 2-20 overall and well out of the playoff picture.
Serra hosted Pasadena La Salle last Tuesday and finish its season at first place Bishop Montgomery in Torrance today at 7 p.m.
Gardena's girls basketball squad won its second Marine League game against six losses with a 43-38 win over host Rancho Dominguez Prep on Jan. 25 in Long Beach. The Panthers, then, were routed by a very good Carson team 54-11 last Friday at Gardena.
The Panthers hosted Narbonne Wednesday and finish league at league leading San Pedro Friday at 4:30 p.m. Gardena is 4-9 overall.