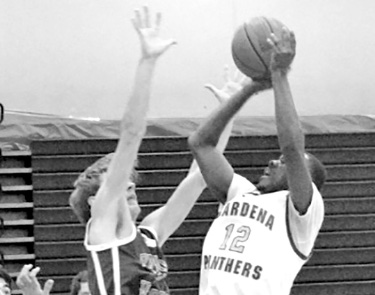 By Joe Snyder
Gardena High's boys' basketball team split four games at last week's Artesia Tournament ending with a 59-54 loss to Palos Verdes in the fifth place final lastSaturday in Lakewood.
The first half of the contest was mostly defense. The Sea Kings held the Panthers to just six first quarter points. Palos Verdes took a 22-17 halftime lead.
Both teams played even in the higher offensive second half. Gardena took a 36-35 lead early in the fourth period behind a three-point basket by Jarren Ponds but the Sea Kings, who improved to 5-1, bounced back behind strong shooting of Alex Hassanein and Dino Aguirre.
Palos Verdes went on to lead by as many as 10 points (53-43) with about two minutes left but two three-pointers from Mason Denham made the game close as it was too late for Gardena to pull the game out.
"It was a good tournament," Gardena head coach Ernie Carr said. "Our last two losses were close."
The Panthers, who are 4-4 overall after splitting both tournaments at San Gabriel and Artesia, played most of the contest against the Sea Kings without forward Dominic Turner, who is nursing a shoulder injury."
"Turner played only the first two minutes of the game," Carr said. "He's a real good shot blocker."
Gardena also received a scare in the fourth quarter as top player, senior guard Chase Williams went down and was only able to limp to the bench. His condition improved enough where he returned. Williams finished the game with nine points, seven of those in the final period which saw both teams score 24 points.
The Panthers were led by Denham with 14 points and Ponds with 13. Ponds made all-tournament for Gardena.
Palos Verdes was sparked by Hassanein with 21 points, followed by Aguirre with 15.
Gardena began the tournament on Nov. 28 with a 50-30 win over El Segundo. Williams led the Panthers with a game-high 21 points.
A day later, the Panthers fell short of Newport Beach Corona del Mar 53-51, which reached the championship finals where it fell to Los Angeles Loyola 48-39 on Saturday. In the fifth place semifinal last Thursday, Gardena downed Santa Fe 58-40.
Gardena begins the Marine League at home against Wilmington Banning Friday at 4:30 p.m. The Panthers visit Dorsey next Tuesday in non-league play before returning to league at Rancho Dominguez Prep in Long Beach on Dec. 16. Both of these games also start at 4:30 p.m.
S.B. coaching legend Swade dies
George Swade, a long time South Bay coaching legend who has been involved with South Bay athletics since the 1960's, passed away from cancer on Nov. 19. He was 89 years old.
Swade was head football coach at Bishop Montgomery High in Torrance from 1962 to 1968; and had three stints as head mentor at Los Angeles Harbor College from 1978-86, 1995-96 and 2009. He was also Bishop Montgomery High's athletic director from 1964-69.
Swade guided the Knights to Camino Real League championships in 1966 and 1968. In 1966, Bishop Montgomery advanced to the CIF-Southern Section 2A semifinals where it finished 11-1 overall after losing to Victor Valley High from Victorville. Victor Valley lost to Lawndale 19-7 in the championship finals.
After leaving Bishop Montgomery in 1969, Swade was an assistant coach at Harbor College in Wilmington and was promoted to head mentor nine years later. His best seasons came in 1981 and 1982 when his squad recorded 8-2 records in both of those seasons, along with 2009 when the Seahawks finished at 9-1. The Seahawks also recorded victories over South Bay rival El Camino College in 1982 and 2009. Two years ago, during the prime of the COVID-19 Pandemic, Harbor dropped its football program for good, despite improvements with its athletic field that included a synthetic turf.
Swade was also a member of the South Bay Athletic Club since its founding in the early 1960's. In 1965, Swade was one of the founders of the annual charity Lions All-Star Football Game after being the first to have the idea of the event that sends under-privileged youth to camps over summers. The next one is slated for Jan. 28, 2023 at El Camino. The South Bay Athletic Club is the organization that hands out awards to the Daily Breeze all-South Bay prep athletes.
Swade was born in Moneson, Pa. in 1933. In the 1950's, Swade was a quarterback at San Bernardino Valley College and Cal Poly Pomona, which no longer fields football today.
Swade was one of the inaugural selections for the Bishop Montgomery High Athletic Hall of Fame in 2011.
A funeral mass for Swade will be held at St. James Catholic Church in Redondo Beach on Jan. 27, 2023. In lieu of flowers, his family support donations to the George Swade Most Inspirational Player Award, set up for the most deserving players at the Lions All-Star Football Game on the next day.
Serra splits four games at Mira Costa PAC Shores Classic
Serra High's young boys' basketball team finished in 11th place at the Mira Costa Pacific Shores Tournament last week in Manhattan Beach after downing Lawndale 80-66 on Saturday.
The Cavaliers, who are 5-3 overall, began the classic with a 49-44 loss to eventual runner-up San Pedro Rolling Hills Prep on Nov. 30. The Huskies lost to host Mira Costa 50-49 in the championship final on Saturday as the Mustangs improved to 10-0. A day later, Serra rolled over Carson 70-34. Last Thursday, the Cavaliers fell to Riverside Poly 70-49.
Serra is currently playing in the very tough Beverly Hills Tournament where it opened against Centennial High from Bakersfield last Tuesday. The classic, which includes two of Southern California's top teams in Studio City Harvard-Westlake and Playa del Rey St. Bernard, runs through Saturday.
The Cavaliers host their Dwan Hurt Classic from Dec. 19- 23 beginning on the first day against Wiseburn-DaVinci from El Segundo. Serra, led by now Cal State Dominguez Hills guard Jeremy Dent-Smith, captured its tournament by defeating Long Beach Poly 55-42 in the final, last year.
Narbonne won all three games of the Redondo-Ryse Williams Pacific Shores Showcase Classic against Long Beach Jordan (60-48 on Nov. 30), 56-50 over Mar Vista Windward last Thursday and 47-39 over Santa Monica St. Monica on Saturday.
The Gauchos visit St. Pius X-St. Matthias Academy in Downey Friday at 7 p.m. before opening the Marine League at Carson on Dec. 16 at the same time.
Torrance improved to 4-4 with a 61-40 consolation win over Arroyo High from El Monte in the Artesia Tournament last Saturday in Lakewood. The Tartars visit Santa Monica tonight then host Pacifica High from GardenGrove Friday in 7 p.m. non-league games. Torrance begins the Pioneer League at Lawndale next Tuesday at the same time.
Bishop Montgomery, the top ranked team in the South Bay by the Daily Breeze, captured the Westchester-Trevor Ariza Tournament with a 68-47 win over the host Comets last Saturday.