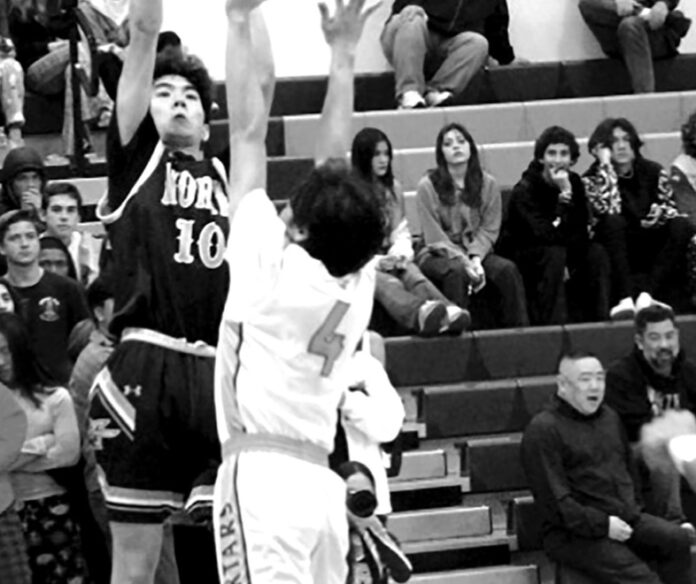 By Joe Snyder
In last Thursday's Pioneer League boys' basketball rivalry between North Torrance and host Torrance, baskets were mostly hard to come by.
It was especially for the Tartars, who found themselves trail- ing 25-8 late in the second quarter and were held scoreless in that period before guard Andre De Los Reyes made a three-point basket with about 1:30 before halftime.
Torrance got things going in the second half but was never able to quite catch the Saxons, who held on for a 49-47 victory, improving to 2-0 in league and 8-2 overall. The Tartars fell 6-7 overall and 0-2 in Pioneer action.
Leading 25-11 at halftime, North had to hold off a vicious Torrance surge. In the third quarter, the Tartars outscored the Saxons 20-12 cutting North's lead to six points (37-31). Torrance continued to close in on the Saxons' lead but a three-pointer from Matteo Keny and key baskets by Kobe Harding-Carr sealed the deal for North. Torrance cut the Saxons' winning margin to two on a three-pointer by De Los Reyes, who led all scorers with 17 points, 10 of those in the second half.
North was led by Elliot Langs- ton with 12 points. Kai Bradley added 10 points and Keny chipped in nine.
The Saxons play three games in the Maryknoll Showcase in Honolulu, Hawaii including University Laboratory last Monday, Kamehaneka Kapalama on Wednesday and host Maryknoll today. North will play in the San Pedro Pirate Classic beginning next Monday and lasting through Thursday before resuming Pioneer at South Torrance on Jan. 4 at 7 p.m.
Torrance visited Marina High in Huntington Beach for a non-league game on Wednesday. The Tartars will play in the Max-preps Classic in Palm Springs next week beginning with Villa Park next Tuesday at 3 p.m. A day later, Torrance takes on Indio and Palo Verde Valley next Thursday. The classic lasts through Dec. 30. Torrance visits Wiseburn-DaVinci, a new member of the Pioneer League for all sports except football, on Jan. 4 at 7 p.m. in El Segundo.
Two days earlier in league openers, host North slipped past El Segundo 42-40 and Torrance lost to host Lawndale 62-55.
In girls' action last Thursday at Torrance, the Lady Saxons rolled over the host Tartars 64- 43. North also easily won its first league game at home against El Segundo 71-12 on Dec. 13.
North will have two non- league games at home next week. The Saxons host Crean Lutheran from Irvine next Wednesday and Cerritos next Friday. North returns to Pioneer play at South Torrance on Jan. 4 at 5:30 p.m.
Cold shooting, shorthanded GHS falls to R. Dominguez
Gardena High's boys' basketball team had a very cold shooting first half and played without returning two-time All-CIF L.A. City Section Division I guard Chase Williams and the result was a 56-46 Marine League loss to host Rancho Dominguez Prep last Friday in Long Beach.
The Panthers mustered only eight points in the first half as they fell behind the Lobos 20-8. In the first two quarters, Gardena made only four of 23 shots from the field for a frigid 17 percent.
"Our performance was very flat offensively," Gardena head coach Ernie Carr said.
The Panthers went on to trail by as many as 18 points midway in the third period, but got things going as they got as close as seven points (52-45) with less than two minutes left. Gardena, however, was unable to get closer.
"We missed opportunities to make the game closer," Carr said.
Jarren Ponds was the only Panther to score in double figures with 15 points.
Williams suffered a knee injury late in the game that saw host Gardena roll over Dorsey High 64-38 on Dec. 13. He was unable to play against Rancho Dominguez.
In a non-league game against the Dons, the Panthers were in complete command throughout nearly the entire game, leading by as many as 31 points (57-26) midway in the fourth period.
Williams led Gardena's bal- anced scoring with 16 points. Mason Denham contributed 11 points and Promise Madubugwu finished with eight.
The Panthers take this week off before playing in the Monro- via Tournament next week. Gardena begins next Monday at 3 p.m. against Fullerton High. The Panthers play Upland on Tuesday at 1:30 p.m. and Cerritos Gahr next Wednesday at noon. The tournament runs through next Thursday.
Grant receives top honors in All-Marine League football
It's always a struggle for Gardena High's football team in the rigid Marine League. but the Panthers managed to get junior Xavier Grant to receive the league's co-Most Valuable All-Purpose player, along with Caleb Nuki from Wilmington Banning, named recently.
Grant was used as a running back, wide receiver and even sometimes quarterback on offense, and defensive back on defense for then Panthers, which finished the season at 6-5 but 0-4 in league. Gardena ended up playing in Division I of the CIF-Los Angeles City Section play-offs but lost in the first round to host Mervyn Dymally 30-14 on Nov. 4 in South L.A.
The Panthers had eight other players make all-league, four each on first and second team. Junior wide receiver Johann Wallace and junior lineman Kristina Sardin landed on first team offense. On first team defense for Gardena included senior lineman Josiah Washington and junior back Rhyon Taylor.
Making second team offense for the Panthers were junior linemen Jacob Woullard and Abel Juarez. Second team defensive players included sophomore backs D'Maj Longley and Myles Mason.
The Marine League Player of the Year went to Carson junior running back-linebacker Jerry Misaulefua. Misaulefua was a dominant player for the Colts despite placing third in league behind champion San Pedro and runner-up Banning then losing in the CIF-L.A. City Section Division I quarterfinals to Marine rival Narbonne 34-32 on Nov. 11 at L.A. Harbor College.
Carson had 13 players make all-league. On first team offense for the Colts were juniors, line- man Patrick Maxey and tight end Miles Merchant. First team defensive players included sophomore back Nazarus Williams, junior lineman Faitua Leomita, senior kicker Manuel Hernandez and junior lineman Jeremy Thomas.
Second team offensive players for Carson were junior wide receiver Latrell Cannon, sophomore lineman Taelenuu Tuaau, junior lineman Isaiah Flores Tanap and senior lineman Andre Tuaau. On the second team defense included lineman Dayton Norris, end Simeta Taulua and back Deion Libard.
For Narbonne, the fourth place team from the five-team Marine that edged host Garde- na 22-21 in their league opener on Oct. 7, senior quarterback Ryan Corley was co-Offensive Player of the Year along with San Pedro's Nick Fernandez.
The Gauchos had wide receivers, senior Antonio Villegas and junior Tristan Thomas make first team offense, along with senior running back Nick Lenard. First team defensive players for Narbonne were sophomore linebacker Mark Iheanachor, junior lineman Jeremy Thomas and senior linebacker Elvan Epenesa.
On the second team offense included tight end Victor Carbajal, along with senior linemen Mi'Keal Gasper and David Johnson. Junior back Elijah Brown, senior back Carvell Rice and senior lineman Feyintoluwa Ojo Nau landed on second team defense for the Gauchos, who fell to Palisades in theDivision I semifinals.
Other top honors in the Marine included Defensive Player of the Year Jerry Witty (San Pedro).
The Pirates were the top seed in the CIF-L.A. City Section Open Division playoffs but were stunned by Eagle Rock 38-35 in overtime in the quarterfinals on Nov. 11 at San Pedro. The Eagles were eighth and last seed in the division despite a 9-1 overall regular season record. Lake Balboa Birmingham won the Open Division title by downing East L.A. Garfield on Nov. 25 at Harbor College. Granada Hills was the Division I champion. Granada Hills Kennedy captured Division II and Crenshaw won Division III.