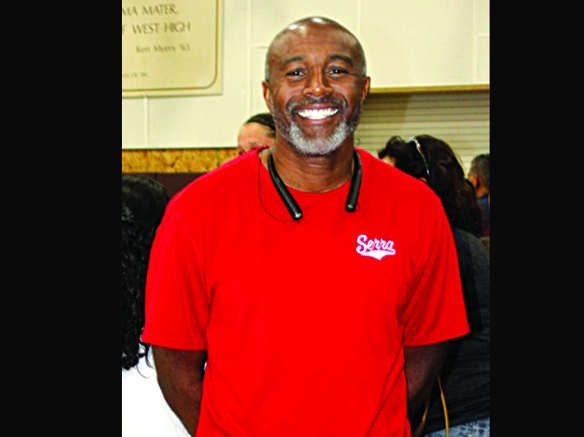 The Red and Blue teams split the two games in last Friday's South Bay All-Star Basketball Classic at West Torrance High.
In the girls' game, it was the Reds that rallied to top the Blues 74-69. Winning the boys' game was the Blue team that defeated the Reds 103-95.
The winning Red squad was co-coached by McKenzie Hadley, who, on March 23, guided Serra High's girls' basketball team to the CIF-State Division I championship, the first in Division I for that squad and third overall with a 70-54 win over Sacred Heart Cathedral Prep of San Francisco. His accomplishment helped him win the Cal Hi Sports Girls' Basketball Coach of Year, beating out two other mentors that helped their squads win state titles including Vanessa Nygarrd of Open Division champion Mar Vista Windward and Marcelo Enriquez from Division II champion Redondo. Enriquez, in his 23rd season, guided the Lady Sea Hawks to their first state basketball crown by downing Chico Pleasant Valley 57-42 on March 24. The state championships were played at the Golden 1 Arena in Sacramento.
The Blues, behind one of Serra's top stars in Cheyenne Givens who was co-leader (along with Bishop Montgomery's Sophia Carroll) with 16 points apiece started fast in taking a 23-9 first quarter lead. The Blue stars led 25-14 at the end of the first period and 43-36 at halftime.
The second half saw the Reds come back and take a 48-47 lead midway in the third quarter behind a steal and lay-up by Manhattan Beach Mira Costa's Gloria Bianchi.
Most of the second half was a see-saw battle as the Blues came back for a 61-55 advantage behind four consecutive points by Katie Timmerman of West Torrance.
From there the Reds went on a 10-3 run and grabbed a 65-64 edge on a basket by Serra's Rachel Duru. Brianea Gatewood from Lawndale Leuzinger gave the Blues back the lead but a three-pointer by Sami Isazaki from Bishop Montgomery a 68-66 lead with a three-point basket. Duru made two free throws to give the Blues a 69-68 edge but West's Haley Jones gave the Reds the lead for good on a three point play and Isozaki put the game away with a three-pointer.
Isozaki had 12 points, including three three-pointers. Jones led all scorers with 23 points as her Warrior teammate Lani Lum added 10.
"Haley Jones played a tremendous game," Hadley said "Givens played well for the Blue team."
The Blues led most of the game for the boys in grabbing a 26-20 advantage after the first period but the Reds made it close cutting their lead to two (46-44) by halftime.
The Reds came back with a few leads but the Blue squad bounced back to take a 72-69 edge entering the fourth quarter. The Blues steadily pulled away leading by as many as 14 points in the final period.
Serra had one representative each for the Blue and Red squads, while North Torrance's Kyle Baba played for the Blues. Jaylan Slaughter scored all seven of his points in the second half. Baba chipped in five points, all in the first half. Kobe Smith, who is headed to San Diego State University on a football scholarship, contributed eight points for the Reds.
"It was a tough game," Smith said on his team's loss in the boys' classic. "It was fun. It was a good environment."
Slaughter is waiting on which college he will attend. Two smaller four-year colleges expressed interest in him including Cal State Dominguez Hills (NCAA Division II) and George Fox University of Ohio (NCAA Division III). If not, he will most likely play at Santa Monica City College or Lassen Community College in Chico.
Each team had five players score in double figures. The Blues were led by Tyan Harvey of Inglewood Morningside with 20 points. Malik Muhammad (Harbor City Narbonne) finished with 15 points. Alex Akins (Inglewood) and Prince Buford (Leuzinger) each had 12 points and Alex Garcia (San Pedro Rolling Hills Prep) put in 10.
Malcolm Bray of Playa del Rey St. Bernard led the Reds with 20 points. Tyler Ridley (Leuzinger) totaled 17 points. Redondo's Quinn Collins tallied 14 points; Eric Marshall (Carson) put in 13 and Fletcher Tynen (Bishop Montgomery) had 10.