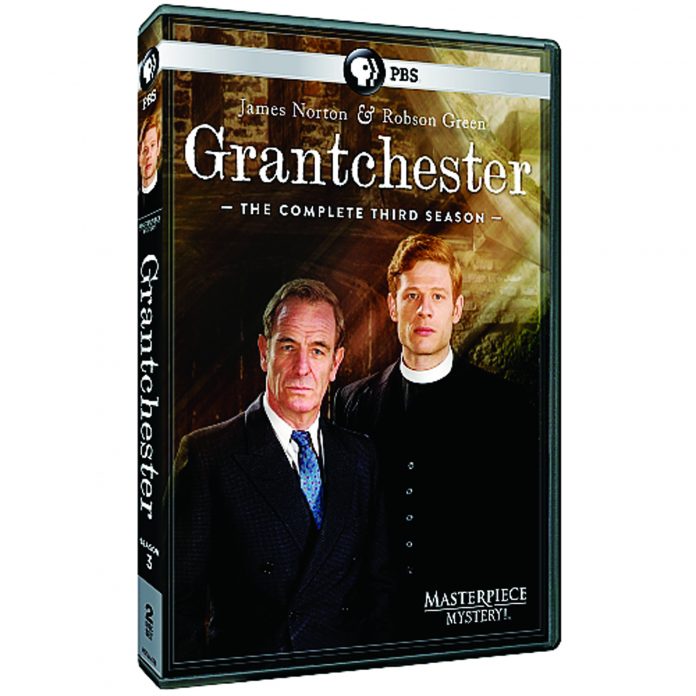 'Grantchester,' the complete third season now on DVD
By Theda Kleinhans Reichman
Entertainment Editor
'Grantchester,' the complete third season now on DVD
By Theda Kleinhans Reichman
Entertainment Editor
Many things in life can be addictive. For me it's the PBS Masterpiece Mystery series "Grantchester," starring James Norton as the young vicar Sidney Chambers and Robson Green as his best friend, Detective Inspector Geordie Keating.
The third season ended this past Sunday on PBS and is now available on DVD. (For more information visit PBS.org.)
"Grantchester" is based on a series of six books written by James Runcie, whose father Robert was Archbishop of Canterbury. Runcie, a prolific writer, published the first novel in the Sidney Chambers series in 2012 entitled "Sidney Chambers and the Shadow of Death."  Five other novels, with six mysteries in each, followed and he is now working on a prequel, which involves Chamber's WWII service in the Scots Guards prior to his decision to become a vicar. Hopefully this too will be a part of the Masterpiece Mystery series.
If you have never watched "Grantchester,"  Sidney Chambers is the vicar in the small Cambridgeshire village of Grantchester. Besides his church duties he also works on cases with his friend Geordie.They make a great team, and if Sidney had not become a vicar he would have been a fine detective. Their relationship is integral to the story.
While Sidney is spiritual, Geordie is an atheist or at least an agnostic. But this doesn't  hinder the wonderful friendship and chemistry they share.
Other  characters in the series include Sidney's feisty housekeeper Mrs. Maguire who loves him as if he were her own son, Leonard, the young clergyman who works with Sidney, and Amanda, the love of Sidney's life.
In the third season Sidney and Geordie are still solving crimes of passion, murderous plots and unexpected tragedies, but both Sidney and Geordie have personal problems of their own to cope with as well. Chambers is conflicted when he is forced to choose between the woman he loves, Amanda, and his life in the Church.
Special features include "The Making of Grantchester 3," "Behind the Scenes" and "Inside the Christmas Special."  Season 3 is approximately 380 minutes long on 3 discs.
Note: all three seasons of "Grantchester" are available on DVD
                                                   *****
For the younger set, check out Warner Bros. "The Lego Batman Movie." Adults will also find it fun, especially if they were Lego builders in their youth. This film has the same fanciful, irreverent spirit as "The Lego Movie" which came first and was a great success. This time the big star is Lego Batman who must save Gotham from the evil clutches of The Joker who is planning a hostile takeover of the city.
Now Batman has to drop the lone-vigilante thing and learn to lighten up. Lots of fun for all ages. From Warner Bros., rated PG for some rude humor and action.
Also from Warner Bros., the action-packed thriller "Kong: Skull Island" which was released on DVD and Blu-ray July 18. The film stars Tom Hiddleston ("The Avengers," "Thor: The Dark World"), Samuel L. Jackson ("The Color Purple," "Pulp Fiction"), John Goodman ("Argo"), Oscar winner Brie Larson (Best Actress, "Room,") and John C. Reilly.
To fully immerse audiences in the mysterious Skull Island director Jordan Vogt-Roberts and his team filmed across three continents over a six month period, capturing the primordial landscapes on Oahu, Hawaii, Australia's Gold Coast and Vietnam. Some of the locations have never been seen on film before. This compelling, original adventure tells the story of a team of scientists, soldiers and adventurers uniting to explore a mythical, uncharted island in the Pacific which is as dangerous as it is beautiful. Far from civilization, the team ventures into the territory of the mighty Kong and the ultimate battle between man and nature begins. Soon their mission of discovery becomes one of survival where they must fight to escape this primal eden in which humanity does not belong.
The Blu-ray and DVD versions have many additional special features that include: "Director's Commentary," " Creating a King: Realizing an Icon," "Creating a King: Summoning a God,." "On Location: Vietnam," "Deleted Scenes" and more. Rated PG-13 for intense sequences of sci-fi violence and action and for brief strong language.
Also check out Disney's "Beauty and the Beast," which is a delight for the whole family.