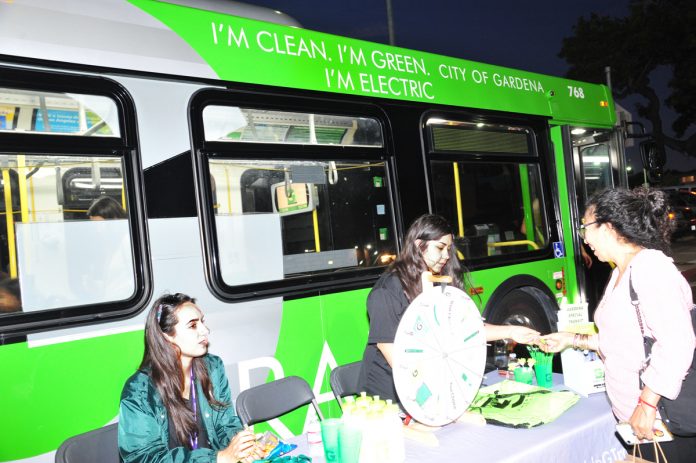 By James Fujita
Local GTrans riders will see cuts to some bus lines and improvements to others starting next year.
The city council approved changes on Sept. 24 to three of Gardena's five bus lines.  However, they postponed a decision on an extension of Line 3 which serves Bishop Montgomery High School students.
Several audience members said that the "Bishop Tripper" was worth saving.
"Why would you even propose to terminate a bus line service for a group of students who are making an effort to get their education?" Kimberley Mason said. "Some of these kids get up at 5, 5:30, 6, just to get to the bus stop by 7, so they can be at Bishop at 8, so that they can secure an education.  I just think that that is heartless for you to even make the proposal to not support children in our community."
Gardena Director of Transportation Ernie Crespo said that school officials had offered to pay $13,000-$15,000 to help subsidize the $34,650 cost of operating the bus. Council members asked if students, parents or the school would be willing to cover the remaining amount.
"Kids always have fundraisers, carwashes, stuff like that," Councilman Dan Medina said. "If the students are concerned about getting the rides and making sure they're safe to get there, offer that opportunity to see if maybe they could raise some money on their own."
Council members also asked about raising Bishop Montgomery student bus fares. Crespo said that GTrans would have to raise fares for all students, which would require analysis and community outreach meetings.  Student fare is currently 70 cents.
"My daughter went to Bishop Montgomery for a while, and I think she actually caught that bus," Councilman Rodney Tanaka said. "We can't lose money; that's just bad business.  But we can't throw our kids out on the street, either."
Council members said that they would leave Line 3 aside to give school representatives a chance to discuss options.
Line 1X will be shortened during midday hours — 9 a.m. to 2 p.m. northbound; and 10 a.m. to 2 p.m. southbound, according to staff reports.
Crespo said that Line 1X is GTrans' least productive route, with 650 daily riders which cost $11.97 per boarding.
"By comparison, the most productive lines of L.A. Metro, such as the Wilshire corridor or the Vermont corridor, are $1.75 or $1.78 in cost-per-boarding," Crespo said.
He said that Line 1X also duplicates Metro and Torrance Transit routes.
Line 1X uses the Harbor Freeway to link Gardena with downtown Los Angeles. The bus also links with the Metro Green Line's Redondo Beach Station on Marine Avenue.  Crespo said that the changes would only affect the Harbor Freeway and downtown portions of the route.
GTrans rider Lyle Knight said that previous service cuts caused lower ridership on Line 1X, which led to more cuts.
"That's when it started going downhill," he said. "People started leaving the line, either driving into downtown or taking other measures … Every two to three years, this line is decimated."
According to staff reports, GTrans will also adjust service on Line 2, a north-south route which runs mostly on Western, Normandie and Vermont avenues between Pacific Coast Highway and Imperial Highway.
Crespo said that they needed to add three to eight minutes to the schedule during peak commute times because of traffic congestion. He said that Line 2 riders would see an improvement in the service.
"Those eight minutes can make a difference, so buses don't bunch up," he said.
Line 4, an east-west line which currently links Hawthorne, Torrance and Gardena, will be cut west of Crenshaw Boulevard at El Camino College. According to staff reports, the western segment costs the city $208,800.
Crespo said that the west half of Line 4 duplicates Line 1X.
The changes will happen in January or February of 2020, according to staff reports.