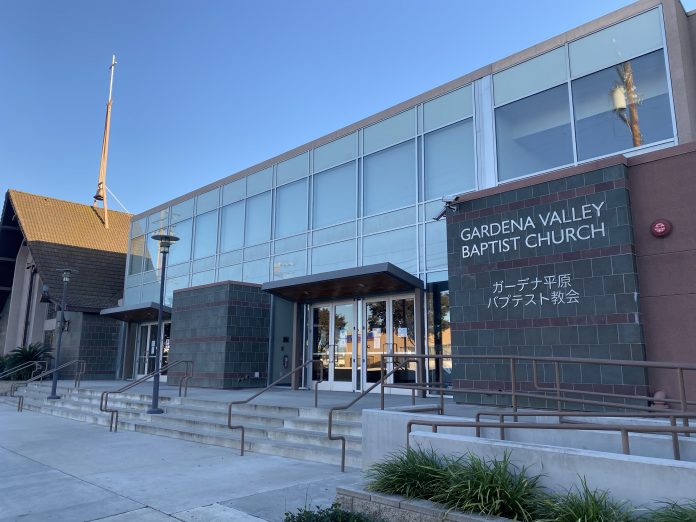 By Gary Kohatsu
It is Sunday morning and for many, this is a time set aside to worship and share the Lord's message.
For members of the Gardena Valley Baptist Church, as with other religious institutions, it is also time to connect via a phone or laptop. Virtual services have become the new normal during a pandemic that mandates people interact while practicing social distancing.
"Good morning and welcome to GVBC live-streaming service," says a smiling Associate Pastor Jame Chang on a YouTube presentation.
In less than a minute, he gives a message of inspiration, reads a Bible passage and follows with a prayer.
Chang goes on to say that the church's digital worship bulletin provides everything members and followers need to stay updated with GVBC activities.
Worship continues with music and song.
"Considering things, GVBC is holding up surprisingly well," Chang said in an email exchange with the GVN. "Thus far, we have adjusted to the new changes and the new health & safety protocols."
Chang goes on to say that while the church building looks closed, the GVBC community remains united and strong.
He said that members have been meeting together on various online platforms: Zoom group meetings, live-streaming worship services on Youtube, and that the church just finished its first audio-cast.
"We focused on praying Biblically for our nation," Chang said. "These online platforms have actually made it easier for some of our members with physical disabilities and distance constraints to engage together with us."
He added that he and his congregation have seen lots of "new visitors" checking GVBC presentations online from all around the world.
"In order to make all this happen, like never before, we have seen active member engagement of technicians, graphic artists, photographers, and videographers, coming to the front lines of helping our community grow and thrive in spite of a Pandemic," Chang said.
He added that the church has organized two Community drive-through event to pass out pandemic survival packs and candy packs for Halloween, free to the community.
"Through it all, we still look forward to being physically in-person, together again," Chang said. "Nothing replaces a gentle touch or a warm hug. But, we also look forward to forging a new path for 2021 which is a hybrid of digital and in-person church ministries, one that blends the best of both worlds to be able to see about the healing and renewal of all hearts and souls for Jesus Christ."
Daniel Matsuda, also a GVBC associate pastor, starts his presentation on Hope Rising, 1 Thessalonians 5: 1-11, Wake Up and Get Sober.
The overall YouTube video is a mix of sermon, song and activities. Running time on this program and others seem around 1 hour and 20 minutes.
Those interested in learning more about the Gardena Valley Baptist Church YouTube videos can just enter the church name in the search box.
A brief background on the church at 1630 W. 158th St., Gardena, is that it started as Moneta Japanese Baptist Church in August 1914, by Rev. Shibata. He gathered together 20 children of Japanese immigrant families in a small rented cottage for Sunday school.
Gardena Valley Baptist Church started over 100 years ago with a heart for immigrant children. On August 16, 1914, Rev. Shibata gathered together 20 children of Japanese immigrant families in a small rented cottage for Sunday School. Within just a few years, GVBC, then Moneta Japanese Baptist Church, experienced such growth that Los Angeles Baptist City Mission Society (LABCMS) aided in the purchasing and building of a new chapel facility, just a few blocks from our current location. Not long later, a new youth facility was built, and GVBC continued to experience considerable growth in community and spiritual renewal.
Among notable historic trivia is that the church movement was halted by World War II, as many members were forced into internment camps.
The GVBC website notes, "during this 'exile,' Dr. Ralph Mayberry, executive minister of LABCMS, drove to the internment camp and coordinated the ordination of Rev. Paul Nagano, who would continue to gather our people together within the internment camps. In January 1946, post-war GVBC reconvened and, piece by piece, our community was reestablished."
The GVBC purchased the land it now sits in 1965. The new sanctuary and classroom facilities were constructed in 1970.
By 2007, major renovation was completed on a new gym, new offices and audio/visual upgrades.
The mission statement has remained, the site emphasizes: "helping people discover Jesus and become his fully devoted followers."