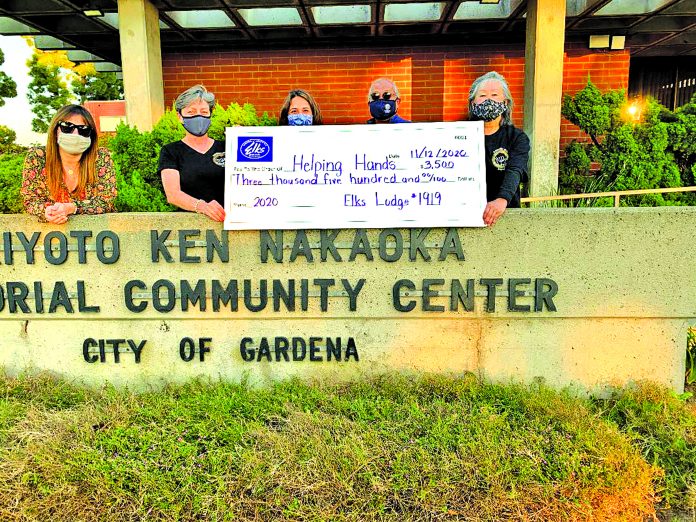 Local lodge donates $3,500 to Helping Hands in Week 2
By Gary Kohatsu
Just when the pandemic seemed to put some gloom on the 2020 Helping Hands holiday food and toy drive, along comes Santa Claus and his Elks.
Well, the Gardena Elks Lodge BPO No 1919 to be exact, gave a whopping $3,500 to this year holiday drive for the needy.
Rodney Tanaka, Tish McCauley and Jean Kohama presented the check to the city's Stephany Santin and Jaclyn Acros last week at the Nakaoka Community Center.
The Elks gift followed the impressive donation of $1,000 by the Gardena Management Employees Organization. The GMEO check presentation also took place last week and in attendance were Ramisi Wadkins, Nikki Sweeney, Donny Harris and Uneice Jones.
This marks another year for the Elks to lead contributors with its donation that is especially needed and appreciated in the year of the covid.
They are places where neighbors come together, families share meals, and children grow up.
"Elks (can be found) where neighbors come together, families share meals, and children grow up," its website says. "Elks invest in their communities through programs that help children grow up healthy and drug-free, meet the needs of today's veterans, and improve the quality of life."
Add the two donations to the $1,000 gifted by the Charitable Funds Benefitting Gardena and that pushes the holiday total $5,500.
Now in its 39th year, this 2020 kickoff is off to a sizzling start with just three donations.
While the Helping Hands program benefits local families for the December holiday season, the 2020 coronavirus has led to operational changes.
Families participating had to sign up electronically by Nov. 13, Stephany Santin, Recreation Department director said.
Those who did sign up and meet certain qualifications, will receive food and toys assistance this holiday season .
The program generally helps between 400 and 450 families a holiday season, Santin said. That would include about 700 children and overall, about 2,000 people.
Families who live outside of Gardena, in the unincorporated area of the Harbor Gateway, might also qualify for the Helping Hands program if there is enough food and toys, Santin said.
"The hard part are the donations," Santin said by phone last week. "Normally, we have a lot of organization donate to Helping Hands, but this year, businesses are struggling. We don't really want to push hard for people to donate. Everybody is in a difficult situation."
In anticipation of a sparse fundraising season, Santin and city staff has organized a variety of drive-thru events, such as the Halloween trick-or-treat celebration and the city of Gardena's 90th anniversary.
These and other events have included a drive-thru for motorists to donate food and purchase city products to generate funds.
For A Great Cause
Now in its 39th year, Gardena's holiday food drive will benefit 400 to 450 needy families in the community, and will serve more than 2,000 people with grocery vouchers and gifts for the kids.
Sponsored by the city of Gardena in cooperation with the Gardena Valley News, the holiday food drive began in 1980 as a food basket giveaway to Gardena's less fortunate.
In recent years, food vouchers to area grocery stores have replaced food baskets, which provides families with a greater selection of food items, including dietary and ethnic items.
Last year, the Helping Hands program received palettes of canned foods and non-perishables from various groups for the holiday.
The city of Gardena provides all staffing in the Hands drive and all monetary contributions go toward the holiday fund-raiser and the year-round food pantry. No money is used for administrative costs.
As in the past, the Gardena Valley News will publish a list of contributors, with a weekly update of new donors. For more information about Helping Hands, call 310-217-9574.
Checks should be made to "Helping Hands" and can be sent or dropped off at:
City of Gardena
Human Services Department
c/o Helping Hands
1651 W. 162nd St., Gardena, CA 90247
To learn more about the event, please contact:
Jaclyn Arcos
City of Gardena Recreation Department
Human Services Division
1651 West 162nd St., Gardena, CA 90247
Phone: 310-217-9574
________
Week Two – Nov. 13 unofficial total $5,500
Gardena Elks Lodge 1919 $3,500
GMEO $1,000
________
Week One – Nov. 6 total $1,000
Charitable Funds Benefitting Gardena $1,000