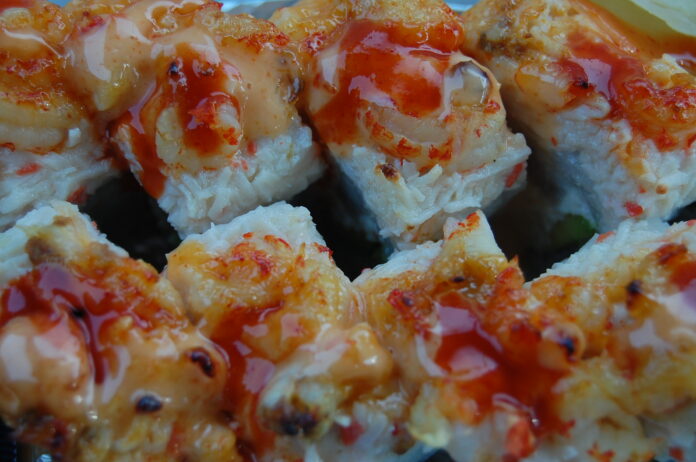 By Brett Callwood
Happy Sushi's charm hits you immediately when entering the premises. From the panel effect on the walls to the art that decorates them, the place looks lovely with shades of the traditional. The staff is welcoming and immediately helpful, only adding to the good vibes.
"Happy Sushi is a locally owned business that is quality driven to provide the best products to our customers," they say in their online biography. "We enjoy offering our customers classic dishes as well as creative and playful dishes that we have conceptualized while keeping fresh and seasonal ingredients in mind. Honorable ingredients and service capturing the true essence of radiant Japanese cuisine and dining. Come have dinner with us today!"
That's a sweet offer, and one we were happy to take them up on. We started with an edamame appetizer – a favorite starter for us when eating at a sushi restaurant. The salted soy beans, full of flavor and steaming hot, offer the perfect jumping off point before eating some fresh fish. It's far from a complex dish, but the beauty is in the simplicity. The rich, green beans are incredibly tasty and they don't need anything more than salt and steam. 
We decided to try a baked roll at this restaurant, something a little bit adventurous that we haven't seen anywhere else. We couldn't look past the intriguingly named 007 Roll, although we're not sure if there's any connection to James Bond.
The ingredients are described on the menu as California roll and spicy Albacore, with crabmeat and crawfish on top, and sweet and house sauces. There's a lot going on, and the risk with a roll like that is that the flavors overpower each other resulting in a messy concoction. That's fortunately not the case here.
The chef clearly has goldfingers (the one and only Bond pun we'll allow ourselves), as the ingredients work beautifully together. The filling is light and vibrant, and it's important that there's more of it than the topping because the crab and crawfish is far meatier and richer, especially when topped with the sauces. 
The crawfish is actually the star. Not an ingredient you normally associate with sushi, it adds new elements, new flavors and you'll be left wondering why it isn't used more often.
Try the 007 Roll at Happy Sushi once, and you'll never say never again (sorry, we couldn't resist one more Bond gag).
Happy Sushi is located at 1745 W. Redondo Beach Blvd., #118, Gardena 90247. Call 310-323-4077 or visit happysushi2019.com.