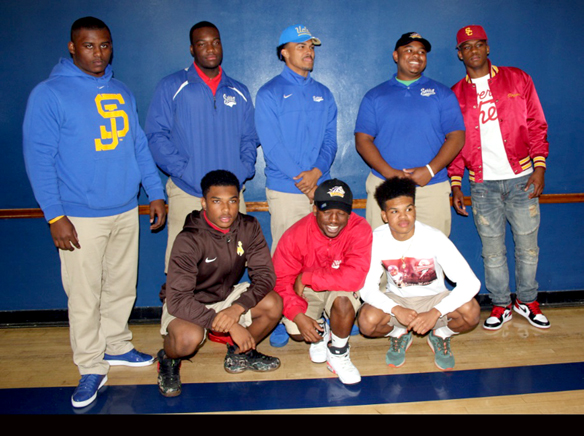 Since North Torrance High football standout Mique Juarez de-committed from University of Southern California due to the firing of its head coach Steve Sarkesian in October, he opened the door to numerous other Major Division I colleges.
Since North Torrance High football standout Mique Juarez de-committed from University of Southern California due to the firing of its head coach Steve Sarkesian in October, he opened the door to numerous other Major Division I colleges.
After about three months of decision on Feb. 3 in North's Toyota Pavilion, Juarez, in front of hundreds of North students, parents, faculty and staff, he put on the UCLA capped and inked in the signing to play football for Jim Mora and the Bruins, starting this fall. His signing was jubilation to numerous students who were even wearing some UCLA gear hoping that he would go there.
Other three finalists for Juarez included University of Alabama, Ole Miss and Brigham Young University.
Juarez finished this season with more than 4,000 all-purpose yards that included more than 2,000 rushing and passing apiece. He was also dangerous on special teams. His main position, though, will be on defense as a linebacker where he had numerous tackles that included several quarterback sacks and more tackles for yard losses. He was a five-star recruit who keyed the Saxons to the better end of the co-Pioneer League title with cross town rival West Torrance (North defeated the Warriors 35-17 in head-to-head competition on Oct. 16 at West). The Saxons lost in the Southern Section Western Division quarterfinals to host Manhattan Beach Mira Costa 35-21 on Nov. 21.
He might, though, be a good replacement for the recent all-purpose, both way standout, Myles Jack, who suffered a season ending knee injury and opted to leave UCLA for the National Football League.
Juarez already graduated from North at the end of this past semester a few weeks ago. He will enroll at UCLA and begin practice with the Bruins in the spring quarter during late next month.
Joining Juarez at UCLA will be Serra wide receiver-defensive back Brandon Burton. Burton was one of quarterback Khalil Tate's prime targets. Burton chose UCLA on Feb. 2, the day before the National Signing Day.
"It's home," Burton said about choosing the Bruins. "It's good hospitality. I fondly felt right there. I hope to try hard and be able to start."
C.J. Pollard and Oluwole Betiku will both play with University of Southern California. Betiku, who originally committed to UCLA in August before de-committing two months later, already graduated from Serra and enrolled at USC. Pollard will join him after leaving Serra in June.
"It's a winning program with a lot of tradition," Pollard said about USC's football program. "I want to keep building on it. They had the number-one recruiting class two years in a row and I want to be part of it. It's something special."
According to sources, USC was ranked 11th while UCLA was 15th.  Alabama was top ranked in recruiting.
Like Betiku at USC, Tate already graduated from Serra and is now enrolled and practicing at University of Arizona. He will start his playing stint there in August.
Serra has three other players headed to Major Division I universities and three more to NCAA Division III Western New Mexico University.
Those going to Division I colleges are Isaiah Diego Williams (Southern Utah), Blake Walls (San Jose State) and Tyler Hall (Wyoming). Those headed to Division III power Western New Mexico include Kevin Hicks, Steven Minn and Job McGinty.
"I had a visit to San Jose State and I had a great time," Walls, a middle linebacker, said. "My parents love it as well. It's far away but it will make me grow up a bit. I love the coaching staff there."
The Cavaliers had another very good season going 9-3. Serra had the better end of the Mission League championship tie with La Puente Bishop Amat since Serra topped the Lancers 41-38 on Oct. 23 at Serra. Continuing to play in the highly prestigious CIF-Southern Section PAC Five Division, the Cavaliers made it to the quarterfinals where they lost to Santa Ana Mater Dei 28-27 on Nov. 20 at Serra. With the new Southern Section playoff format beginning next fall, that division will, most likely, be changed to the Open Division, similar to that in boys' and girls' basketball.
_______________________________
Serra continues to roll in Del Rey
By Joe Snyder
Sports Editor
Serra High's girls' basketball team improved to 7-0 in the Del Rey League by routing Bishop Amat 77-34 last Thursday at Serra.
The Lady Cavaliers had little trouble with the Lancers. They surged out to leads of 27-9 after the first quarter and 42-15 at halftime. Serra continued to dominate Bishop Amat from there. The Cavaliers are 17-7 overall.
Keying Serra was Brooke Bayman with 17 points. Lowendie Laporal added 10 points and 15 rebounds as part of the Cavaliers' balanced attack.
Serra, though, lost top point guard Briana Johnson who injured her ankle early in the contest. Head coach McKenzie Hadley said that she was expected to return for last Tuesday's league showdown at league rival Bishop Montgomery in Torrance. Serra closes league at home against St. Anthony from Long Beach before starting the CIF-Southern Section IAA or Open Division playoffs next week. Currently, the Cavaliers are ranked fourth in the IAA and are on the Open Division watch list.
____________________________
Gardena Boys' Basketball
Narbonne proves too much for Gardena
By Joe Snyder
Sports Editor
Gardena High's boys' basketball team made good effort to play with one of the top CIF-Los Angeles City Section Open Division title contenders in Narbonne but a rash of second half turnovers proved overwhelming as the Gauchos pulled away for a 74-50 Marine League win last Friday at Gardena.
The Gauchos started fast on the Panthers with a 14-5 first quarter lead but the Panthers were able to climb back and trailed by eight (33-25) at halftime.
Under Narbonne's very tight defense, though, Gardena had numerous ball handling problems leading to poor passing and shot selections.
"Narbonne is way deeper than us," Gardena head coach Ernie Carr said. "It's very hard to stay with them. We had bad shot selections. They're good and solid. We got to be solid. Narbonne ran through our passing lanes very well."
According to Maxpreps, the Gauchos are currently ranked third, behind No. 1 Westchester and second rated Fairfax, in the overall L.A. City Section. Narbonne, though, already has a two-point win over the defending L.A. City Section Open Division champion and Southern California Open Division runner-ups (to Santa Ana Mater Dei).
"We played very good," Narbonne standout Psalm Maduakor said. "I give credit to my teammates. I feel that we can beat any team. We can win the championship. We have wins over Fairfax and J.W. North (Riverside)."
D'imauria Jones led the Gauchos, who improved to 17-6 overall and are 7-0 in league, with a game-high 19 points. Maduakor added 16 points. Kendall Frey and Jamal Hicks chipped in 11 and 10 points, in order.
Gardena, which lost top player Clarence Bookman for personal and family reasons before Marine play began, had no player score in double figures. The Panthers (5-3 in league and 15-11 overall) were led by Jordan Howard and Dominic Datu with nine points each. Issac Green and Curtis Jones each contributed eight points.
Gardena's loss came after back-to-back wins over Carson and King-Drew Medical Magnet last week. On Feb. 1 at Gardena, the Panthers held off the Colts 68-62. Two days later at King-Drew in Willowbrook, Gardena topped the Golden Eagles 50-43.
Green led the Panthers with 18 points in their win over Carson. Datu finished with 15 points.
Datu led Gardena with 15 points in its win over King-Drew.
The Panthers hope to get a spot in the L.A. City Section Division II playoffs with games against San Pedro and Banning on the road this week. After visiting the Pirates on Wednesday, Gardena closes league at Banning Friday at 7 p.m.