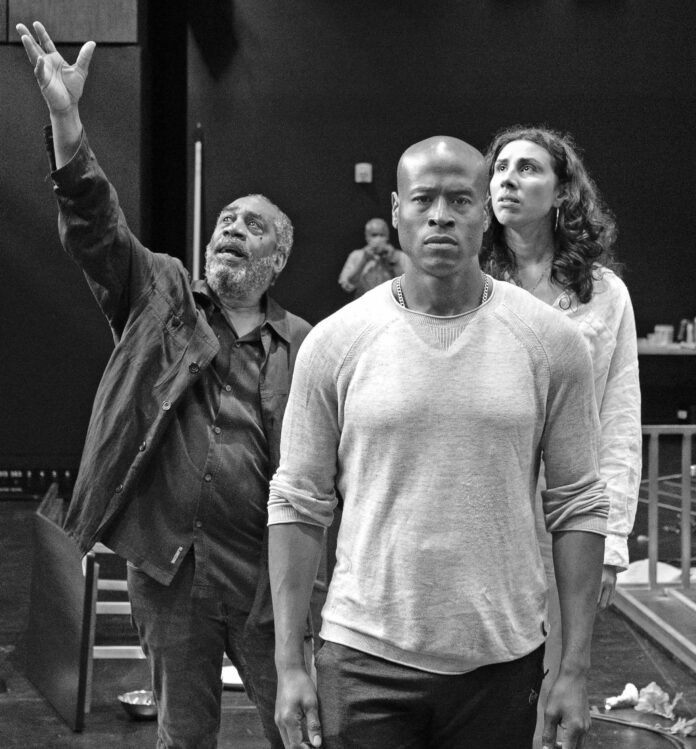 The Wallis Annenberg Center for the Performing Arts (The Wallis) presents a radical, modern reinvention of Shakespeare's KING LEAR, starring Emmy® Award and NAACP Image Award winner Joe Morton and directed by John Gould Rubin, running through Sunday, June 5, 2022, in The Wallis' Bram Goldsmith Theater. This theatrically adventurous production, with theater-in-the-round, onstage seating, features original music, videos and projections that transform the theater into a not-too-distant-future United States ravaged by environmental catastrophes. Audience members are encouraged to wear light-colored clothing for each performance to enhance the production design which will be projected throughout the entire auditorium. It's quite a feat to witness in person!
Morton, following his award-winning, sold-out performance as Dick Gregory in Turn Me Loose, returns to The Wallis in the title role of Shakespeare's tragedy as a man who has brought his country through turmoil, but at what cost? Forced to grapple with violent power struggles and a dysfunctional family, Lear wrestles with the betrayal of his two older daughters who have banished him to the wilderness, and his own betrayal of his youngest daughter, Cordelia, exiled for the sin of honesty. Turbulence and fury combine to turn a skilled geopolitical master into a dazed and naked wanderer, exposed to the elements and the ravages of his own mind.
Along with the extraordinarily talented Joe Morton in the title role, the cast features Mark Harelik (Gloucester), River Gallo (Cordelia/Fool), Zachary Solomon (Edgar/France), Brie Eley (Regan), Emily Swallow (Goneril), and Rafael Jordan (Edmund). This remarkable ensemble of energic actors were kept constantly on the move by director John Gould Rubin, many entering scenes from the audience and returning to their seats to watch the action unfold until their time to return to the stage arrives. Most actors carried cell phones, using them to capture video clips of other actors which were projected onto two large screens at either side of the stage, thus making the action even more up close and personal.
Of this timeless tale of truth, love, and power, with a glimpse of redemption, director Rubin says, "By immersing the audience in a future of looming environmental apocalypse, where identity is fluid, and salvation can only be found through self-knowledge, our King Lear confronts us with a looming apocalypse which is the America – indeed the world – we must strive to avoid."
But do not avoid this tantalizing production, blessed with such an astonishing cast that you will not mind losing track of the somewhat confusing storyline. Ticket prices are $39-$125 per person, available by calling 310-746-4000 (Monday – Friday, 10 am to 6 pm) or visiting TheWallis.org/lear. The Wallis Annenberg Center for the Performing Arts is located at 9390 N. Santa Monica Blvd, Beverly Hills. The health and safety of patrons, our staff, and artists inside and outside our venue are a top priority for The Wallis, which is requiring all patrons to provide, upon entry, proof of full vaccination or a negative PCR test result within 48 hours or a verifiable Antigen test within 24 hours from your performance date, along with a government issued photo ID. Facial masks, covering both the mouth and nose, are still required at all times while within the venue.
And just a mile west of The Wallis on the grounds of Beverly Hills High School, Theatre 40 is presenting the comedy THE PLAY'S THE THING by P.G. Wodehouse. The play takes place on a summer day in a castle on the Italian Riviera in the 1920s, where playwright Sandor Turai comes up with a plan to save the engagement between his nephew Albert and an actress named Ilona Szabo. You see, Albert has overheard what he thinks is a flirtatious conversation behind closed doors between Ilona and Almady, an obnoxious actor (and Ilona's former lover), leading Albert to plead with his uncle for help.
Since Sandor has only hours to rescue Ilona and Albert's romance from utter devastation, he does what he does best – explain how the two were merely rehearsing a scene from his new play before re-writing it to allow the Prima Donna to shine with few words and lots of over-the-top mugging (expertly displayed by Kristin Towers-Rowles) while creating the most difficult of dialogue for poor Almady (Todd Andrew Ball). And in the hands of these two charismatic actors, the most wonderfully entertaining second act ensues. It's just a shame the first act (really acts 1 and 2 in the original 3-act script) is so bogged down with an excess of verbal exposition until the real comedic genius of the play finally takes center stage.
On Jeff G. Rack's beautifully designed set, with glorious 1920s costumes designed by Michèle Young, director Melanie MacQueen keeps the actors in motion to offset the script's wordiness. Also featured in the cast are Milda Dacys as the well-meaning script girl Miss Mell, Eric Keitel as the lovelorn Albert, Daniel Leslie (probably best known to Theatre 40 audiences as the corrupt Senator Alfred Winston in The Manor at Greystone Mansion) as the seemingly carefree playwright, Michael Robb as his appropriately named assistant Mansky, and the charismatic scene-stealer Jeffrey Winner as the castle's always-attentive footman Johann Dwornitschek, whose every entrance was greeted with laughter!
THE PLAY'S THE THING continues through June 12, 2022, Thursdays through Saturdays at 8:00 p.m., Sunday matinees at 2:00 p.m. in the Reuben Cordova Theatre, 241 S. Moreno Dr., Beverly Hills, CA 90212, produced by David Hunt Stafford for Theatre 40. Tickets are $35, available by calling (310) 364-0535 or online at www.theatre40.org, or at the box office beginning one hour prior to show time. Enter through the driveway at the intersection of Durant and Moreno Drives and follow signs to free parking in the lot adjacent to the theatre. Proof of vaccination and masks required.