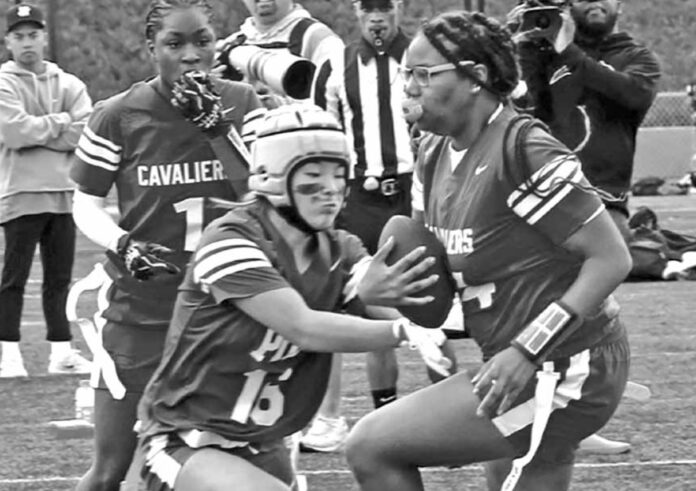 By Joe Snyder
For decades, girls' football has been a dream and that dream came true for several high schools who squared off for their first games last Saturday afternoon at Redondo High.
Serra was one of 16 teams who each had two games that started the League of Champions. The Lady Cavaliers proved successful in winning both of their games by shutouts over rival Long Beach Poly and Lawndale Leuzinger. Serra began with an 8-0 win over the Jackrabbits, then blew out the Olympians 31-0.
"We're taking aims and the girls are doing a good job, so far," Serra head coach Monique Adams said. "They practice. They are either learning or winning." The Cavaliers, though, did both last Saturday.
Both the CIF-Southern Section and Los Angeles City Sections already approved for girls' flag football to be a CIF sport and the CIF-State is gearing to decide on it, as well, soon.
The Cavaliers have 15 players on the roster with only four being seniors.
Regular season games will be played, all at Redondo with exception of next Saturday which will be at Edward Vincent Park in Inglewood, through mid-November. The playoffs will be on Dec. 3 and 4 with the championship on Dec. 11 at sites to be announced.
Each team uses seven players on the field, which is 70 yards long. In Serra's win over Poly, Anyssa Sas scored the game's only touchdown and she added a two- point conversion. It happened early in the first half.
Against Leuzinger, quarterback Rhandilynn Flores passed for three touchdowns; one of 20 yards to Destiny Okoli and two to Kaylah Holmes from four and 10 yards. Kyli Dixon added a 25-yard TD run and Sas recorded a pick-six of about 10 yards.
The Cavaliers will resume the League of Champions at Vincent Park Saturday at 2 and 3:30 p.m. Their opponents are yet to be determined.