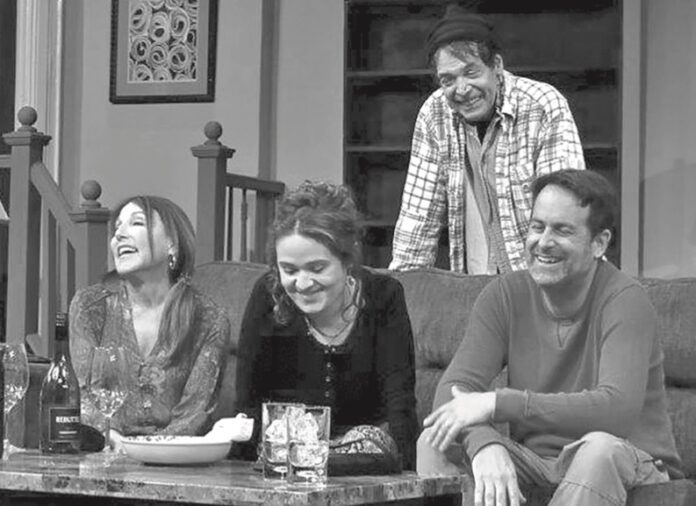 By Shari Barrett
The world premiere of David Datz's new comedy BASEMENT FOLLY centers around a couple who try to figure out who the unknown person is living in their basement. But rather than just go downstairs and confront the intruder, they decide the best thing to do is drink and talk about it for 90 minutes. But what happens when two others show up looking to move back into the already-occupied basement? Who gets priority? Directed by Carol M. Becker with lots of action to highlight as many laughs as possible, this modern comedy is a commentary about the types of people who find themselves homeless and a couple caught in the middle who prefer to not make a decision that might offend any of them. It's all fodder for the family's greatest talent: bickering!
The cast includes Matt Landig and Caroline Westheimer as Adrian and Aubrey, the loving married couple whose lack of concern over a stranger who has moved into their basement seems a bit absurd. But the two actors, especially Landig, expertly handled sharing all the emotions going on both individually and as a couple as each situation presented itself. Tammy Mora as their daughter Alex looking to move back in after breaking up with her leather-clad girlfriend Kim (Kat Kemmet) exemplifies Gen Xers who expect to have everything handed to them without having to work for it. Michael Robb portrays Ray who returns to again ask to stay "for a few days" to keep himself off the street. His many one-liners always brought a laugh to the often-outrageous conversations taking place.
BASEMENT FOLLY is produced by David Hunt Stafford for Theatre 40 in the Reuben Cordova Theatre, 241 S. Moreno Dr., Beverly Hills, CA 90212, on the campus of Beverly Hills High School. Enter through the driveway at the intersection of Durant and Moreno Drives and follow the signs to free parking lot. Runs through Wednesday, October 26, with performances on Mondays, Tuesdays, Wednesdays at 8pm, Sundays at 7pm. Tickets are $35 via (310) 364-3606, online at https://theatre40.org or at the door. Masks are optional.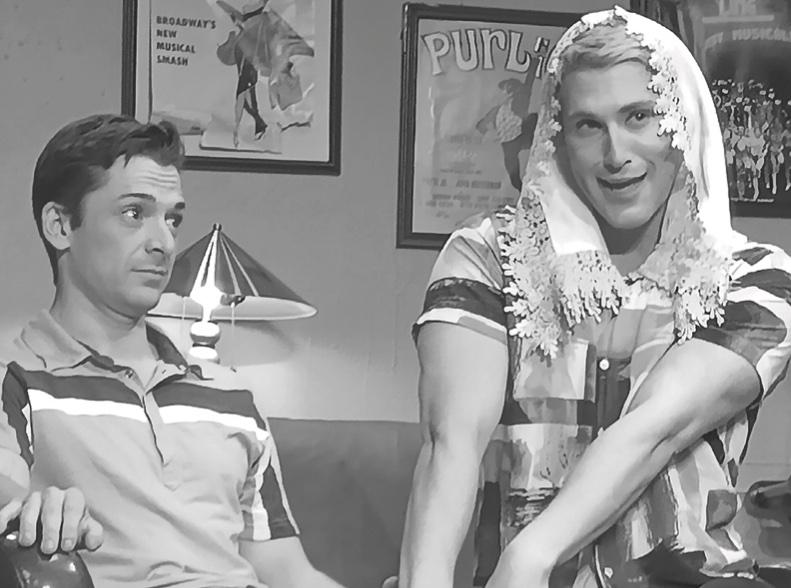 Charles Blondeau presents the West Coast premiere of DADDY ISSUES, an exuberant, off-Broadway screwball comedy inspired by a true event. Written and directed by David Goldyn, it asks how far will a gay guy go to please his controlling Jewish parents? Goldyn shares, "All the characters are based on real people. Although many of the most outrageous lines may sound like they belong in a sit-com, they actually came straight out of the mouths of my mother, father and grandma."The play is all about Jewish parents wanting their son to give them a grandchild, even though he is gay. Mr. and Mrs. Moscowitz (Jonathan Fishman as Sid and Pamela Shaw as Marion, both perfectly overbearing) disapprove of their son Donald's (James Seifert, whose comic timing hit all the marks) gay lifestyle since all they really want is a grandchild to carry on the family name. To get his family to stop kvetching, Donald needs a son. So he impulsively devises a story to make them happy, and with the help of his ballsy best friend Henrietta (Noa Lev–Ari) and rising drag queen Levi (Josh Nadler, dressed to impress by Anthony Consuegra and Kristin Confer), hires the kid from downstairs (Solly Werner who shines in his first theatrical play as precocious 10-year-old Johnny Walker) to go along with the ruse. Rounding out the cast are Sherry Michaels as Donald's lovingly meddling Grandma and Hannah Battersby as Donald's downstairs neighbor. So what could go wrong? You name it and it does, and hilarity ensues!
Performances of DADDY ISSUES take place in the Dorie Theater inside The Complex at 6476 Santa Monica Blvd., Hollywood, CA 90038 on Fridays and Satrudays at 8pm. and Sundays at 5pm through Nov. 13 with one additional performance on Thursday, Oct. 20 at 8pm. Tickets are $35; use promo code "Senior," "Jewish" or "Gay" to receive a $5 discount at daddyissuestheplay.com. Masks optional.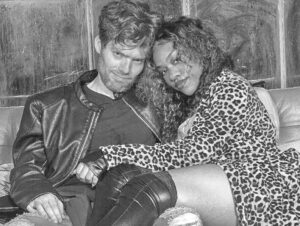 Set in the East Village of New York's Alphabet City, RENT is about being young and learning to survive, falling in love, finding your voice and living for today. A theatrical experience unlike any other, Jonathan Larson's popular musical forever changed the Broadway landscape, and continues to inspire audiences with its powerful ideas, timeless emotions, and captivating rock score. Following Larson's untimely death just prior to its Broadway opening, RENT was awarded several Tony Awards in 1996, including Best Musical.
The just-closed production by Cupcake Theater was set in a crumbling lower east side neighborhood in New York City where artists live as squatters, suffering without heat during the cold Winter months. The musical follows Mark (Dalton Weaver) as he documents the lives of his bohemian friends through one year as they grapple with disease and poverty, most noticeably guitar-playing Roger and exotic dancer Mimi (Jeff Blim and Kyra Waters), Maureen and Joanne (Renée Cohen and Amber France), and Angel and Tom Collins (Nikk Alcaraz and Jaquan Solomon). Kudos to the fabulous multi-scene projections designed by Brayden Hade, evocative lighting designed by James G. Smith, the outstanding rock band led by Dylan Price, and the entire 18-member triple-threat cast who never haltered during the almost entirely sung-through, cleverly choreographed production using three metal tables as movable set pieces.
The actors mentioned in this review performed Saturday evening shows, sharing the roles with others in the ensemble on Fridays. Their final standing ovation was a fitting tribute to their hard work and dedication. In fact, given the top-notch performers in their shows, many former Cupcake cast members have gone on to Broadway and Broadway touring companies!
The Cupcake production of RENT was directed by Brayden Hade with music direction by Dylan Price and choreography by Amy Morgan. Cupcake Theater is located at 671 N Berendo St, East Hollywood, CA, where masks are optional. For more information and tickets to upcoming productions, visit https://www.cupcaketheater.com/