By Shari Barrett
Based on the nonfiction book by John D'Agata and Jim Fingal, The Lifespan of a Fact is a highly entertaining, very funny and extremely well written and presented play now at The Fountain Theater which follows Fingal, a young intern at an elite New York magazine on his first assignment to fact check an essay written by John D'Agata, a highly celebrated and cantankerous author. What Jim finds out turns his world upside down, making him consider if presenting the facts is enough or is the emotional impact on the people involved even more important than just telling the statistical truth? Thought-provoking with zinging one-liners, the play explodes into a hilarious slugfest between "facts" and "truth," making it hard to imagine a play being timelier, given how suspect fact sources can be these days.
Brilliantly directed by Simon Levy, expertly using the small stage space to its full potential thanks to remarkable projections designed by Nicholas Santiago and effective scenic design by Joel Daavid which takes audiences from a high rise office to a cluttered apartment, and then a writer's nest overlooking the Las Vegas Strip, all three talented actors adeptly handle the push me-pull you aspects of the tightly-wound script to its full advantage, generating laughs as well as knowing grunts of recognition as thought-provoking questions are asked.
Ron Bottitta as John D'Agata, a respected writer whose essay is being fact checked by overly-eager-to-succeed intern Jim Fingal (Jonah Robinson), opens his heart and soul to let us get to know exactly how important it is for a writer to tell the truth as he sees it. "But what if the facts quoted don't match my research," wonders Fingal. And "how can I run this story if fact checking reveals discrepancies in what D'Agata has written," asks editor Emily Penrose (Inger Tudor, dressed to professional perfection by Michael Mullen). It's a tough call since she believes D'Agata's heart-wrenching essay will earn her well-deserved career recognition. 
D'Agata's story involves his interview with the parents of a young man who jumped to his death from the tower of the Stratosphere in Las Vegas. At first, just the facts in question are discussed, such as does it matter how many minutes the young man stood on the ledge before jumping, or is the emotional impact on his parents and their perception of their son just as, or even more, important in selling the story to readers? Consider this: where would you prefer to read or hear the story and enjoy it more, as told factually on CNN or filled with the emotional background of those involved as written for People Magazine? And which version is really telling the truth, or is there more than one way to do that?  Such are the questions I walked away asking myself after seeing this excellent production. 
The Lifespan of a Fact by Jeremy Kareken, David Murrell and Gordon Farrell, directed by Simon Levy continues through April 2 on The Fountain's indoor stage on Fridays and Saturdays at 8 p.m.; Sundays at 2 p.m.; and Mondays at 8 p.m. Tickets range from $25–$45; Pay-What-You-Want seating is available every Monday night in addition to regular seating. Run time is 80 minutes, no intermission. The Fountain Theatre is located at 5060 Fountain Ave. (at Normandie) in Los Angeles. Secure on-site parking is available for $5, with mask wearing strongly recommended indoors. Discuss the issues of the play with award-winning essayist and journalist Erin Aubry Kaplan immediately after the 8pm performance on Friday, March 24. For reservations and information, visit www.FountainTheatre.com or call (323) 663-1525. Available reserved seat tickets sold at the box office prior to each performance.
The Man, The Myth, The Equation pretty much sums up the three men at the center of Steve Martin's modern comedy, Picasso at the Lapin Agile, now onstage at the Ruskin Group Theatre in Santa Monica. Albert Einstein and Pablo Picasso meet at a bar, a favorite spot for struggling artists and writers in 1904 Paris, filled with an array of colorful characters sharing lively and biting repartee. It's just before Einstein's theory of relativity transformed physics and Picasso's transition to cubism opened limitless possibilities for modern art at the turn of the 20th Century. Full of joie de vivre and the kind of highbrow meets lowbrow humor playwright and comedian Steve Martin is known for, the play imagines, in a light-hearted and humorous way, the similarities of the creative process involved with great leaps of imagination in art and science – and music – and ultimately, the evolution of our entire culture.
Impeccably directed by Amelia Mulkey to keep the action moving and the chatter incredibly entertaining, the cast features (in alphabetical order) quick-change artist extraordinaire Ashley Barrett (Suzanne/The Countess/A Female Admirer), Isaac J. Cruz (a very animated Pablo Picasso), Fred Deni (Gaston, a French version of Jackie Gleason), J. Teddy Garces (Freddy, the handsome bartender who sees and knows all but can't figure out how to budget expenses), Jackson Glenn (A Visitor from the future whose presence adds a new perspective on the group's vision of the century ahead), Hudson Long (wannabe inventor Charles Dabernow Schmendiman), Jack Merrill (art dealer Sagot), Amy Motta (Germaine, the female bartender whose monologue about the battle of the sexes spoke volumes about inequality), and Ryan Stiffelman (a younger, wild-haired Albert Einstein). Each is tantalizing dressed to perfection by costume designer Michael Mullen.
Picasso at the Lapin Agile runs at 8 p.m. Fridays and Saturdays, 2 p.m. on Sundays through April 30. Ruskin Group Theatre is located at 3000 Airport Ave., Santa Monica 90405. Tickets run $20 – $35 (Seniors/Students/Guild $5 discount) and often sell out in advance at www.ruskingrouptheatre.com or by calling (310) 397-3244. Any available tickets sold at the box office prior to shows. Free parking on site.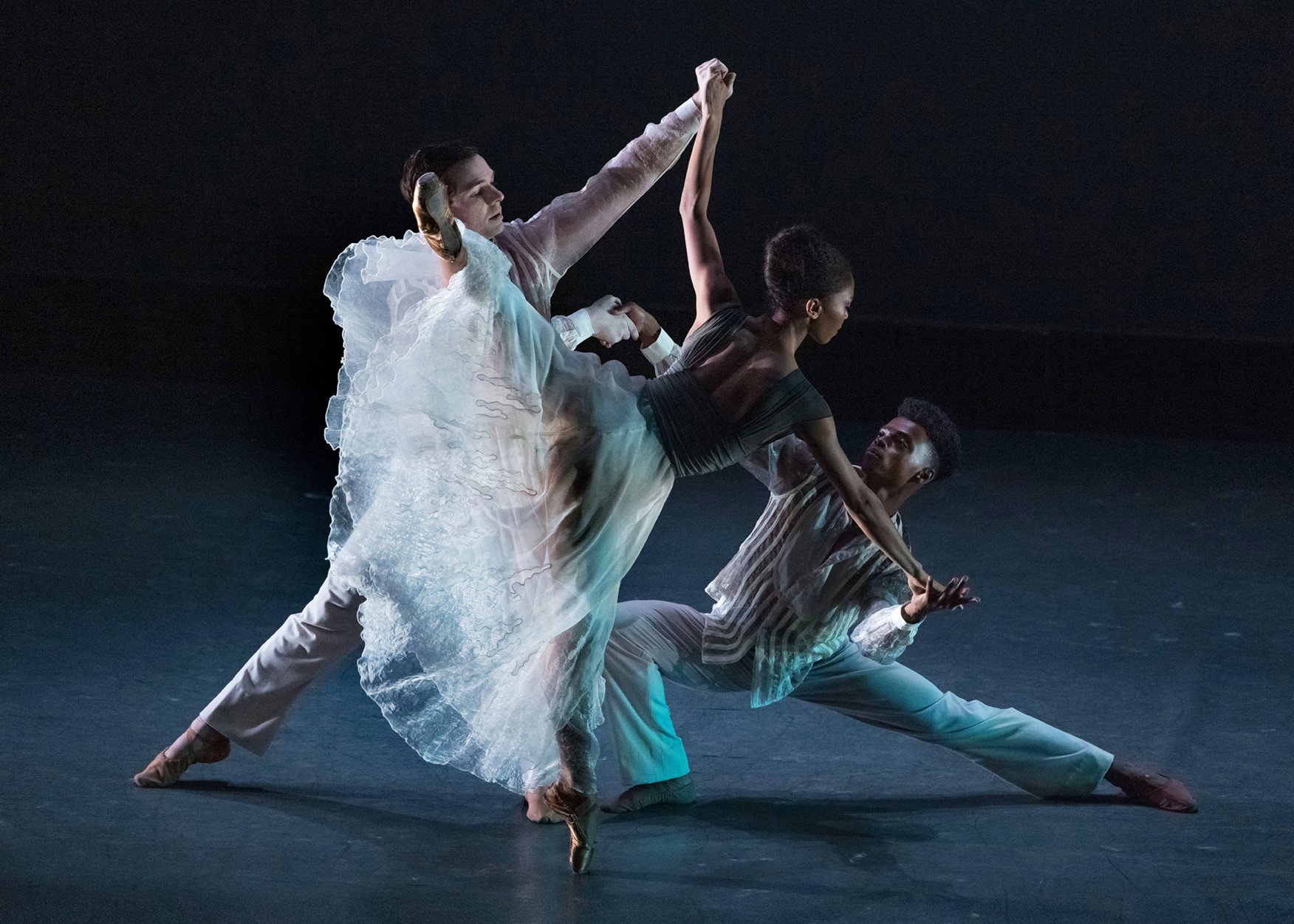 Los Angeles Ballet is presenting an evening of three iconic ballets choreographed by Christopher Wheeldon exclusively at The BroadStage in Santa Monica at 7:30 p.m. on March 16, 17 & 18. Morphoses is an athletic ballet for four dancers. Each couple presents a complex pas de deux requiring flexibility and lyricism. Ghosts offers a realm where ethereal beings manifest in a shadowy playground. Fool's Paradise set to a shimmering, filmic score by Joby Talbot, presents a series of luminous encounters in a setting described as "Hollywood meets Mount Olympus." Tickets available by calling (310) 998-7782, online at https://www.losangelesballet.org, or via email to tickets@losangelesballet.org.