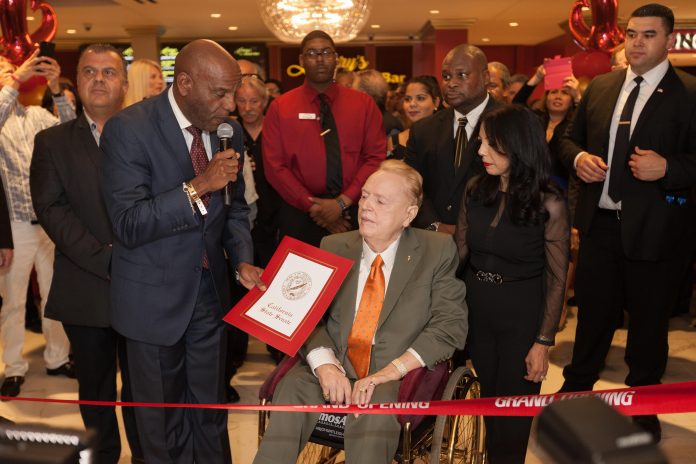 _By Ronald Penh
Larry Flynt, owner of Hustler magazine, various go-go clubs throughout the United States, and Larry Flynt's Lucky Lady casino and Hustler casino located in the city of Gardena, died on Feb. 10, 2021, at the age of 78. 
Flynt was a controversial figure that had frequent clashes with mainstream media and groups ranging from liberals to conservatives, particularly due to shocking and contentious publications from Hustler Magazine.
In the city of Gardena, where the only casinos that Flynt founded are, Flynt's reputation holds a more favorable stance among city officials. 
Flynt's contributions to Gardena through the investment of his casinos have significantly shaped the city's economy, explains economic development manager Spencer Dela Cruz, who also worked with Flynt as vice president of corporate development under Flynt Management Group before he began working for Gardena.
"His vision was to create a destination that people wanted to come to," Dela Cruz said. "He wanted to have the best (casino) in LA."
Flynt's investment in Gardena started when he purchased the El Dorado Club, which was a casino that formerly existed in Gardena and was described as "run down" and in "rough shape" by city manager Clint Osorio. The casino went bankrupt and was purchased by Flynt in 1998.
"So when they opened up the Hustler Casino in about 2000, that really transformed the area because that became kind of like your anchor business where different businesses around Hustler Casino started showing up," Osorio said.
When Larry Flynt's Lucky Lady Casino and the Hustler Casino came into fruition, they were designed with the goal of having a lavish and elegant ambience. The prominence of the casinos has attracted the attention of hotel developers. 
"One of the commitments the city manager and I have to the development of Gardena comes down to hospitality…really attracting a three to four star hotel," Dela Cruz said. "Every single time I meet with a hotel developer, the fact that the casino's in Gardena is a very good thing."
Ordinarily, the two casinos bring in eight to nine million dollars of revenue to the city each year, which makes up a significant portion of the general fund, Osorio shared. 
Due to COVID-19 closures, the casinos have experienced a huge deficit in revenue, raking in $5 million for the year. That amount falls starkly short in comparison to a high-yielding year such as 2016, in which the casinos brought in $11 million dollars.
"If (Flynt) left a legacy, it's one of a business owner that came to Gardena, and where no one else saw opportunity, he saw opportunity," Dela Cruz said. "He built a destination, I mean he built something special, and it will be here forever."
The office of the city manager released a statement following Flynt's death.
"Our city has reached several milestones because of Mr. Flynt's leadership, dedication, and
passion," the statement said. "On behalf of the City of Gardena, I express my sincere condolences to the Flynt family. Mr. Flynt will be greatly missed, and he will never be forgotten."
In 1978, Flynt was shot two times by a white supremacist because of an interracial photo shoot in Hustler magazine. He had to use a wheelchair for the rest of his life. The wheelchair he used was gold-plated and lined with velvet.
In the November 1983 issue of Hustler magazine, a parody ad was printed that depicted Jerry Falwell Sr. to have had drunken sex with his mother in an outhouse. Hustler magazine was sued by Falwell in which Falwell won in a jury verdict. The case was appealed and went to the Supreme Court in which Hustler Magazine won in an 8-0 unanimous decision.
Through this landmark decision, a precedent was set in which free speech surpassed the state's interest in protecting a public figure, as long as the speech could not reasonably be construed to state actual facts about the subject. 
An unlikely hero for the first amendment, Flynt had entered groundbreaking territory for freedom of speech.