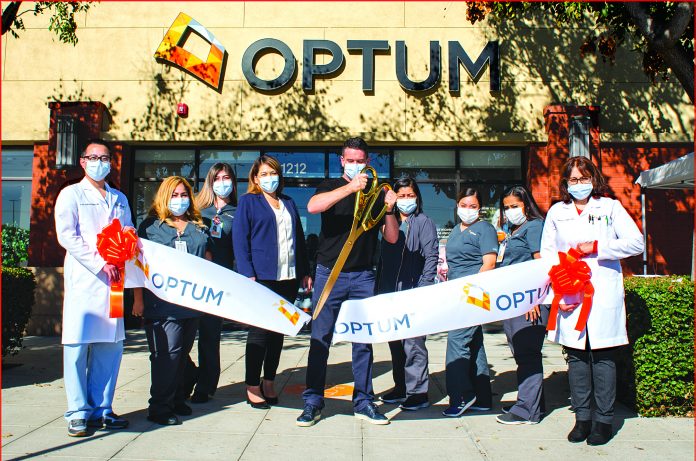 By Gary Kohatsu
There has been a significant change in the medical neighborhood recently as HealthCare Partners has been renamed Optum. A ribbon-cutting ceremony took place recently at the Gardena medical clinic to mark the occasion.
The clinic, which sits a couple of doors west of the Gardena Rite-Aid, also had new signage installed on the outside of its building and renovated its patient areas inside, a company official told the GVN.  
"While our name has changed to Optum, our commitment to care in this community and others we serve throughout the region remains stronger than ever," said Keith Ebilane, MD, who has worked at the clinic for four years. "Our team is focused on delivering personalized, compassionate and convenient care to our patients and working together to help give back to the communities we serve."
Located in the neighborhood for years, the Gardena office is one of 75 former HealthCare Partners clinics in the Los Angeles region that has changed its name to Optum.
Company officials said that all local medical teams and staff will continue their "long-recognized leadership in coordinated care which has been deeply rooted in the Los Angeles area since 1974."
As Optum, they join together with 7,500 physicians, clinicians and support staff in serving more than 1.4 million patients through one of the largest networks of quality care teams in the region, a spokesperson said.
That commitment to helping others has been on display in recent months during the Covid-19 crisis, with Optum partnering with non-profits Wider Circle and Helping Hands Community to deliver more than 75,000 healthy meals to people in need throughout the Los Angeles area, the spokesperson said.
Volunteers from the community have been helping distribute the food at drive-thru events and making food deliveries to the homes of people isolated and alone due to expanded social-distancing measures. 
"We are delivering food to people who may be struggling to buy medication, pay for their rent, buy gas and make ends meet," said Gino Barragon, the community development lead for Wider Circle. "A lot of these recipients can't be out during the pandemic because they are at-risk, which makes this partnership critical at this time."
Optum California CEO and President Amar Desai acknowledged the depth of community needs, especially as new strains of the virus proliferate.
"Access to healthy food is an essential component to continued health and well-being, particularly during these difficult times," Desai, M.D., said. "I'm so proud of our local teams for going the extra mile during these difficult times." 
With the virus continues to impact daily life, Optum has offered free flu shot clinics – including drive-up clinics — for its patients and the community at locations throughout Los Angeles.
"We will continue to do that in 2021 and as shelter in place guidelines allow, we look forward to expanding these and other community engagement activities in the coming months," Desai said.
Optum was created in 2011 by UnitedHealth Group to connect the brightest people, places and ideas across the health care ecosystem to create better care, the spokesperson said. Optum strives to make health care simpler, with doctors and care teams focused on helping enable patients to live healthier lives.
"In addition to HealthCare Partners, Optum has five healthcare organizations: AppleCare, NAMM PrimeCare, OptumCare Medical Group and Monarch," a company official said. "Each of those organizations has a history of taking care of patients in its communities and doing it incredibly well. Joining these organizations under one Optum enhances the ability to offer patients superior care when and where they need it — at a cost they can afford."
Optum physicians focus on the "quality of care," rather than the number of patients seen in a day.
"We focus on working hard to keep people as healthy as possible," a company official said. "Surrounding each patient is a care team of specialists and specialized programs that  provide the right quality of personalized care."
The company's large network can provide care at more than 2,300 clinic sites, 40-plus contracted hospitals and over 80 urgent care locations across Southern California. 
"We also offer a 24-hour Patient Support Center and Nurse Line, so that we can give patients the care they need, when they need it," an official said.
During the COVID-19 pandemic, Optum encourages patients to continue their care by following CDC safety protocols in the office and expanding telehealth services.
Optum officials say the company  has applied with the state of California to be a COVID-19 vaccine administrator. "We also provide the latest COVID vaccine updates here: https://www.optumcare.com/covid-19/vaccine.html."
With so attention directed at the coronavirus, Optum officials said that other ailments tend to be overlooked by patients.
"Optum continues to urge our patients that routine care shouldn't be put on the back-burner," an official said. "It's vitally important for people, especially those with chronic conditions, to stay on top of their health, particularly during the COVID-19 pandemic.
"For example, diabetes affects nearly 34 million people in the U.S. and diabetic patients can take preventive measures to avoid severe complications such as nerve damage, heart disease and kidney disease," the official said. "Simply keeping blood sugar, blood pressure, and cholesterol levels in check, and having regular checkups with a doctor, can help reduce their risk."
Routine checks for cancer is as vital as ever.
"One of the most worrisome outcomes has been a massive reduction in cancer screenings as these play an important role in the early diagnosis and treatment of some cancers including breast and colorectal cancers," a company spokesperson said.
"The most important thing patients can do is call their doctor and ask for guidance. Optum offerings many options including remote visits through private, secure video chats and phone visit technology," the company official said.
Optum accepts most major health insurance plans. In most cases, the relationship our patients had with their HealthCare Partners physicians will not change. They will continue to see the same great staff and providers when they come to the clinic locations, officials said.
The company rep added, "Optum has programs for all ages and health stages. We have a wide variety of programs to care for the health of all our patients. Beyond providing primary and specialty care, we also offer urgent care and hospital care. We offer a diverse range of specialized programs ranging from health education classes for those looking for a little extra support to programs for people with multiple complex or chronic conditions like diabetes or COPD."
Optum's Gardena office is located at 1212 W. Redondo Beach Blvd. Hours are Monday, Tuesday, Wednesday and Friday, 8 a.m. to 5 p.m. Thursday hours are 9 a.m. to 5 p.m. Visit the company's website at www.optum.com/california.