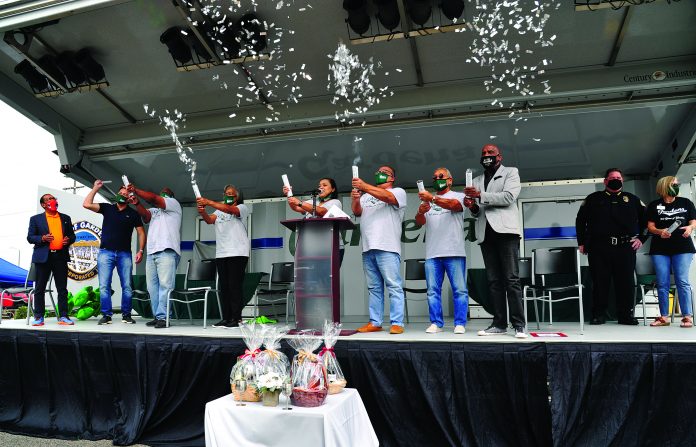 The city of Gardena was incorporated on Sept. 11, 1930, in which the recreation department hosted a drive-thru block party to celebrate the city's 90th anniversary on Saturday, Sept. 12.
The celebration of Gardena's 90th anniversary is a huge milestone for the city in which Gardena's recreation department had to adjust its celebration to comply with COVID-19 social distancing regulations.
"Basically, this event is kicking off our 90th anniversary, which normally we would've celebrated with a big kind of block party or something else," Gardena recreation department director Stephany Santin said. "Since we can't do that, we basically modified it to a drive-thru event."
The event was also focusing on giving back, in which residents were asked to donate cans for the food pantry. 164 cars and over 300 people attended the event and approximately 1,000 cans were donated.
Those who attended received a free gift bag, free ice cream, and were greeted by city officials, police officers, and city employees.
The budget for the event was low. Some items, such as the free water bottles, were sponsored by the Census because it promoted the census. A lot of city officials and Gardena residents volunteered for the event which also contributed to the low budget. 
Santin has worked for Gardena for __ years and has been a resident of the city for __ years.
"It's like a family, you're able to reach everyone, everyone knows each other," Santin said. "The amount of respect that everyone has for each other and the community engagement and involvement is amazing, and that's what kind of drove me to buy a house here."
Victor Santos, Gardena's transit maintenance manager, has been working with the city of Gardena for a year and two months.
He describes Gardena as "very welcoming" and said that the city is constantly looking forward to what's going to be the next big thing. He also appreciates how the city managed to host an event during COVID-19.
"Right now, it's not very easy at all to do these kinds of things," Santos said. "It's just trying to bring the best ideas that you can to get through these hard times and still be able to celebrate momentous occasions like this."
Mayor Tasha Cerda expressed her gratitude for the resilience that Gardena residents have shown throughout the obstacles of 2020.
"Despite some of the things that happened with COVID and some downfalls, overall, this city, their employees, the residents, they're just resilient," Cerda said. "Everybody's supporting everybody, they stay positive, and no matter what, we just keep striving and keep pushing on and that's why we're here 90 years later," Cerda said.