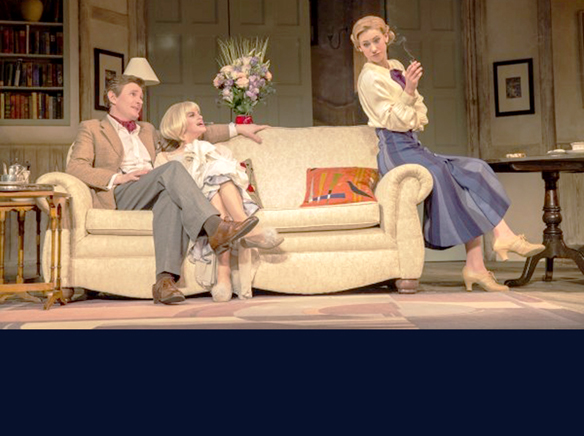 If my mother were still here, I know what I would give her for Christmas–a ticket to see Angela Lansbury in Noel Coward's frothy comedy romp "Blithe Spirit" currently delighting audiences at the Ahmanson Theatre in downtown L.A. Mom, an avid mystery buff, never missed watching Angela on Sunday night in the long-running TV hit "Murder She Wrote." She absolutely loved the show and its star, so when my husband and I saw "Blithe Spirit" I almost felt that Mom was sitting next to us, enjoying the play right along with us. Thank you, Madame Arcati, aka Angela Lansbury, for conjuring up more than one blithe spirit on opening night..
In her films Lansbury could be an awful person, like the devious, evil mother in "The Manchurian Candidate" or as the housemaid in "Gaslight" with Ingrid Bergman and Charles Boyer. These roles earned her Oscar nods, but it was in stage musicals like "Mame" and "Gypsy" that she got the chance to sing and make audiences care about her. And of course we all loved her as Jessica Fletcher in TV's "Murder She Wrote" or in Disney films like "Bedknobs and Broomsticks" and as the voice of the motherly teapot in "Beauty and the Beast" where she sang "Tale as Old as Time." She has been a luminous star on TV and the big screen, but with five Tony Awards it is on stage that she truly shines.
Watching her perform, it's hard to believe that she's 89 years young and has been acting for 70 years. Wow, people 50 years younger might find it hard to keep up with her. In fact, as Madame Arcati in "Blithe Spirit," she brought down the house when she danced around the stage before going into her trance. Set designer Simon Higlett also nearly brings down the house before the final curtain.
The sophisticated set, coupled with lighting by Mark Johnathan and sound by Ben and Max Ringham, combine to create the perfect setting for a séance that conjures up Charles Condomine's late wife Elvira (Jemima Rooper), much to his total shock and surprise. Charles Edwards, who plays Lady Edith's publisher lover in TV's "Downton Abbey," is perfect as the dashing writer, Charles Condomine. In fact every role in the play, from Angela Lansbury as Madame Arcati and Charlotte Parry as Charles' current wife Ruth to Susan Louise O'Conner as the dotty little housemaid, Edith and Simon Jones and Sandra Shiplely as séance guests Dr. and Mrs. Bradmanm are, as the Brits would say, "Spot on."
While "Blithe Spirit" is a light-hearted, truly amusing romp, one senses an even deeper message at its core which is, true love is impossible to attain even though everyone seeks to love and be loved in return. According to Barry Day, Editor of "The Letters of Noel Coward," the gifed playwright was asked, late in life, to sum up his life in one word. Coward replied, "The answer is Love. To know that you are among people you love and who love you. That has made all the successes wonderful–much more wonderful than they'd have been anyway. And that's it, really."
"Blithe Spirit," at the Ahmanson Theatre, 135 N. Grand Ave., downtown LA. through Jan. 18. For tickets and info call (213) 972-4400 or online at www.centertheatregroup.org.
******
On January 4, 2015, you don't have to go to Vienna, Vienna will come to you with the beautiful, tuneful New Year's Concert, "Salute to Vienna" at the Music Center's Walt Disney Concert Hall in downtown Los Angeles.
"Salute to Vienna " has been celebrating the New Year's entry for 20 years in Vienna, and this year marks the production's 13th return to the Music Center's Walt Disney Concert Hall. The concert is an elegant way to enjoy lilting Strauss waltzes like the "Blue Danube" plus waltz and operetta favorites from "Die Fledermaus" and "The Merry Widow." Viennese performers include soprano Lilia Galambos. tenor Eugene Amesmann and baritone Thomas Weinhappel who will perform alongside members of the exquisite Europaballelt St. Polten and International Champion Ballroom Dancers. This is a lovely way to welcome in 2015 with music and dance.
For tickets call 1-800-745-3000 or go to ticketmaster.com.