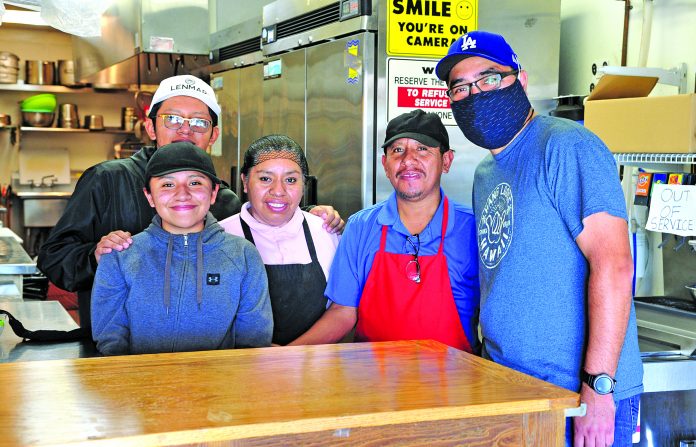 Coco's Tacos opens in 2020, determined to prosper in face of COVID-19 mandates
By Gary Kohatsu
The best time to start a business is not during the pandemic. However, if a new restaurant does open in the middle of COVID-19, the message might be clear: "Our food is that good."
Coco's Tacos in Gardena is bucking against the worst pandemic to invade America in 100 years. But plans were made, steps taken and the owners of Coco's made the move from a street taco vendor to a permanent restaurant establishment in July 2020.
"The Garcia family (owners Eustorgio "Coco" and Maria) started their food family business as a 'taco stand' on a corner gas station parking lot in Los Angeles about  three years ago," said friend Pablo Arakaki, who owns and operates the Ladybug Asian Grill (now Bob's Hawaiian Style Restaurant).
A member of the Garcia family said that customer response to their street taco stand in LA convinced them that it was time to take their business to the next level.
Arakaki saw a unique opportunity after he decided to relocate his Ladybug Grill from a foodcourt plaza to nearby Bob's Hawaiian Restaurant, which he purchased last year.
His plan was to then help move the Garcia's taco stand into the former Ladybug location.
"Since Ladybug acquired Bob's Hawaiian Style Restaurant down the street on Western Avenue with plans to eventually move there, we thought it may be a good opportunity to transition Coco's Tacos into a brick-and-mortar store at the old Ladybug location," Arakaki said by email last week. "Since that strip mall (at the Republic Plaza, 1841 W. Redondo Beach Blvd.) had mostly Asian food offerings, we thought it would be a good idea to add some latin flavors to its lineup."
To assist the Garcias in establishing their Coco's Tacos, Arakaki consulted with them on "setting up the business licensing, permits, pricing points, vendors, marketing, etc. so they can grow their business smoothly," he said.
Coco's specializes in authentic Mexican food, Arakaki noted.
"Our menu mainly consists of authentic regional Mexican cuisine from the southern part of Mexico (Guerrero State)," Eustorgio Garcia said. "One of our signature items is handmade tortillas tacos made to order using a iron flat-griddle "comal" to freshly prepare our tacos and other menu offerings. We have tacos, burritos, tortas and sometimes we have specials like home-made tamales, chile relleno and pork ribs in salsa verde."
While most new restaurants face challenges in attracting new customers, Coco's has the added obstacle of no dine-in or patio dining during the coronavirus era, Garcia said.
"(Our primary hope is that) people give us a try and go from there," Garcia said. "We started in the middle of the pandemic, so we have had a slow start. However, this time has been good for us to get the business started, set up and slowly gain confidence for when things get back to normal. And also establishing our brand."
Arakaki believes the Republic Plaza, which is situated one door west of DCH Gardena Honda, is an ideal center for an upstart eatery.
"The location is good, it has good transit and the city of Gardena has a captive audience for good Mexican food," Arakaki said. "Some Ladybug customers are still going to our old location. However, they do appreciate the fact that our new location (at Bob's Hawaiian, 15926 S. Western Ave.) has plenty of parking and is more easily accessible and that we have a much larger facility to host larger parties when dine-in becomes safe again."
Coco's Tacos is a family-run business, which includes the four Garcia children helping customers and with other restaurant chores, Eustorgio said.
"Since the restaurant is run mostly by family members, with relatively low overhead, and with any small business assistance we might be able to receive from the government agencies, as long as we can stay open for business, our chances of survival are good in my opinion," Garcia said. "We are hard workers coming from humble beginnings, so I am sure we will weather these hard times and eventually have a profitable small business."
Like other restaurants, Coco's is strictly take-out orders for now. Arakaki said the Garcias are preparing their dine-in facility so they will transition easily to an open business when the virus restraints are lifted.
He added that moving and integrating his Ladybug Grill to Bob's Hawaiian was well planned in advance.
"It was our intention to move Ladybug operations to the old Bob's Hawaiian location from the beginning," Arakaki said. "We took a couple of months for cross-training and to adapt both menus into one. We have a limited temporary menu for our take-out, however we are planning on reopening for breakfast and expanding our menu offerings once dine-in is allowed and safe."
As for Coco's, the business is receiving positive reviews on YELP.
Currently, the menu starts at $2.25 to $2.50 for handmade tacos and tortillas with a variety of meat-filling choices and $13 for dishes, such as carne asada with rice, beans and salad.
Hours as posted online are 11 a.m. to 9 p.m. daily. For phone orders, call 424-244-5718. Follow on instagram @cocos.tacos.