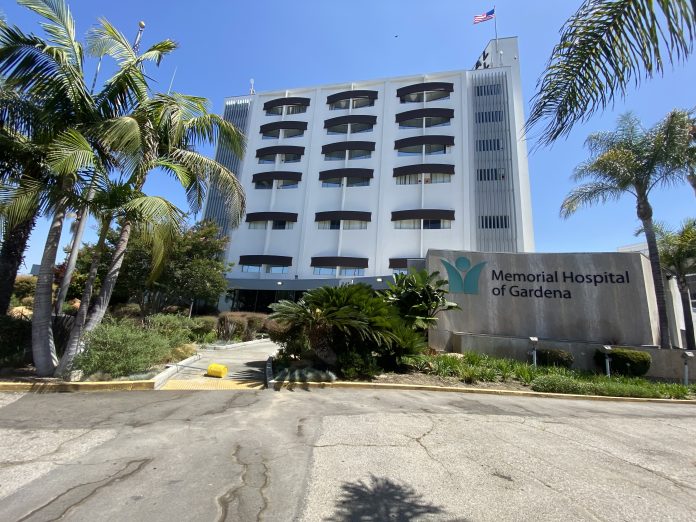 COVID-19 surge has pushed the Memorial Hospital of Gardena to 0% ICU capacity
By Ronald Penh
The Memorial Hospital of Gardena has reached 0% ICU capacity as a result of the COVID-19 pandemic surge.
All hospitals in Southern California no longer have ICU capacity as the region enters the height of the pandemic.
As LA County continuously breaks record-numbers on the transmission of COVID-19, hospitals such as MHG battle with the immense pressure of fighting an intensifying pandemic with limited space and staff.
"We literally have to turn away ambulances," Infection Control Director at the MHG Ravi Pallipamu said. "It's like that right now, because we keep accepting patients in our hospitals. If they get worse, where are we going to put them?"
The MHG originally had 11 ICU beds. The hospital now has 30 after 19 makeshift ICU beds were added.
"We don't want to send ambulances away," Pallipamu said. "We're just maxed out."
The creation of makeshift rooms for ICU patients is a form of emergency protocol, but is a move that can only be done sparingly.
"We actually will make a special bed for that patient," Pallipamu said. "There's just so far you can push our facilities to do that, we just have so many extra ventilators on hand."
If push comes to shove, Pallipamu suggested that the hospital might have to put two patients to one ventilator. 
In the desperate and urgent circumstances that the hospital faces, seemingly outlandish ideas have been entertained.
"We literally talked about flying in nurses from one of our hospitals in Chicago," Pallipamu said. "It's kind of going in all directions right now."
A conventional visit to a hospital when sick is no longer advised, as the overcapacity at the MHG pushes staff to prioritize only those who seriously need hospitalization.
"If you're not sick enough to where your life is being threatened, just stay home," Pallipamu said.
The overcapacity has combined COVID-19 critical care patients with other critical care patients that do not have COVID-19.  The types of patients that the ICU takes care of can include individuals with cancer, congestive heart failure, or altered level of consciousness, Pallipamu shared. 
Having to prioritize which patient can receive life saving devices is a grim, but obligatory process. 
Face mask indentations from wearing personal protective equipment all day long, treating a flurry of COVID-19 patients, and potential exposure to COVID-19 are just a couple experiences that nurses face.
"(Nurses) are the ones going into rooms time after time," Pallipamu said. "The nurses are going in there doing the assessment, putting on the masks."
"I'm just really proud of our nurses, they're the heroes of all this."
On Friday, Jan. 1, LA County received 20,414 new COVID-19 cases while the daily testing positivity rate (compiled through a 7-day average) was at 21.5%, based on data from LA County Public Health. Just the week before, on Friday, Dec. 25, the county received 15,538 new COVID-19 cases and the daily testing positivity rate was at 17.9%.
As of Jan. 3, the city of Gardena has had a total of 4,025 confirmed COVID-19 cases, 73 daily new cases, and 84 confirmed deaths, according to the city of Gardena website. For more information related to COVID-19, visit the website https://www.cityofgardena.org/coronavirus-covid-19/.