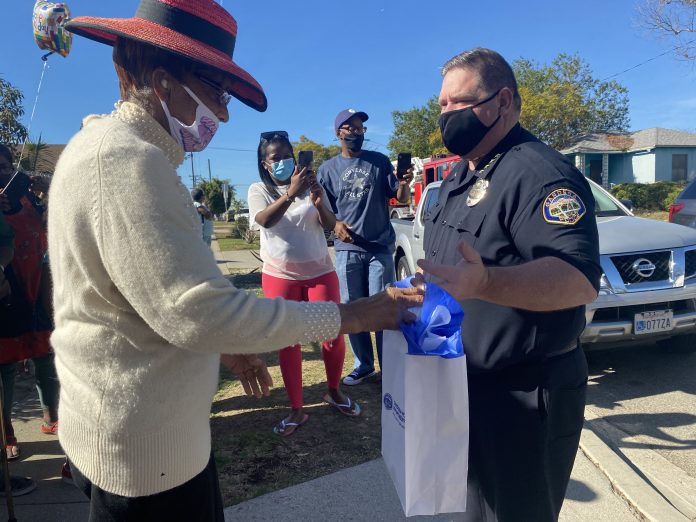 By Ronald Penh
It's not often you meet someone that is 100 years old. Mabel Burns was born on Jan. 16, 1921 and was raised on a farm in Tennessee.
Judging from that age, you would assume that a profile would talk about her life experiences through the numerous historic events that have occurred within that timespan. But there was something else about Mabel that drew me to her.
She was sweet, soulful, and had a timeless charm to her. In addition, she has a hard-work ethic which she credits to her upbringing on a farm.
Marching at 100 years old, Mabel also appeared very healthy for her age, being able to walk without a cane and communicating clearly in our conversations.
But when she explained to me what "soul food" was, it dawned on me.
She had the ability to draw something precious out of the ordinary things in life.
The term "soul food" has appeared many times in conversation and pop culture, but I wanted to learn more about it and hear its explanation from someone that was personally connected to the phrase.
Before me was a lady that grew up on a farm in Tennessee in 1921, and upon talking to her, it was clear that she was a better source to explain what soul food was than any dictionary definition.
"We weren't raised with cookbooks," Mabel shared. "We were raised with making something out of nothing, and adding a little of this and cajun… til' you got it to taste where you want it."
After tasting the meal I was offered from her family, the meaning of soul food resonated even further.
I was stunned at how much flavor can be packed into a seemingly simple food item such as corn and green beans.
The savory flavoring of the potatoes in comparison to a raw potato without seasoning was like night and day. It was as if she redesigned what a potato was. Had the texture of the potato not been the same, I would've presumed it to be an entirely different piece of food.
And the fried chicken… it was scrumptious. It was tender, crispy, and flavored delightfully.
In my effort to find out the meaning of soul food, I was drawn to a single conclusion. It's not about the actual food, per se, but the energy and heart that was manifested into the meal by the creator themself. Similar to art — creativity, culture, and spirit are all tools that contribute to the creation of soul food.
And on her birthday, she garnered large support from her family. An outdoor, masked celebration was held outside her home.
Wearing a pink sun straw hat and an off white sweater embellished with pearls, she sat comfortably in front of her home, surrounded by various birthday decorations. 
Suddenly, numerous police sirens were sounded. Like a chariot of horses, a trail of cop cars approached nearby with their sirens blaring. 
Neighbors gathered outside to see what was going on… was there crime nearby? 
The police stopped in front of Mabel's home. 
Exiting one of the cars was Gardena police chief Mike Saffell, who greeted Mabel in honor of her 100th birthday.
Councilmember Paulette Francis arrived with the police to also greet Mabel. She awarded Mabel with letters of recognition from State Senator Steven Bradford and the Second Time Around Senior's Club of Gardena. The empress was crowned.
"Anytime you spend 100 years, you deserve all this and more," Saffell said. "I think our longtime community members are the backbone of this community. Spending so many years here within the community, that needs to be honored, and that needs to be honored properly."
Words of Appreciation from Family Members
"Anytime I need advice about anything, whether it be about relationships, whether it be love, whether it be whatever, she always comes with good advice," granddaughter Pashe Burns said. "And she always goes back to the bible and what Jesus would do and how we should always be at our best no matter what or how anybody treats us, we should always be good to them."
"She loved everybody, she cooked for everybody, and we grew up in areas (where) everybody kind of helped everybody," son Richard S. Burns said. "When she'd make lunch for all of us, she'd feed the kids in the neighborhood because she didn't like seeing nobody starve or go hungry."
"One thing I can say about her is she's very loving," grandson Richard A. Burns said. "That's the main thing, just loving unconditionally."