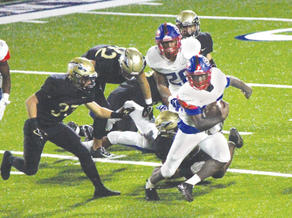 With a very young football team, Serra High was able to receive an at-large berth in the first round of the CIF-Southern Section Division I playoffs on the road against top-seeded and the United States' No. 1 ranked squad in St. John Bosco last Friday night in Bellflower.
The Cavaliers, with 18 of 22 starters being underclassmen, will remember the experience they received in playing the best team in the nation. However, the Braves gave them a lesson as they walloped Serra out of the playoffs with a 49-0 blowout.
"In the early part of the game, we didn't make the key plays," Serra head coach Scott Altenberg said. "We made some critical mistakes and you can't do that against a very good team. They will quickly take advantage of those. Against such a tough team, we tried. We have 18 of 22 starters who are sophomores and juniors. We should be much improved next season."
The Cavaliers started the game holding St. John Bosco, which improved to 11-0 overall after winning the prestigious Trinity League, to just one touchdown in the first quarter, but, from there, the Braves, who are loaded with Major Division I college prospects including some who have already committed to, wore down the lesser experienced Serra squad. St. John Bosco added two TD's in the second quarter for a 21-0 halftime lead and finished off the Cavaliers with four third period scores before clearing the bench in the running time fourth quarter.
The top quality Braves knew what to do with Serra's strength that was led by junior quarterback Doug Brumfield, who entered the contest averaging 303.6 yards passing. They held Brumfield in check throughout the whole contest as he threw for just 97 yards, completing 14 of 27 passes. That is an average of approximately seven yards per completion, well below his 16-yard average he had in regular season games. Wide receiver Lavon Bunkley was one of Serra's few bright spots as he had 65 of those yards in receptions.
Meanwhile, St. John Bosco had what was probably even a better junior quarterback in D.J. Ulagalelei, considered by many as one of the best for his class in the country. He completed 21 of 28 passes for 255 yards and four touchdowns to four different receivers. The Braves also had a fine game by senior running back George Holani who had 165 all-purpose yards including two TD's; a 28-yard reception from Ulagalelei in the second period and a 31-yard run with 5:02 left in the third quarter that gave St. John Bosco a 42-0 lead.
The Braves led 21-0 at intermission but quickly started the third period with a pair of quick touchdowns on a 55-yard scoring pass from Ulagalelei to Jake Bailey. With Serra back at its own 5-yard line, 35 seconds later, St. John Bosco sacked Brumfield in the end zone and his fumble was recovered by Bailey to give the Braves a 35-0 lead. The Braves added two more TD's to complete their scoring.
With the loss, Serra ended its season at 5-6 overall, its first losing year since 1999. St. John Bosco continues its quest for its second consecutive Southern Section Division I and a CIF-State Open Division crowns as it visits San Clemente High on Friday.
Gardena Football
Gardena gets past first round by routing Rivera
By Joe Snyder
Gardena High head football coach Jim McElroy got to go up against a high school he once head coached in Rivera High from East Los Angeles last Friday at Gardena.
The Panthers, who were just 2-8 in regular season and 0-4 in the rigorous Marine League, received a spot in the CIF-Los Angeles City Section Division III playoffs as the No. 4 seed. Gardena took advantage of that award and opened with a 40-7 rout of Rivera.
The Panthers, who improved their season mark to 3-8, started off well in taking leads of 20-0 after the first quarter, 28-7 at halftime and added two more touchdowns in the third period to finish off their scoring, while shutting down Rivera from there.
Junior starting quarterback Daquan Paul had a fine all-around game by completing nine of 16 passes for 117 yards and one touchdown and rushing for 51 yards and one TD on six carries.
Senior Nehemiah Seale also had an outstanding all-around game as he passed for one score. As a wide receiver, Seale caught three passes for 37 yards and one touchdown, as well as rushing for 86 yards. On defense, Seale led Gardena with eight tackles. Seale had 123 total yards.
Junior Kwanta Pugh totaled 204 yards, including running for 112 yards and one TD, and totaling 92 yards in kickoff returns. He also passed for another score.
Andre Lawson had four receptions for 129 yards and two touchdowns.
The win moved the Panthers into the quarterfinals at home against Manual Arts Friday at 7 p.m. The Toilers rolled over Polytechnic High from Sun Valley 42-7 in the first round last Friday at Manual Arts.
ECC Football
Highly regarded Fullerton proves too much for ECC
By Joe Snyder
El Camino College's football team saw its six-game winning streak come to an end with a 44-13 home loss to Fullerton College last Saturday.
The Hornets, ranked No. 2 in California and third in the United States, started off well in taking a quick 14-0 first quarter lead before the Warriors got on the scoreboard when quarterback Grant Ferrauilo threw a 20-yard touchdown pass to wide receiver Trevon Clark, who scored for the sixth straight game.
Fullerton, again, scored but El Camino, who fell to 6-3 overall and 3-1 in the National Central Conference, cut the Hornets' lead to 21-13 when Ferrauilo tossed a 26-yard TD pass to Hunter Williams.
From there, Fullerton, which improved to 9-0, added two touchdowns and a field goal to up its lead to 37-13 by halftime. The Hornets added another score early in the fourth period.
Fullerton was led by quarterback Gresch Jenson who passed for 254 yards and three touchdowns. Wide receiver Marshall Raymond also keyed the Hornets with 137 yards and two TD's in pass receptions.
Due to several violations, though, Fullerton is ineligible for postseason play and the Warriors have a shot at pulling out the conference title and a playoff spot. ECC will visit Cerritos College, also 3-1 in conference, for the crown Saturday at 6 p.m.
Prep Football Roundup
Ukatu's walk-off field goal lifts North in first round
By Joe Snyder
Junior kicker David Ukatu booted a 32-yard field goal as time expired to lift the North Torrance High football team to a 19-16 victory over Orange High in the first round of the CIF-Southern Section Division IX playoffs last Friday at North.
The Saxons, who won their second consecutive Pioneer League title, were tied at 16 before Ukatu's winning three-pointer.
The game was rather see-saw as each team exchanged touchdowns and two-point conversions. Orange grabbed an 8-0 lead on the second play of the game on a 67-yard touchdown run by Isaac Galvan. He also ran in the two-point conversion.
Later in the first quarter, North, which improved to 9-2 overall, tied the game at eight on a 5-yard TD run by Isaac Galvan and he scored on a conversion run.
The last 22 seconds of the first half was a wild one. Orange grabbed a 16-8 advantage when Daylen Pedroza scored on a 10-yard run. Isaac Adetoye added the two-point conversion on a run.
Just a few seconds left before intermission, the Saxons needed only two plays to drive 50 yards. It started when Brayden DeOcampo caught a 39-yard pass giving North the ball at the Orange 11-yard line. On the next play, quarterback Victor Puelles attempted the pass as it deflected off one of the Panthers' hands and it was DeOcampo that caught it in the end zone. Stephen Bradford ran in the tying two-point conversion.
The score remained the same until Ukatu's winning field goal at the end.
The win moves North into the quarterfinals at home against San Marino Friday at 7 p.m.
The Titans advanced by edging Segerstrom from Santa Ana 21-20 last Friday.
Knights get nosed out: Host Bishop Montgomery, which captured the Camino Real League, lost a wild 49-48 contest to Garey High from Pomona 49-48 in the first round of the CIF-Southern Section Division XIII football playoffs last Friday in Torrance.
The Knights, who ended their season at 8-3, were led by quarterback Matthew Origel who completed 11 of 17 passes for 292 yards and five touchdowns.
West falls out: West Torrance High's football team ended its season in the first round of the CIF-Southern Section Division IX playoffs with a 46-22 loss to host Garden Grove High last Friday.
The Warriors ended their season at 6-5 after finishing second behind North in the Pioneer League.