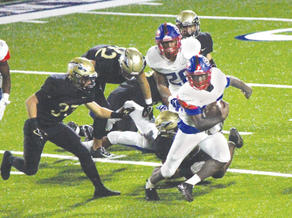 Serra High's football team had a rough showing in the always highly competitive Mission League but managed to win its final regular season game at home against Loyola 21-14 last Friday.
The Cavaliers achieved an at-large bid from the Mission after placing fourth behind champion La Puente Bishop Amat, runner-up Sherman Oaks Notre Dame and third place Chaminade. The prize, though, is getting to travel to St. John Bosco in Bellflower to take on, not only the CIF-Southern Section Division I's top seed but the No. 1 team in the United States. The Braves ended their regular season at 10-0 after completing their Trinity League at 5-0 with a 56-0 rout of Anaheim Servite last Friday. Among St. John Bosco's victories were a 41-18 win of Santa Ana Mater Dei, ranked seventh in the nation but second until its loss to the Braves, from two weeks earlier. The Monarchs, however, are seeded third in Division I as Corona Centennial is second.
Loyola may have finished 1-9 overall and 0-6 in league but the Cubs showed Serra and some other Mission teams that they were a better team than their record indicated. Loyola, in fact, would had a way better record and made the Southern Section playoffs had it been in a majority of other leagues and have not played as rigorous of a preseason schedule.
"No matter who we play, it's just another game," Serra head coach Scott Altenberg said.
The Cavaliers, who are 5-5 overall after finishing Mission play at 2-3, scored first early in the second quarter on a 5-yard touchdown run from DeMarcus Johnson. Serra continued to lead 7-0 at halftime.
The second half saw Serra use a mixture of the strong passing of junior quarterback Doug Brumfield and an effective ground game. Brumfield took it to himself to give the Cavaliers a 14-0 lead with 7:47 left in the third period on a 15-yard TD run.
The Cubs, however, did not roll over. Quarterback Nathan Priestley found running back Hunter Ballard from 22 yards out to cut Serra's lead to 14-7 with nine seconds into the fourth quarter.
The Cavaliers scored what proved to be the winning score with 7:54 remaining in the game on a 15-yard run from Jaylon Armstead.
Loyola made it close on Priestley's 29-yard touchdown pass to Brendan Pernecky but Serra's defense was able to hold down the Cubs from there.
"I am very proud of our guys," Altenberg said. "They battled. We're should be in the playoffs."
The Cavaliers got the nod but will have that hard task against the top team in the country.
Despite winless league record, GHS makes playoffs
By Joe Snyder
Gardena High's football team lost its Marine League finale at home to San Pedro 28-6 last Friday, but received the No. 4 seed in the CIF-Los Angeles City Section Division III playoffs.
The Panthers, who are 2-8 overall and finished league at 0-4, will host Rivera in the first round Friday at 7 p.m.
Gardena's only score came in the third quarter when sophomore wide receiver Tyler Gilchrest returned his pass reception to quarterback Daquan Paul for a 47-yard touchdown.
Paul had a fine game with 225 yards total offense. He completed 11 of 22 passes for 141 yards. He had the 47-yard TD reception and 37 yards rushing on eight carries.
Andre Lawson had 82 yards in receptions.
Defensively, Tyshaun Smith recorded 11 tackles, including three solo. Xzravier Multrew added nine tackles while Dejon Little had eight.
Top seed in the Division III playoffs is Santee from Downtown Los Angeles, while Chatsworth and Fremont are No. 2 and 3 in order. Earlier this season, the Panthers lost to Fremont 24-21 after holding a 21-8 halftime lead.
Prep Football Roundup
Narbonne pulls away from Carson
By Joe Snyder
Narbonne High's football team showed Carson why it continued to be the supremacy of the Marine League and the CIF-Los Angeles City section by breaking the game open for a 41-7 win last Friday at Carson in the league showdown.
Leading 17-7 in the third quarter, the Gauchos finished the Colts off with 24 unanswered points behind a 33-yard field goal by Ricky Martin, a 1-yard touchdown run from Jake Garcia and a 42-yard punt return for a TD from Ja'Maree Booner.
For Narbonne, it was its fourth consecutive Marine crown and the Gauchos enter the Open Division playoffs as the top seed. Narbonne will host Venice on Nov. 9 at 7 p.m.
The Gauchos led 17-0 before Carson scored on a 16-yard pass from sophomore quarterback Ui Ale to Isaiah Potts.
Narbonne led just 7-0 at halftime on a 2-yard touchdown run by Brionne Penny but stretched it to 17-0 on a punt return for a TD by Penny.
In the quarterfinals of the Open Division playoffs against the Gondoliers, though, the Gauchos (7-3 overall and 4-0 in league) will have to contend with recent Arizona State University wide receiver Chad Johnson, Jr., son of former National Football League standout Chad Johnson, Sr.
The Colts received the No. 3 seed as they host No. 6 Garfield in the opener at the same time.
North wins Pioneer: North Torrance High's football team won the outright Pioneer League title by crushing host South Torrance 49-0 in their league finale last Friday.
The Saxons were led by junior running back Stephen Bradford who rushed for four touchdowns and Beau Maglinti who ran for two.
The Saxons, who finished regular season at 8-2 and 5-0 in Pioneer play, will host Orange in the first round of the CIF-Southern Section Division IX playoffs Friday at 7 p.m.
West routs Torrance: West Torrance High's football team placed second in the Pioneer League by rolling over host Torrance 59-12 last Friday at Zamperini Field.
The Warriors begin the CIF-Southern Section Division IX playoffs at Garden Grove High Friday at 7 p.m.
Sports Scoop
Red Sox depth and mentality prove too much for Dodgers
By Joe Snyder
For the second consecutive year, the Los Angeles Dodgers Major League Baseball team advanced to the World Series but the Boston Red Sox showed them why they won 108 regular season games against 54 losses.
Boston just had too much depth and mentality for L.A. They made the plays when they have to in all three areas; hitting, defense and pitching.
In the final two games, Steve Pierce, who grew up in Valencia, hit three home runs and a triple driving in seven runs. The Red Sox also have players who can get all kinds of hits; singles, doubles, triples and home runs. The Dodgers seem to be hitting mostly home runs. That is why they have one of the lowest team batting averages with runners in scoring position in the Majors.
Congratulations to Boston for its fourth World crown in the past 15 seasons. The Dodgers have gone 30 straight seasons without a World Series championship. When they last won the title, there was no World Wide Internet nor cellphones that we know of today. There was a personal computer which was a lot different from the ones we use today. Ronald Reagan, who died in 2004, was down to his final months as President of the United States.
Can the Dodgers do it next year? They could run into problems due to ace pitcher Clayton Kershaw being able to opt out of his contract and going free agent. If the Dodgers lose Kershaw, they might have some good young pitchers, including Walker Buehler, who hurled seven scoreless innings in Game 3 last Friday at Dodger Stadium. The Dodgers were ahead 1-0 but Boston tied it off closer Kenley Jansen in the top of the eighth. Both teams ended up going a World Series and postseason record 18 innings before L.A. won its only game 3-2 on a solo home run by Max Muncie. The Red Sox came back by topping the Dodgers 9-6 on Saturday after L.A. led 4-0 through six innings, then finished them off with a 5-1 victory over Kershaw, who gave up four home runs in seven innings last Sunday.
Prediction is that Kershaw will either stay with the Dodgers or will be taken by the Houston Astros since he grew up in Texas. Houston, which won the World Series over L.A. last year but lost to Boston in the American League Championship Series in five games, the same as the Dodgers fell to the Red Sox in, could get very good pitching depth if Kershaw chooses to sigh with the Astros. He might have a better shot at getting a World Series championship with Houston.
The Dodgers will have to find hitters that can hit the small ball as well as the big ball. That is, without doubt, their main weakness, along with lack of consistency with their bullpen.
Interestingly, it is the first time in 40 years since the Dodgers made World Series back-to-back years. In 1977 and 1978, L.A., led by the likes of Steve Garvey, Ron Cey, Don Sutton, Reggie Smith and Dave Lopes, lost to the New Yankees in each of those two years. Three years later, in 1981, the Dodgers, led by rookie pitcher Fernando Valenzuela, rallied from a 2-0 game deficit to take the Yankees in six games for the World Series crown. The 1981 season was shortened due to a Major League Baseball Players' strike.
Maybe the Dodgers will win their next World Series in 2021. We're hoping it will be next year.
ECC wins sixth straight: El Camino College's football team won its sixth consecutive game by holding on for a 42-35 homecoming victory over Palomar College from San Marcos (North San Diego County).
The Warriors, who improved to 6-2 overall and 2-0 in the National Central Conference, started quarterback Aaron Thomas. Thomas completed 11 of 19 passes for 174 yards and two touchdowns.
ECC, though, had a fine rushing game as the team accumulated 267 yards. Tai Taimese led the way with 133 yards and two TD's.
The Warriors led 35-14 at halftime but the Comets, behind 389 yards passing from quarterback Connor Curry, cut ECC's lead to 35-27 and 42-35.
The winning score came on a 1-yard run by Jeff Hanson late in the fourth period.
El Camino will remain home with a very stiff test against California's No. 1 ranked team in Fullerton Saturday at 1 p.m.